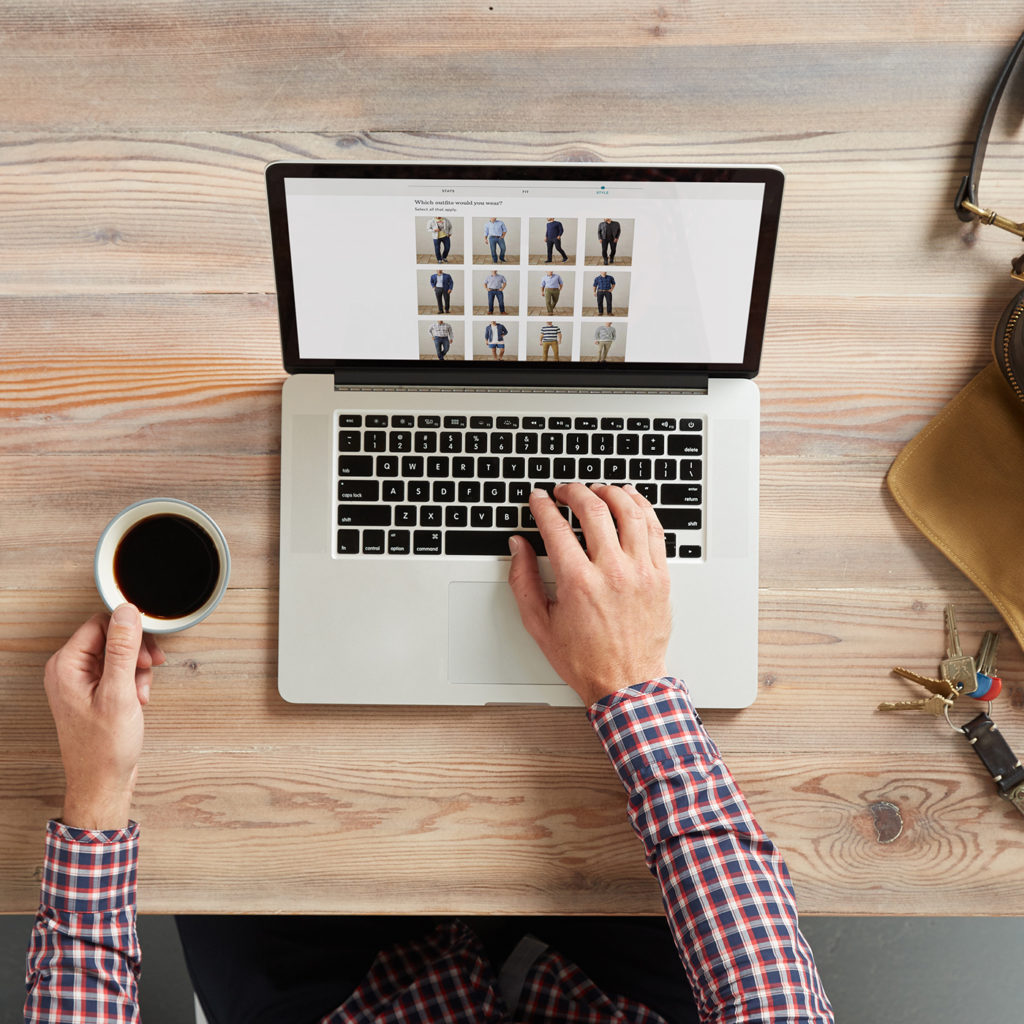 Disclosure: This post contains Stitch Fix Affiliate links, and I may receive compensation.
What's Stitch Fix
: An amazing fashion company that provides you with your own personal stylist who picks out pieces based on your style profile, requests, budget and your figure!
A couple of weeks ago my boyfriend received his second Fix from Stitch Fix, focusing on pieces for Summer. The Fix consisted of one pair of pants, three tops, and one pair of shorts. Let's take a closer look and see what Brian had to say about the items his stylist chose.
#1 – Mavi Edward Slim Leg Pant
First up was a classic khaki colored slim legged pant from Edward. I highly recommend this type of cut for men who are tall and skinny. The slim leg is more attractive and flattering for long legs. Brian's go to pants are cargos, so this was a bit of a style upgrade. While cargos are functional and I don't really mind them, all the pockets have a tendency to bulk up a guy, which is why switching it up with a slim pant is always an easy way to dress up an outfit effortlessly.
Brian's thoughts: I am afraid of white pants. When I saw the style card and saw a pair of white pants I thought to myself "well, this isn't going to work out well". Luckily, they turned out to be a very pleasant shade of grey (which Katie calls khaki – clearly unfamiliar with the intricacies of men's pants). They fit well and, since they're not actually white I'm not as worried about staining them. They'll be a good addition to my pants lineup when the weather cools down.
We paired these Mavi pants with a Polo from this Fix below, for a cool casual Summer look. Check out item 2 for a fit pick.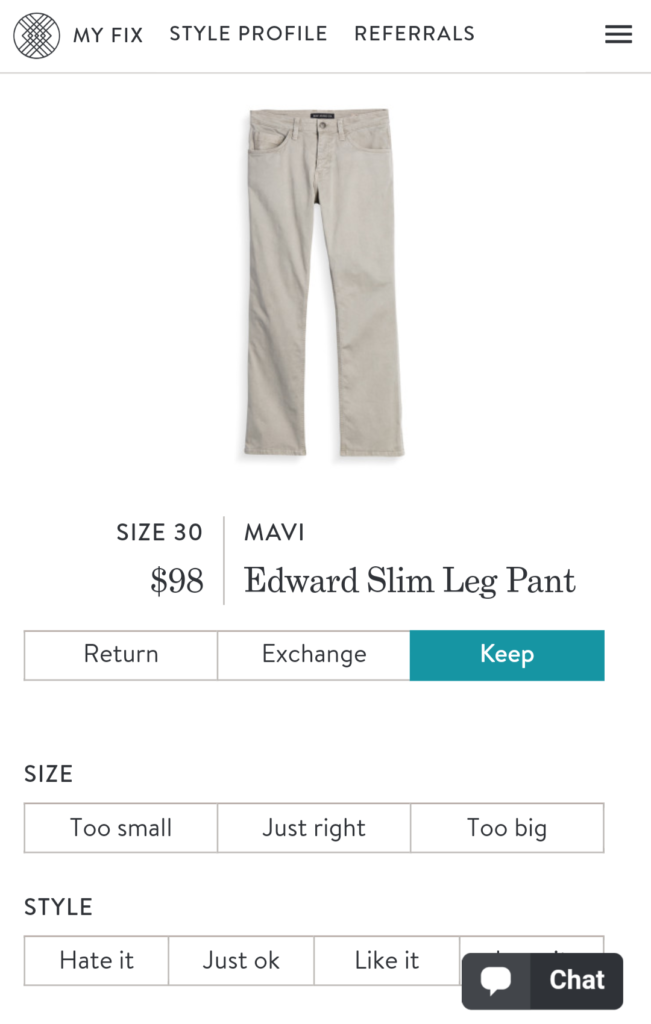 #2 –  Tailor Vintage Brett One Pocket Polo
You can't go wrong with a good polo. Polos are a great staple for every guy's wardrobe and can make you look more put together than just a t-shirt, plus it's as easy to style and pair with other items. The light blue color of this polo is oh so dreamy and great for guys with blue eyes. Don't mind the wrinkles in the photo, a little steaming of those bad boys and this shirt is ready to wear.
Brian's thoughts: This polo was on the larger side for me, but with a washing or two I felt confident it would shrink down a bit. I wear polos a lot during the summer so this seemed like a smart addition to my closet.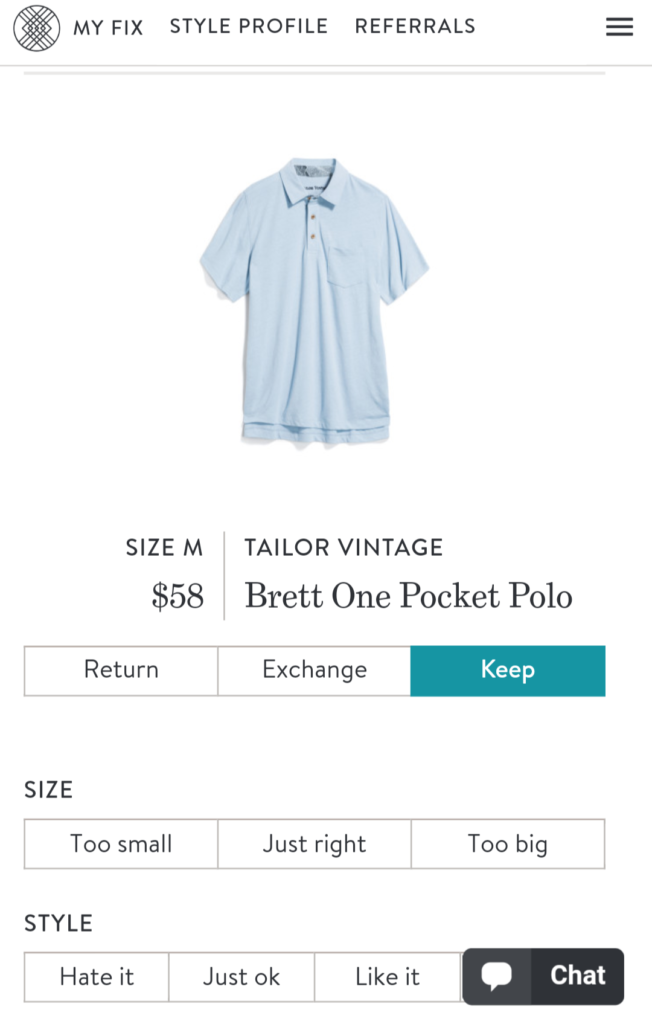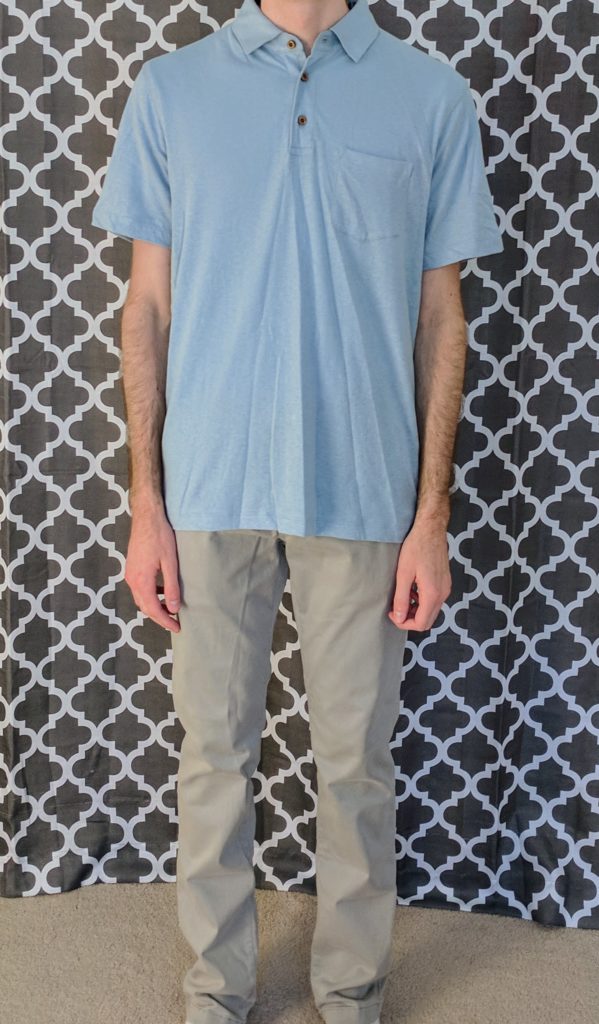 #3 – Hawker Rye Long Sleeve Button Down Shirt
I was a little surprised to see a long sleeved button down for a Summer Fix, considering how hot it is here in the New York/New Jersey area, but hey it's always good to get a transition piece for seasons, and I'm sure this one will be a great new addition as the Summer comes to a close and Fall starts creeping in. This blue long sleeve is a nice bright color and looks great with khaki pants. We also paired this shirt with the Mavi pants to give a more dressy look. While the button down isn't advertised as being a slim cut, it seems to be cut in a slim style, which is great for guys like Brian who are thin and long in the chest.
Brian's thoughts: My knee-jerk reaction was that this shirt was not what I wanted with this fix. I was hoping for some summer clothes, and this shirt is more of a fall/winter/spring/anytime but summer shirt. That said, it's a nice shirt. My last teal-like shirt expired a few years ago so I'll hang this up and pull it out in a few months when the weather cools off since it fit well.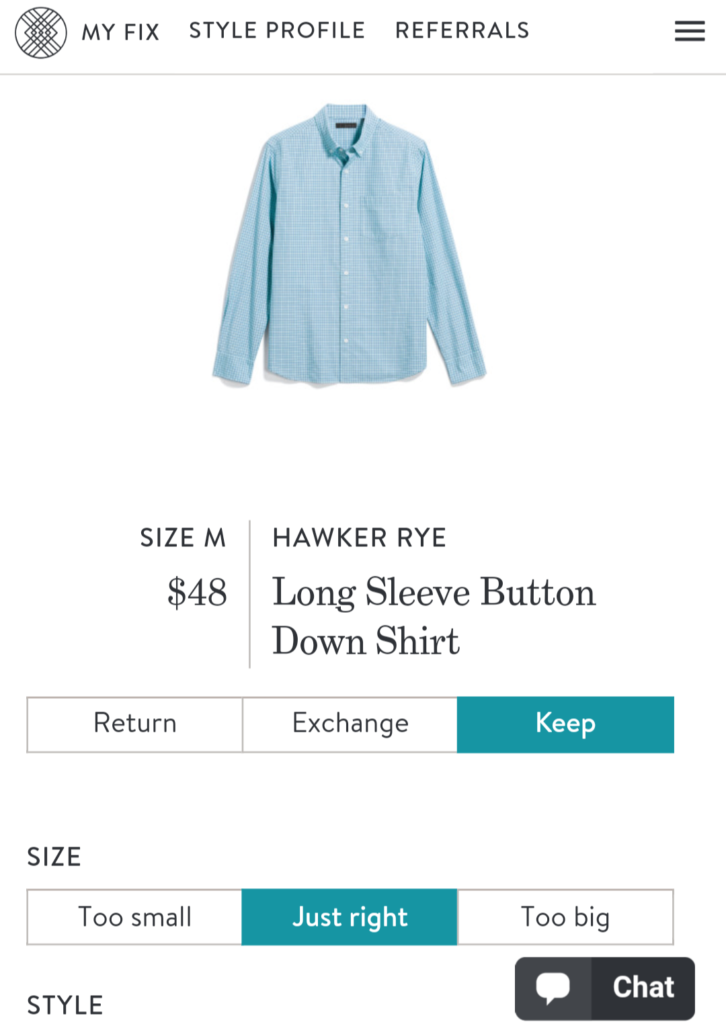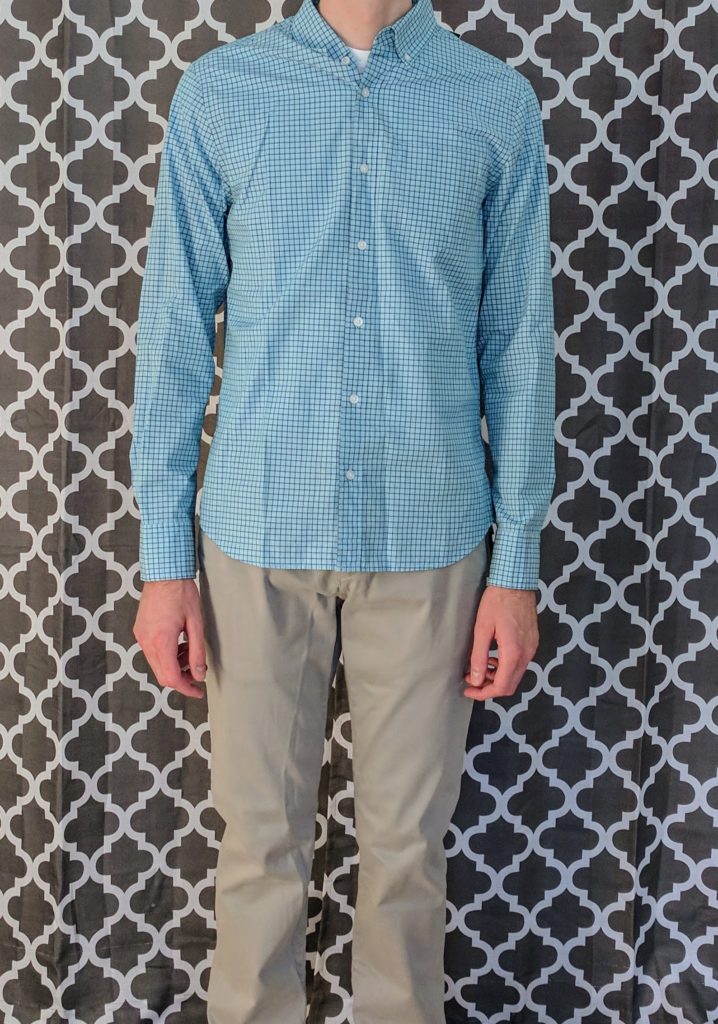 #4 – Howe Fade Away Button Down Shirt
For the guy who isn't into shirts with prints or designs that are too bold, this Howe shirt is great since it uses faded coloring. This piece screams beach to me, which is perfect for a Summer vacation (which I have yet to take). The top also gives me a bit of a "hipster" vibe. It's not so extreme that it'll turn off regular guys who aren't into dressing all fashionable or hip, which is great because it can work for a variety of men. You'll see a fit pick in the next item review below.
Brian's thoughts:  This shirt has been sitting in my closet for a few weeks, I'm still not sure what I think of it. "Bowling shirt" keeps coming to mind whenever I see it. I've seen people out and about wearing shirts like this in clearly non-bowling settings, but I don't think I'm quite there yet. Maybe I'll get there some day, or I'll join a bowling league.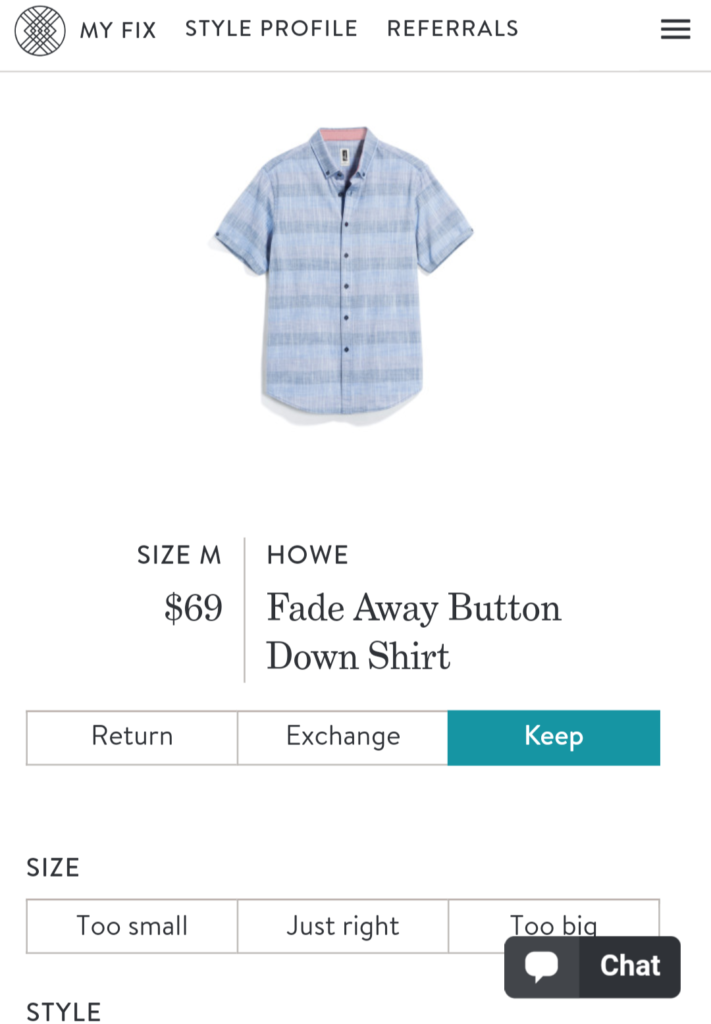 #5 – 7 Diamonds Weekender Chino Short
As mentioned above, Brian's a cargo pants kind of guy, and that goes for his shorts as well. I was excited to see his stylist provided something a bit more dressy and classic. The nicest part about these Chino Shorts is that they can be easily dressed up and make the wearer look more stylish just by how the short is cut and fitted. You could wear these out to dinner while off on your beach vacation and still look nice.
Brian's thoughts:  Who likes short-shorts? On men… well erm… not me.  These shorts are shorter than I usually wear but they weren't uncomfortably short, striking a few inches above the knee instead of the usual knee-length short I wear.  I know shorter shorts exist, but these were a nice stepping stone to more fitted shorts than the cargo-variety I usually wear. They don't provide the cargo assortment of pockets so I've noticed my keys can irritate my thighs if I don't put them in just right; on the flip side I feel more fashionable than usual when I wear them. It feels like a good trade off during the hot summer days.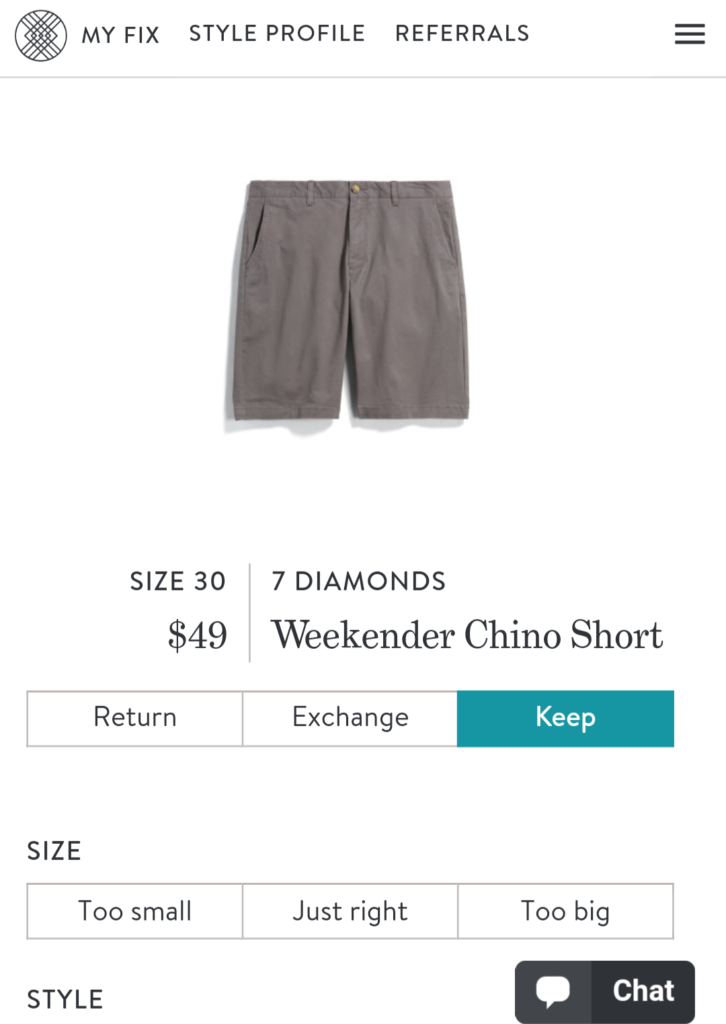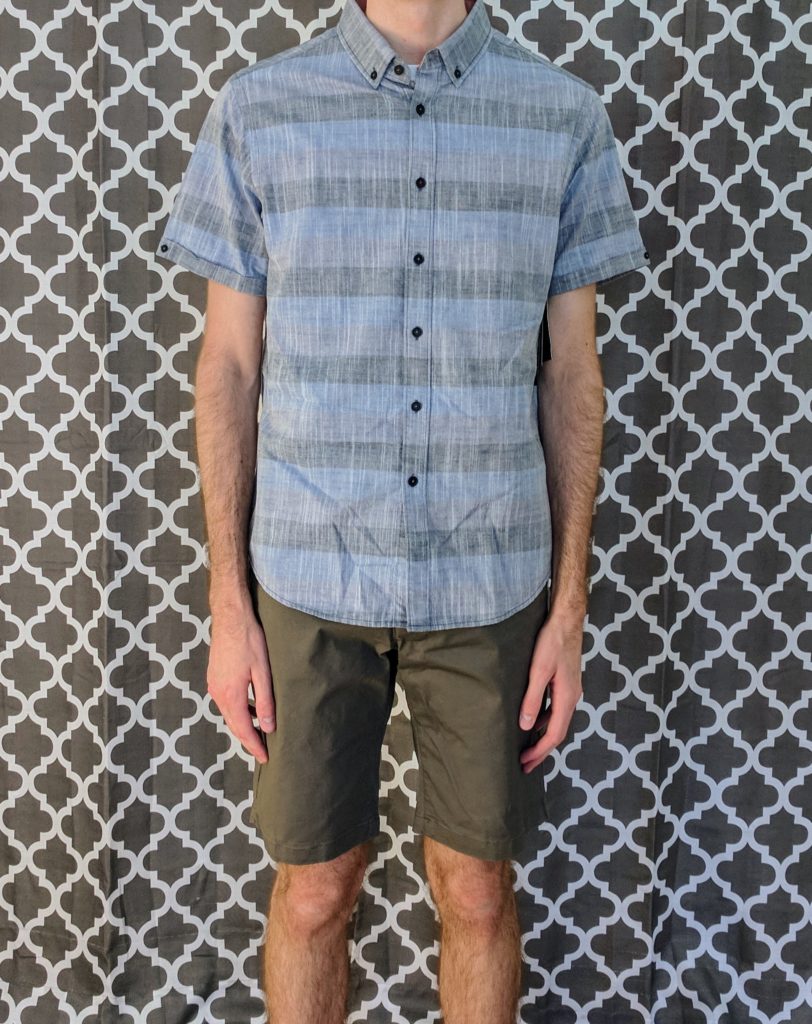 Final Impressions: I felt the Fix was a pretty good success. I loved seeing Brian try some new pieces out of his comfort zone and see a bit more style come into his closet. Here's hoping he joins me in requesting a Fall Fix so we can keep the fashion rolling.
Brian's overall impressions: 3 / 5 items were suitable for summer which was exactly what I was looking for. The other 2 items were nice (I kept them), but will have to sit in my closet for a few weeks until it cools down. I was disappointed I didn't get more summer clothes, a non-blue shirt or another pair of shorts would have been nice substitutes. Maybe if I request a summer fix a bit earlier in the season (like late spring) I'll get a fuller selection of summer clothes.
Haven't tried Stitch Fix yet? Want to get a personal stylist for yourself or the special person in your life? Sign up with my Stitch Fix code!