If you read my last post, you know I decided to request a fix, after quite some time away from the company, to get some pieces for my first business trip since Covid began. Well, my fix arrived, although it did come a couple days later than I had requested, so I was worried we were already off to a bad start.
What I asked for:
– Flare jeans (no distressing – dark color)
– Possibly a dress with short sleeves
– Some tops for work
– A resort set that I saw advertised in a Facebook ad
I also mentioned I was up for some pieces that were more fashion forward that could expand my style, continuing to reference the ads that the company is displaying on Facebook, which looked like great Fixes compared to some I've gotten before.
In my last post, you also know that I decided to give the "preview your fix" feature a try this go around, and picked 3 items from the stylist's initial pull and left 2 items to be a mystery. Let's dig into my box and start with the items I already knew were coming from the preview email I received before shipment.
Kaileigh – Jaylee Jumpsuit
This jumpsuit that screams spring with its green and floral details retails for $58. It's meant to be a cropped leg look, similar to a length you'd expect with capris.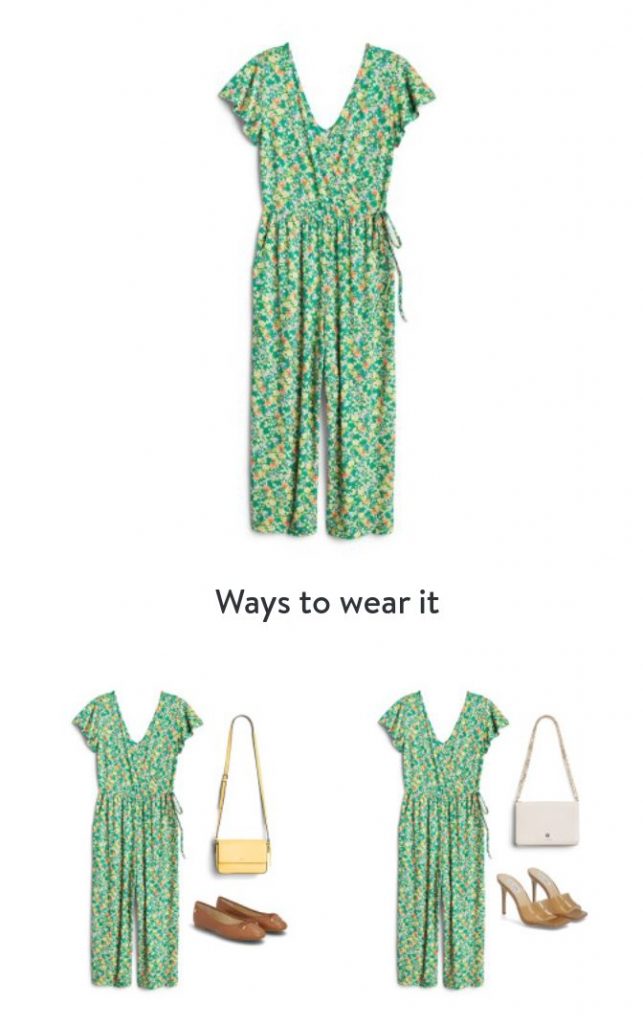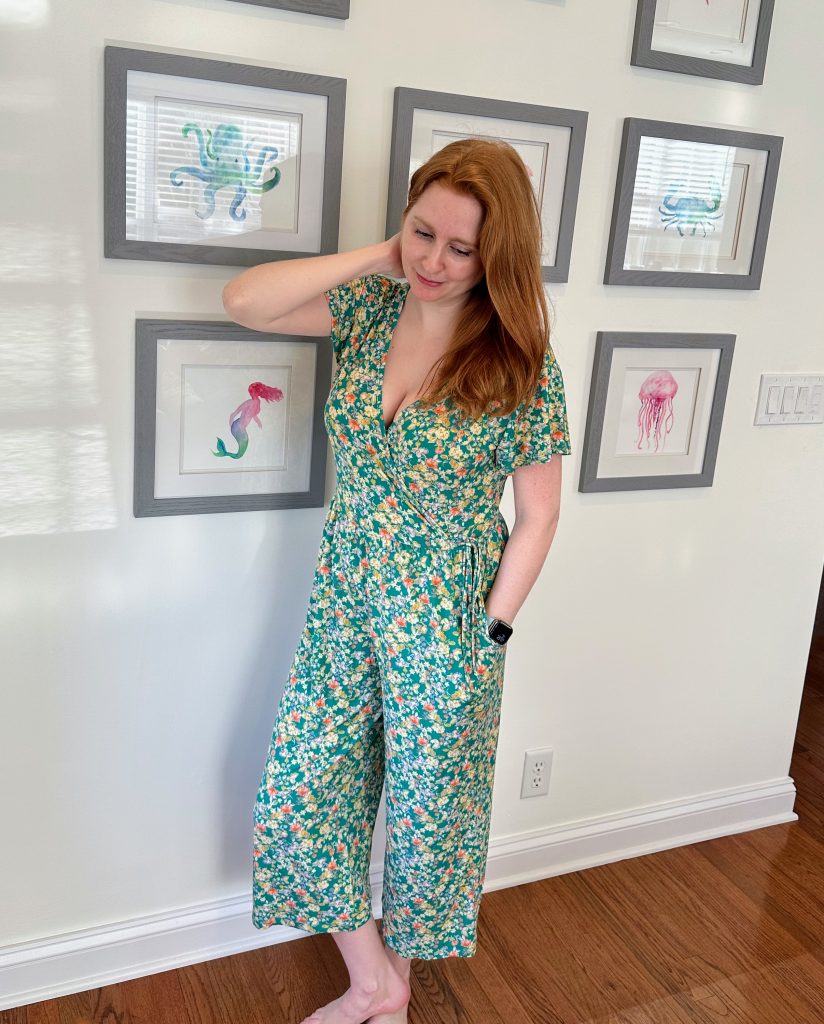 The jumpsuit itself was fairly comfortable, but it was a bit big on me. I probably could have gone down a size since the fabric is so loose and stretchy. The chest opening was also in desperate need of a hook and eye closure. The wrap section around the chest wasn't very form fitting or had any elastic to hold it in place, which led to it being pretty revealing at times.
Monday Fun – Kearny Henley Top
This flowy top in light blue retails for $44.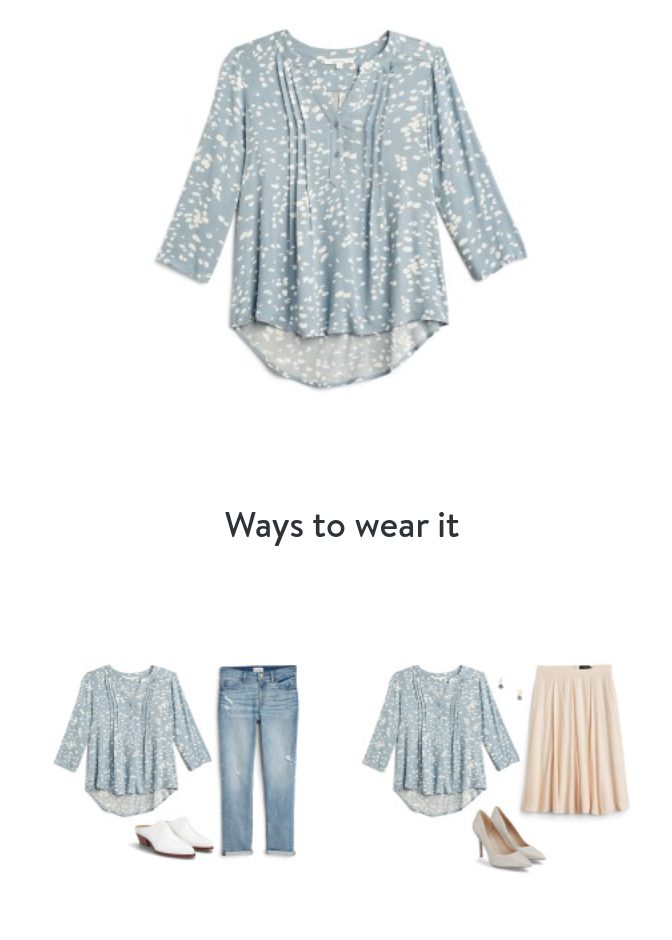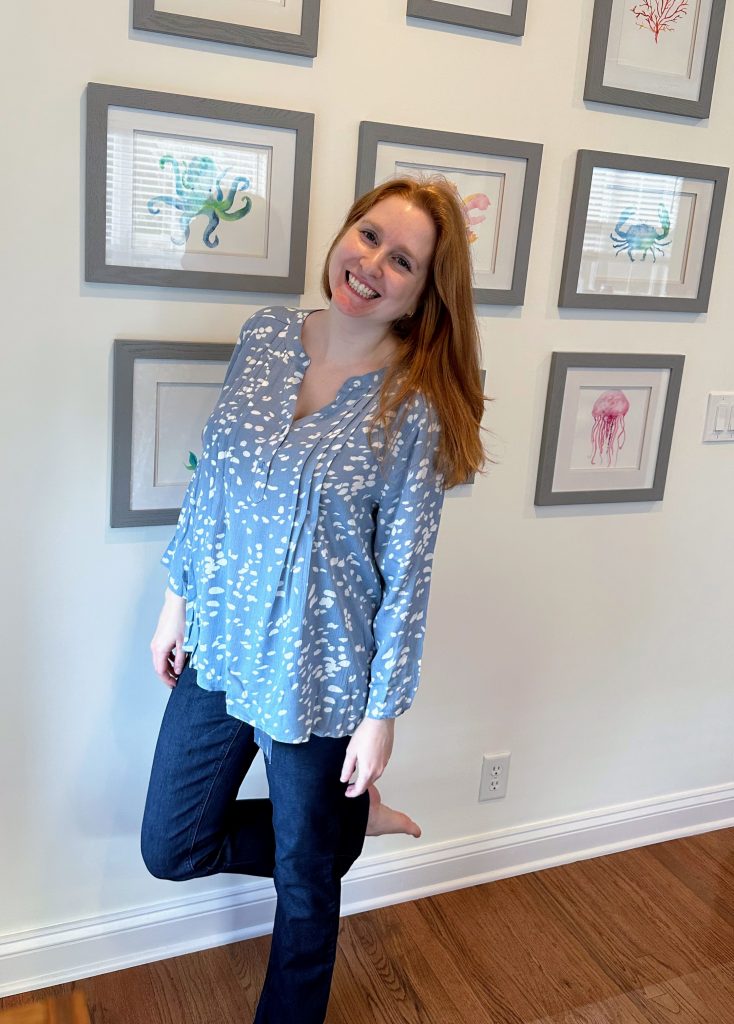 This style of top is nothing new from Stitch Fix. I've seen this cut and style dozens of times, and have kept some of the tops over the years. What drew me to choosing this from my preview was the color. I love light blue and I thought the accents of white drops of color were pretty. I wasn't too sure from the photos of the item what the pleating on the front would look like. When I pulled this out of the box, it was super wrinkly, so I steamed it in order to take pictures and to try to get it looking somewhat decent. This is definitely not a top to pack in a suitcase.
What bothered me about this top was that it doesn't do anything for your body. It literally makes you look boxy and heavy. It's not flattering and just hangs there. Now I love a loose top, especially in warmer weather or for commuting, but this top just didn't scream "young" or "fashionable." It didn't give me the vibe I was looking for.
Nine Britton – Billie Tie Front Brushed Knit Top
For $40, this was the cheapest item in my fix this go around.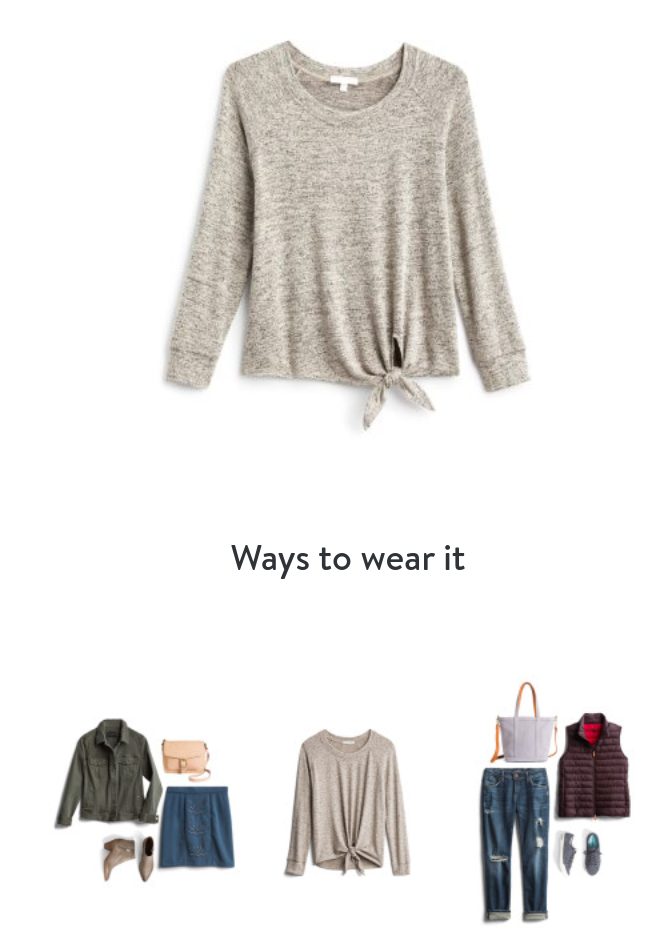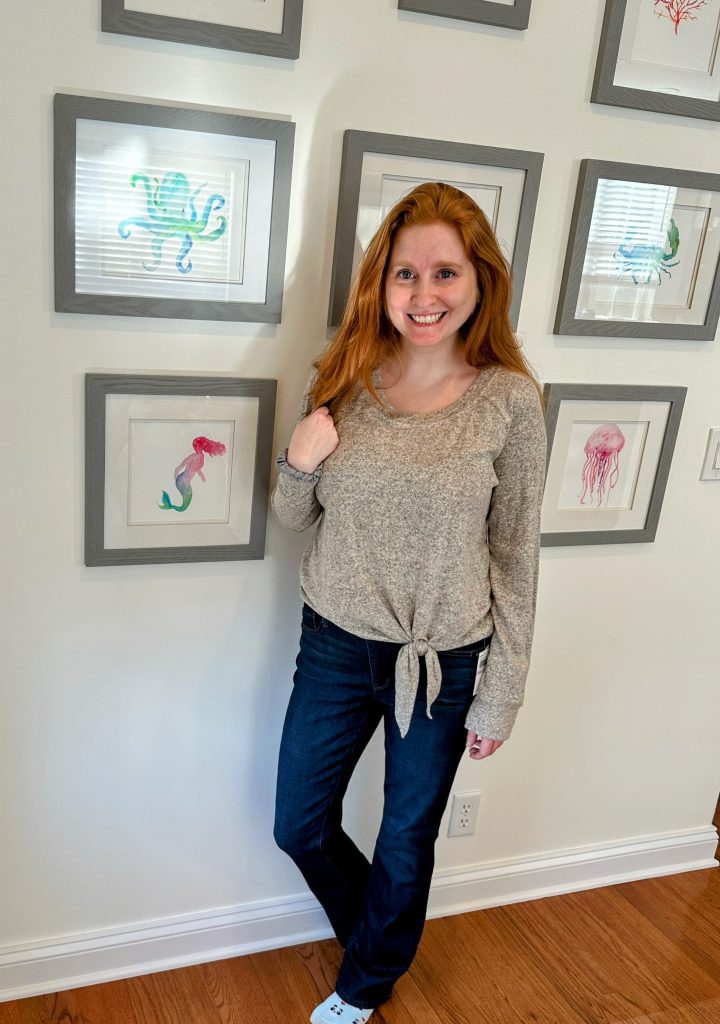 This top stood out in my preview since it was a great neutral color, and it looks like it'd be pretty comfy. The fabric on the outside of this top, or what I'd call a lightweight sweater, is super duper soft and creamy. Probably one of the softest pieces of clothing I've tried on. The inside of the top isn't as soft as the outside, but that's probably because it'd heat you up and make you sweat based on how decadent the fabric feels. I also liked the little knot detail at the bottom, giving it a little something different from a regular long sleeve top.
Heatherly – Loretta Tiered Blouse
You can make this hot pink number yours for $46. This top was also the first of two mystery pieces in my fix.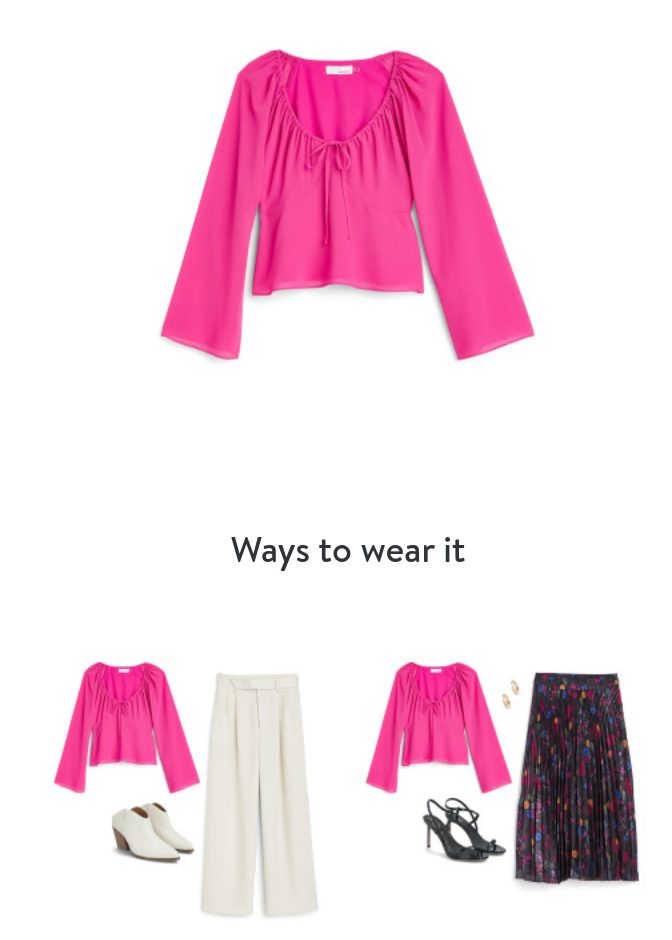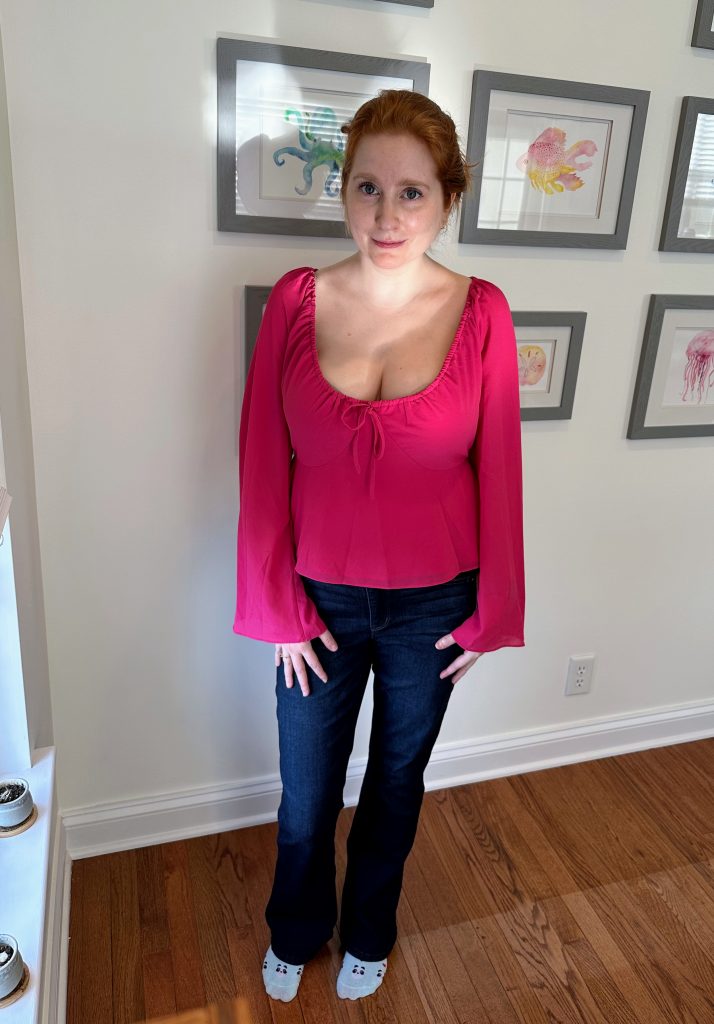 In your Stitch Fix profile, you're able to dictate what colors you don't like or want items to be in. I'm pretty sure hot pink is one that I've said is a no go for me, but alas, here we are. Immediately when I pulled this out of the box, I knew I wasn't going to be in love. The chest area has a weird detail where it outlines each breast and it just looked horrible holding it up. When I tried it on, I wasn't surprised how unflattering it was. I had to pull the top up a bit in the photo above, because a large amount of my bra would otherwise be exposed. You can see some of my bra is still poking out after I hiked it up a bit. I don't know how you're supposed to wear this, but either your bra is going to be on full display, or if you go braless, this is going to look even worse than it does. The fabric was also super cheap. I don't know if I've had a worse piece in a fix before. This is certainly not worth the price, and is not something I could wear to work.
Democracy – Kathryn Ab Solution HIgh Rise Itty Bitty Bootcut
Our last item was something I requested, a dark wash jean. This pair retails for $88.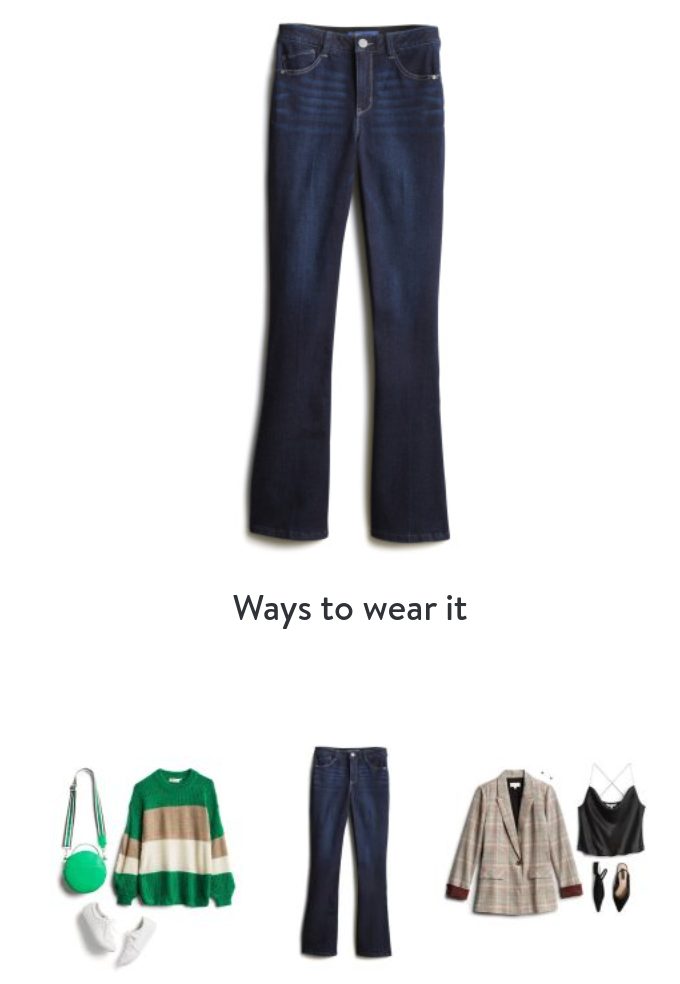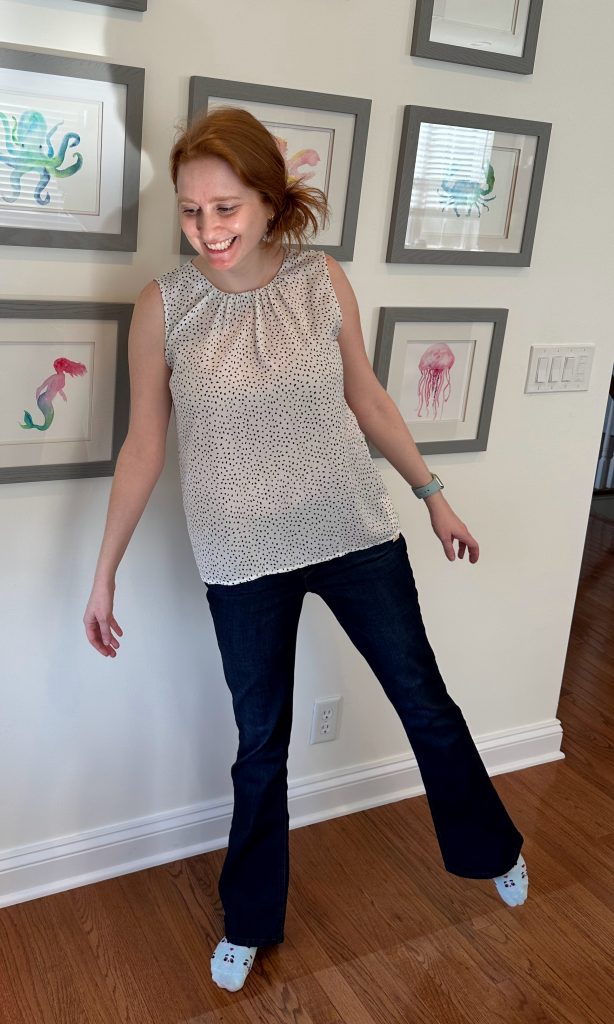 When I requested a dark pair of jeans, I asked for a flare pant. I was thinking more of a traditional bell bottom type pant, so when I saw the word "bootcut" I was worried that it wasn't going to give me the look I wanted. First off the bat, the color is great. Dark washed jeans like this can go with anything. The flare of the jean wasn't too large, and wasn't too small, so I felt it was pretty close to what I was hoping for. The jeans also feel an itty bitty loose around the waist line, which I don't mind. They are comfortable, and while a smidge on the long side, I think they'll work fine with sneakers. Also, side note, why do jeans need some a crazy long name?!
Now that I've tried everything on, it's time to decide what stays and what goes. Overall, I have to say I was disappointed in this fix and the quality of the items. Some things weren't super terrible, both nothing blew me away either.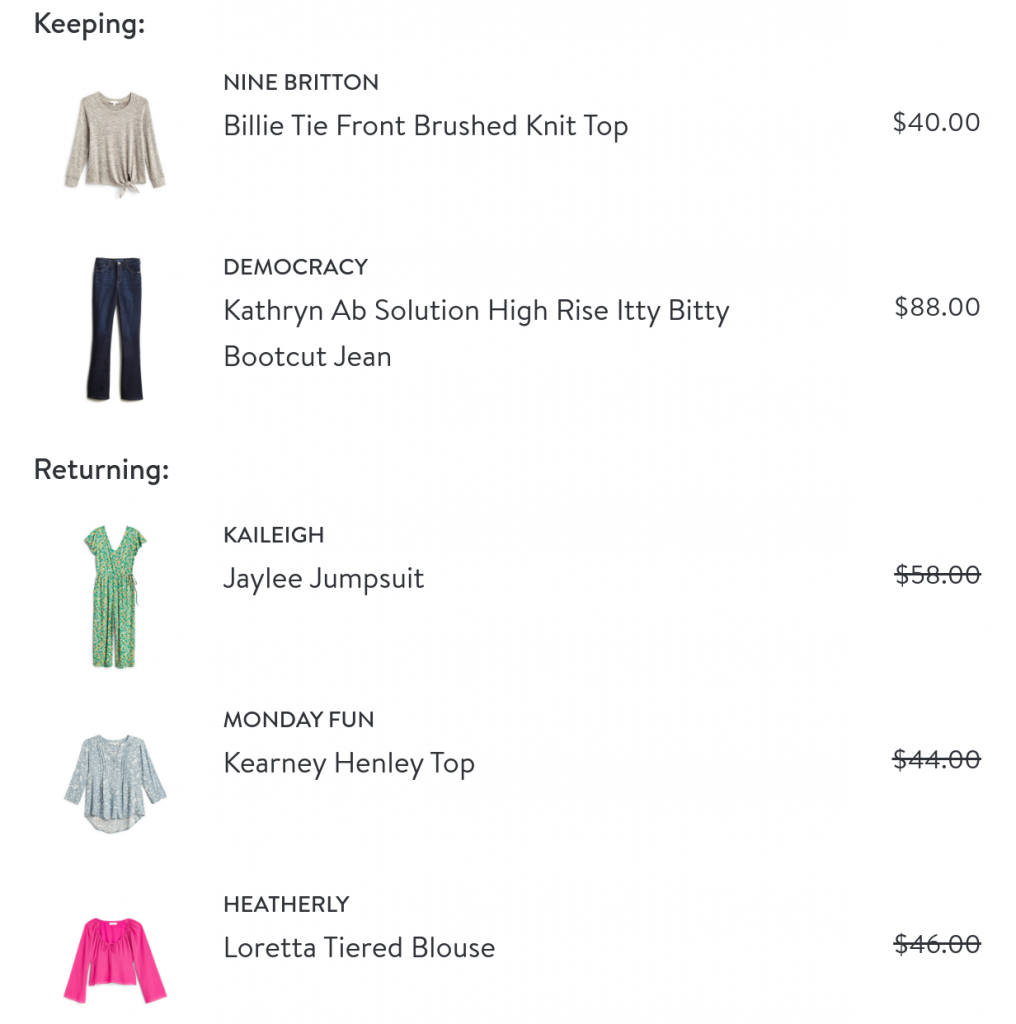 In the end, I decided to keep the jeans and the comfy tan tie front top. I could easily pair these two items together, and wear them with other pieces. The top would look great with a white pant, and the pants will look great with everything from sweaters to t-shirts and tanks.
I was originally on the fence with the jumpsuit, since I love a romper and jumpsuit for ease of packing and comfortability, but it was too big and I didn't feel like trying my hand at sewing in a snap or hook and eye closure to make it workable.
The other two tops were cheap in feel and design, especially the disco sleeved full expose hot pink piece.
When I saw the recent Facebook ads, I thought Stitch was looking more fun and elevated than ever before. In the second picture you can see the resort wear set I fell in love with that led me here.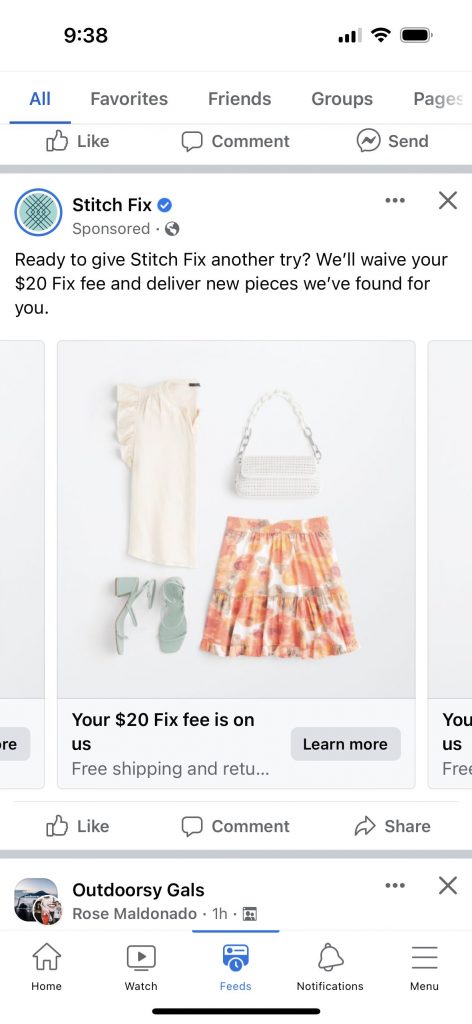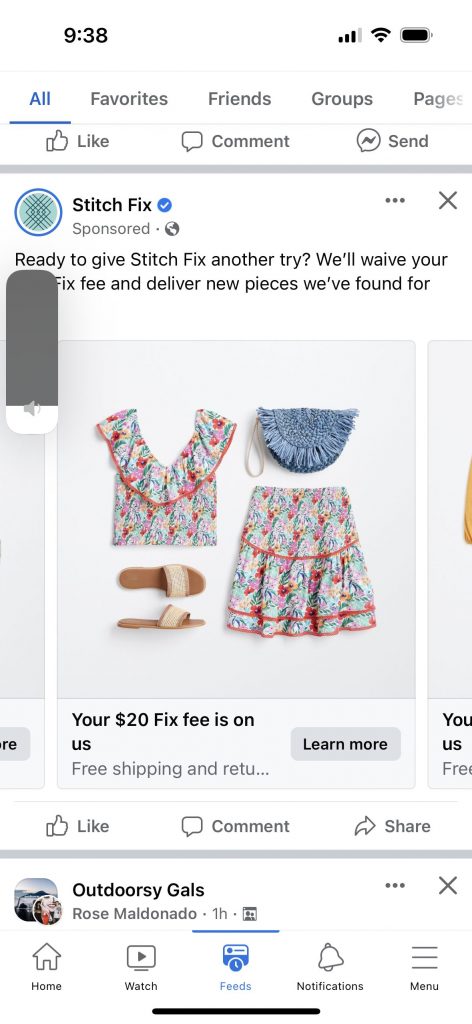 I didn't get anything as fun or fashionable in my box, and when I went to review my fix on the site, I felt kind of let down. I used to love Stitch Fix, and it made my life easy, but after this box, I'm not sure I'd rush back anytime soon. Maybe there's something else out there worth checking out instead…
If you have any suggestions of companies worth checking out, or brands that are great for those of us in our 30s, let me know!