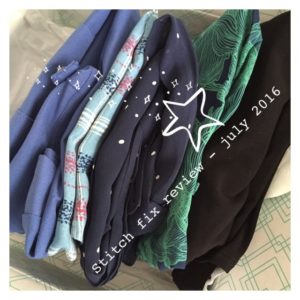 It may be a few days late, but I'm excited to bring to you my July Stitch Fix haul! I asked for short sleeve tops and dresses, things I could wear to work or hang out in. This month my stylist purused my Pinterest board again, and noticed a theme of green – one I hadn't been aware of, but apparently I pinned a fair amount of green items, so she made sure to include something in that hue.
My July fix contained 2 short sleeved tops, 2 mid/long sleeve tops, and one faux wrap dress. Now to the fashion!
#1 – Ava Floral Print Silk Henley Blouse by 41Hawthorn
This top is super lightweight and flowy. It's pretty comfortable and cute. The pattern is a beautiful floral print in a nice green and navy color combo. The only con I have is that the arm holes are cut a little too small, riding up a bit in my armpits so I'll probably hold off wearing it in the summer months when it's too hot. This will be a cute top to wear under a navy blazer in the fall.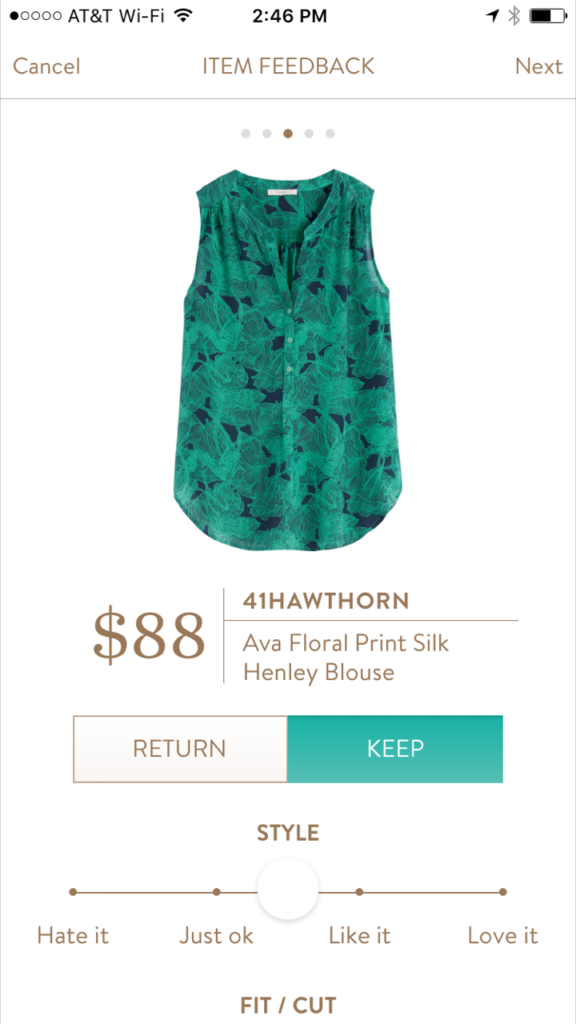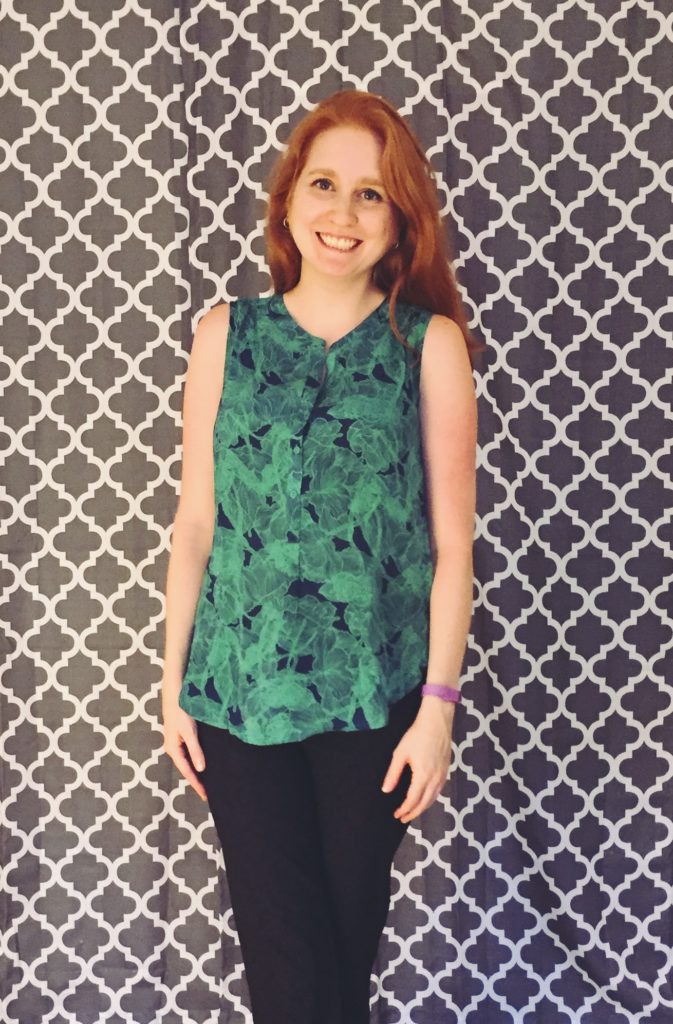 #2 – Cyrano Button Front Blouse by Papermoon
It's mid summer, and it's hot hot hot! I'm so thankful my stylist provided me with this colorful blouse by Papermoon. Something about the print says "picnic" to me, maybe because it's somewhat similar to a traditional picnic table cover. I love how airy this top is. There's no cling, it drapes across your chest comfortably, and is just the perfect top for pairing with white shorts in the summertime.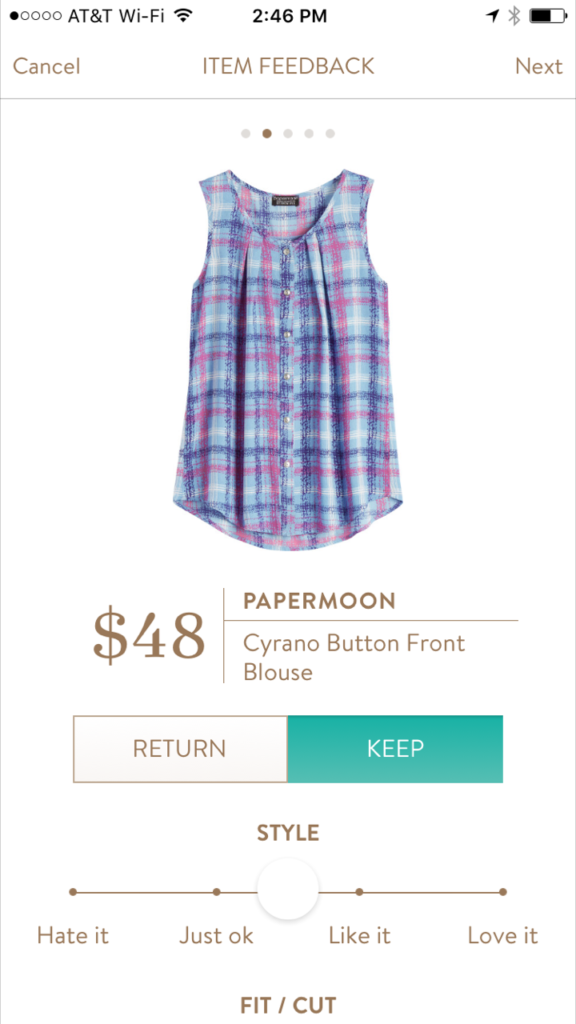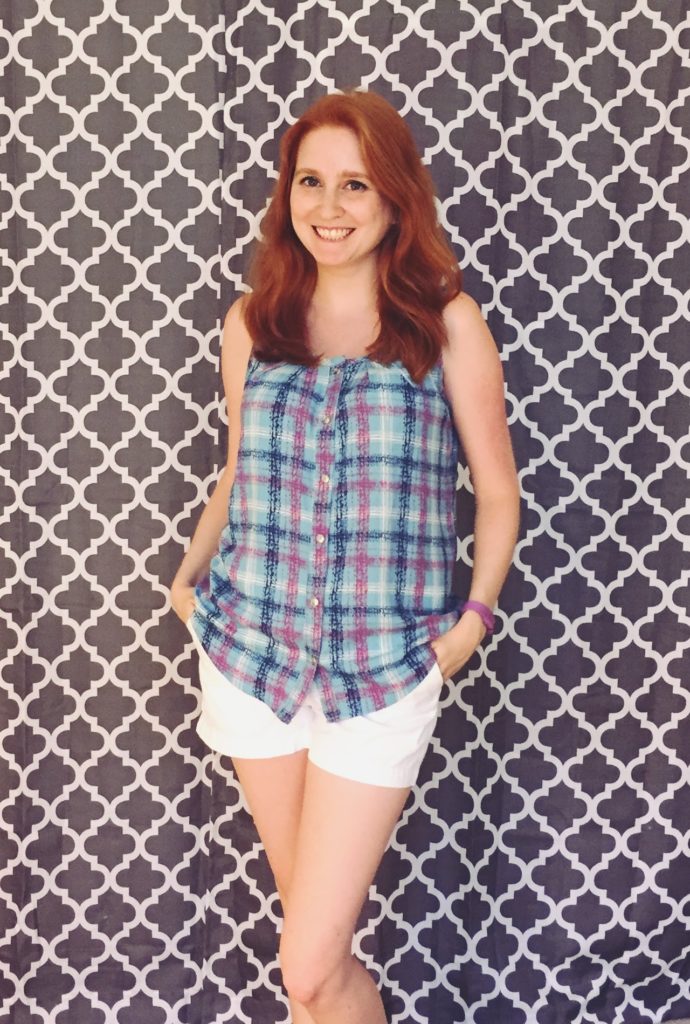 #3 – Tameron Button Down Blouse by 41Hawthorn
With fall around the corner, it's prime time to start requesting some longer sleeved tops. If you're looking for something cute, casual, yet able to be dressed up, this button down blouse is for you! Not only is this color to die for, but it apparently comes in a ton of other colors, which my stylist let me know are available in case I fell in love. I might just have to take her up on that. I also love the rolled sleeve detail, it's effortless yet classic. Pair this top with a great pair of jeans, or white pants, and you're good to go! Side note, I kind of feel ready for a safari in this top haha.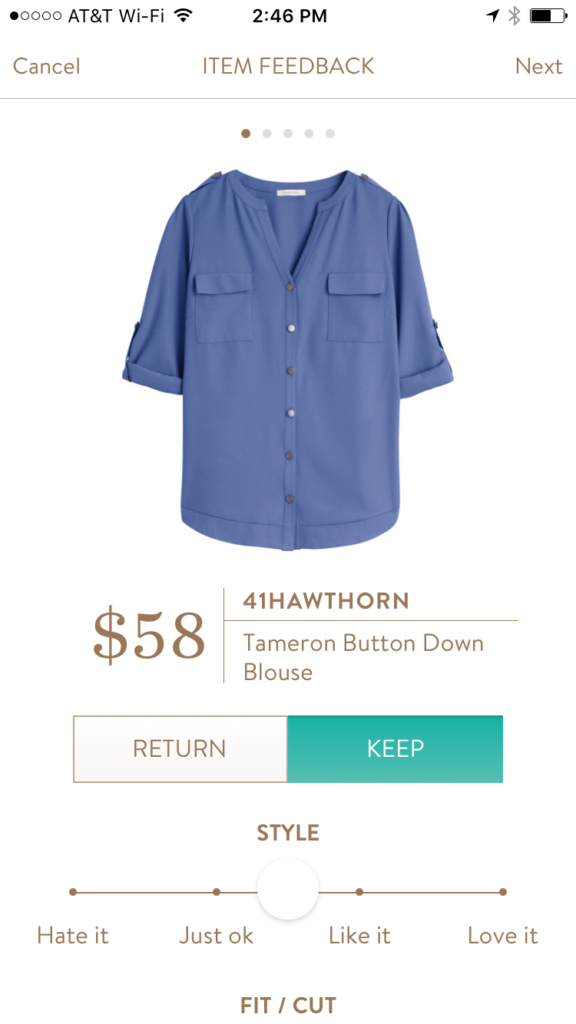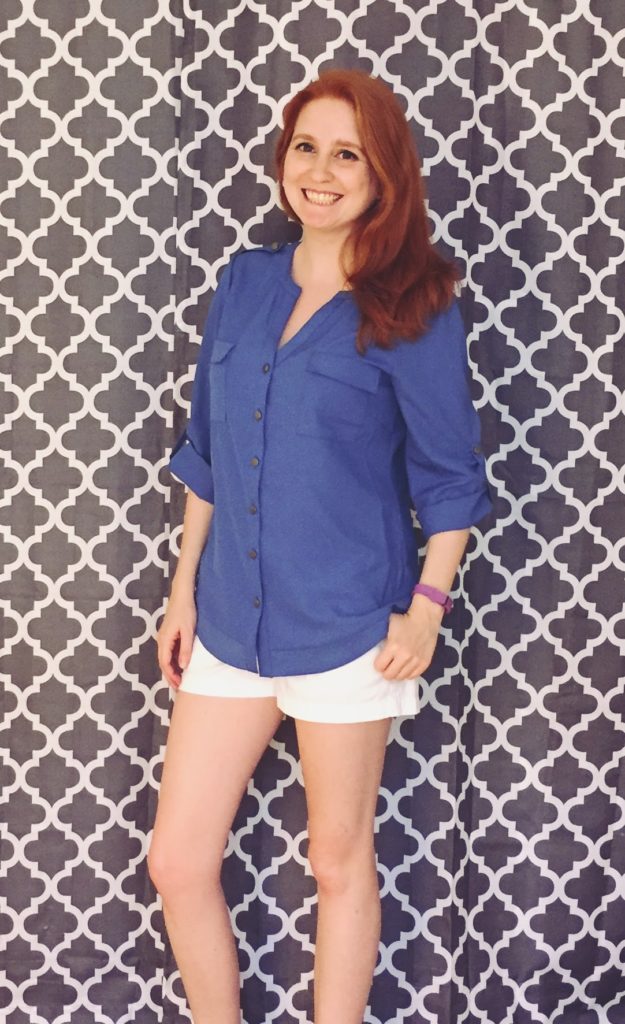 #4 – Bilson Pleat Detail Blouse by Daniel Rainn
This blouse is actually "two" tops in one. Inside of the blouse is a sewn in cami to provide extra coverage under the sheerness of the blouse. The cami is attached just at the top of the straps so it can probably be removed. I'm thinking of detaching them so I can put them on one at a time. Right now with the cami attached, I find it to be quite the challenge to find the arm holes and get this over my head. With all that to the side, I want to point out how cute this little white dotted pattern is. To me, the top almost looks like the night sky full of little white stars. You could dress this up or down and be comfortable all at the same time. A perfect top for the fall weather coming up.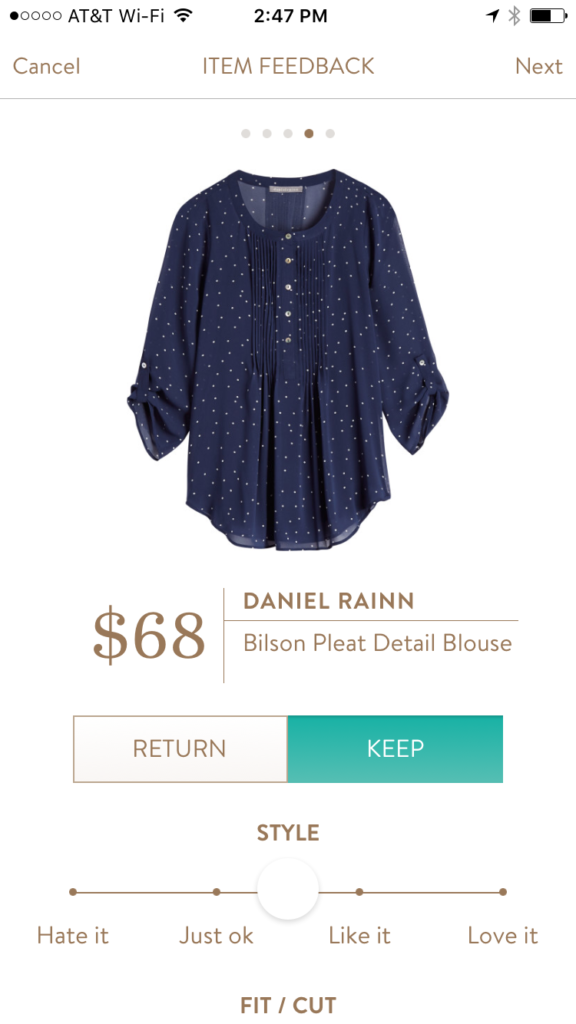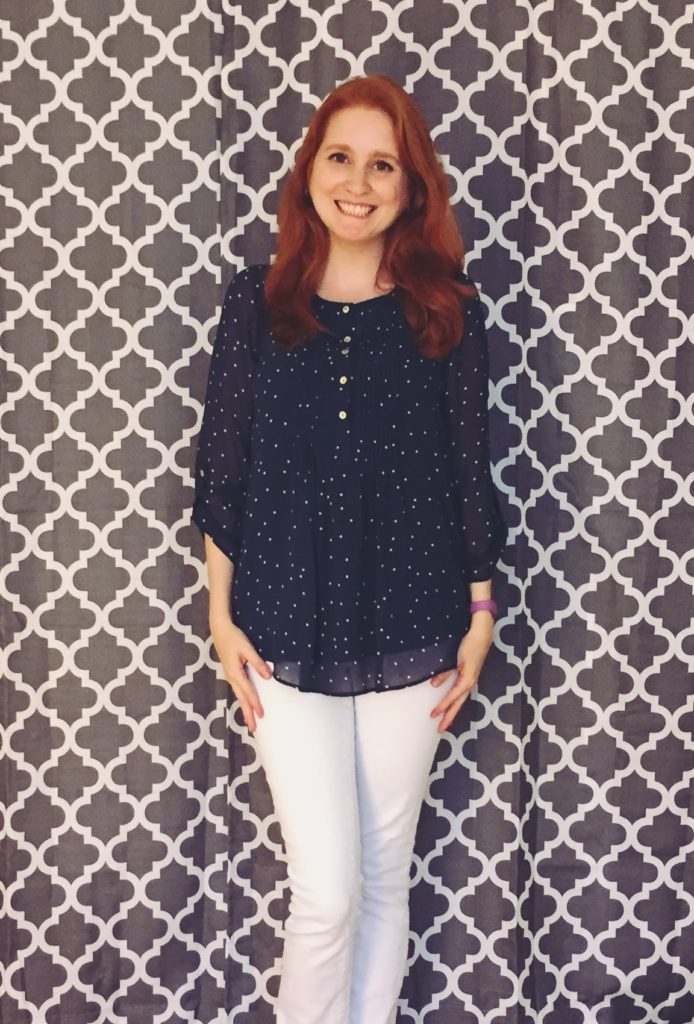 #5 – Rocco Jersey Faux Wrap Dress by 41Hawthorn
Ladies, we've all been told we need a little black dress in our closet, and I think I found the perfect one for all shapes and sizes! This faux wrap dress by 41Hawthorn is to die for. Not only is it super comfortable, but it's really fashionable. Once you put it on, you'll feel elegant and sophisticated. Heck, I was ready for a night on the town with my boyfriend when I put this on, it's such a mood booster. It's the type of dress and cut that would be flattering for everyone. When I pulled it out of my Stitch Fix box I thought it looked familiar. I quickly dashed to my closet, and low and behold I have the same exact dress from Stitch Fix but with sleeves. I guess I now have all the seasons covered 🙂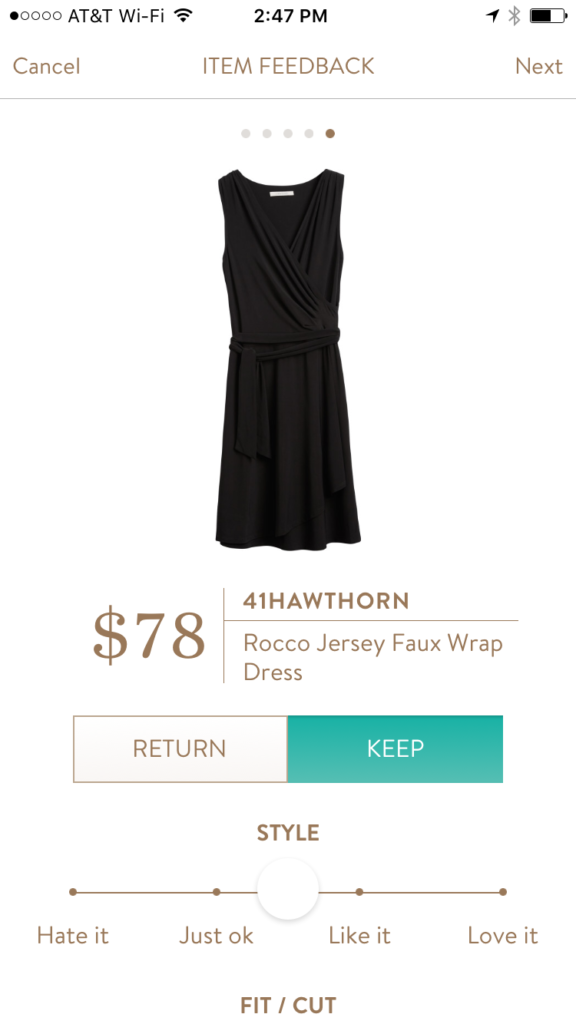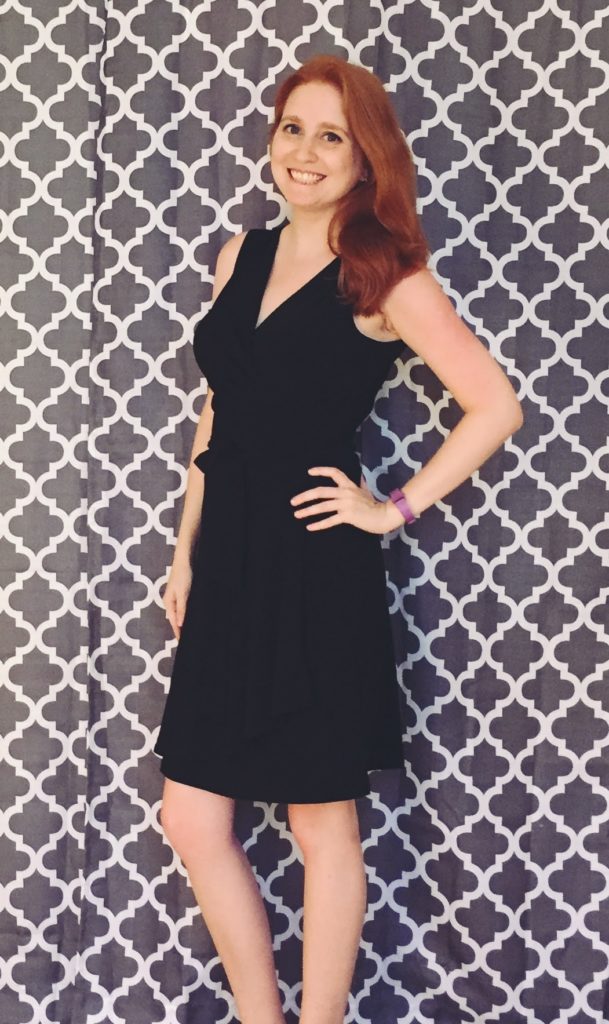 Some final thoughts:  This month's fix was great! While I would have preferred more options that I could wear during the current season, I loved the finds my stylist sent my way, I'll just have to wait until it's not 90 degrees out 🙂 It also seems like 41Hawthorn is taking over my boxes. Three out of the 5 items this month were all from that brand, and I don't mind! Overall, this is a 5 out of 5. My next box comes next week, so keep an eye in this spot!
Suggestions for a better fix:
Be very specific. If there are certain pieces or types of clothing you really want, provide that in your styling note to your stylist.
Create a Pinterest Board. Stylists will check them out if you keep mentioning them in your style notes.
Call out designers or names of actual articles of clothing . Your stylist may not provide those exact items but they'll start to get a better sense of what style you're into.
Don't forget to follow my Pinterest Boards for more Stitch Fix fun!
What are you waiting for? Give Stitch Fix a try!