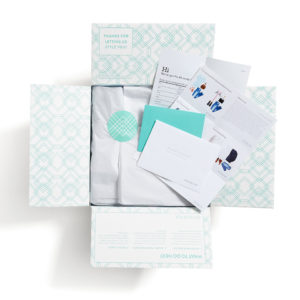 Disclosure: This post contains Stitch Fix Affiliate links, and I may receive compensation.
What's Stitch Fix
: An amazing fashion company that provides you with your own personal stylist who picks out pieces based on your style profile, requests, budget and your figure!
I decided it was time to request another Stitch Fix since it's been getting chillier here in the NYC area. There was nothing in particular that I was looking for or had found on Pinterest lately, so I requested a surprise box with only one rule, no pants. My pants drawer is getting out of hand so I've decided to not request any bottoms for a while.
Surprise boxes are usually my favorite, even though you'll find most Stitch Fix users suggest being as precise and explicit as possible to get your best Fix. My stylist has been with me for over 10 Fixes now, so I know she's really gotten to understand my style and what unexpected pieces might open my eyes to something I never knew I'd love.
This time around I received a 1 blouse, a dress, crossbody bag, a pullover top and a lightweight "jacket." I'll explain why I put jacket in quotes further into the post.
#1 – 41 Hawthorn Colibri Solid Tab Sleeve Blouse
This blouse is a beautiful berry color. It's very lightweight and ever so slightly see through depending on what you wear as bottoms (black pants and leggings might show a bit) or as a bra/undershirt. This top is great for fall/winter and even spring thanks to it's cheery color and breathable fabric. Pair it with blue or black jeans and you're good to go for a casual and comfy look.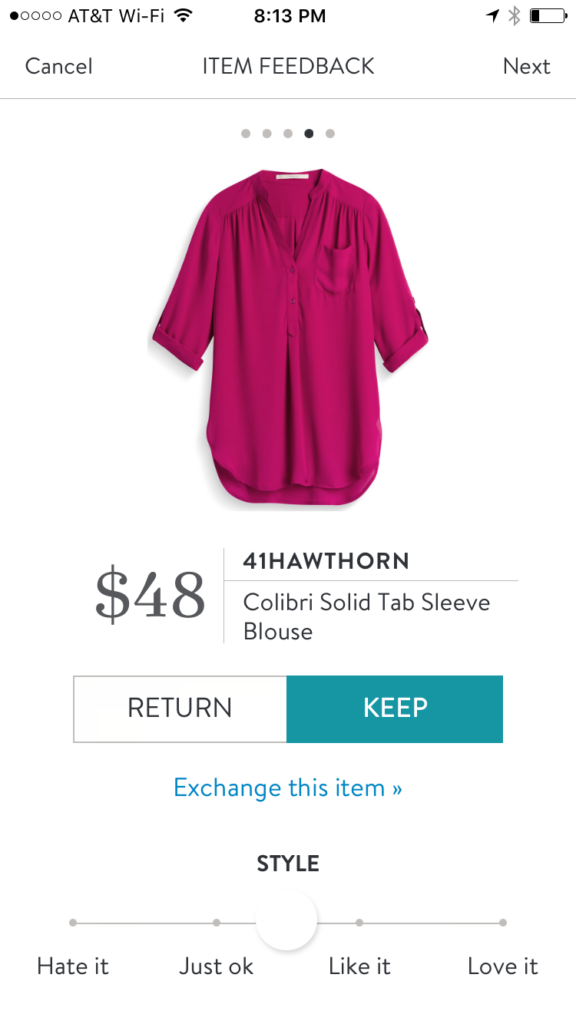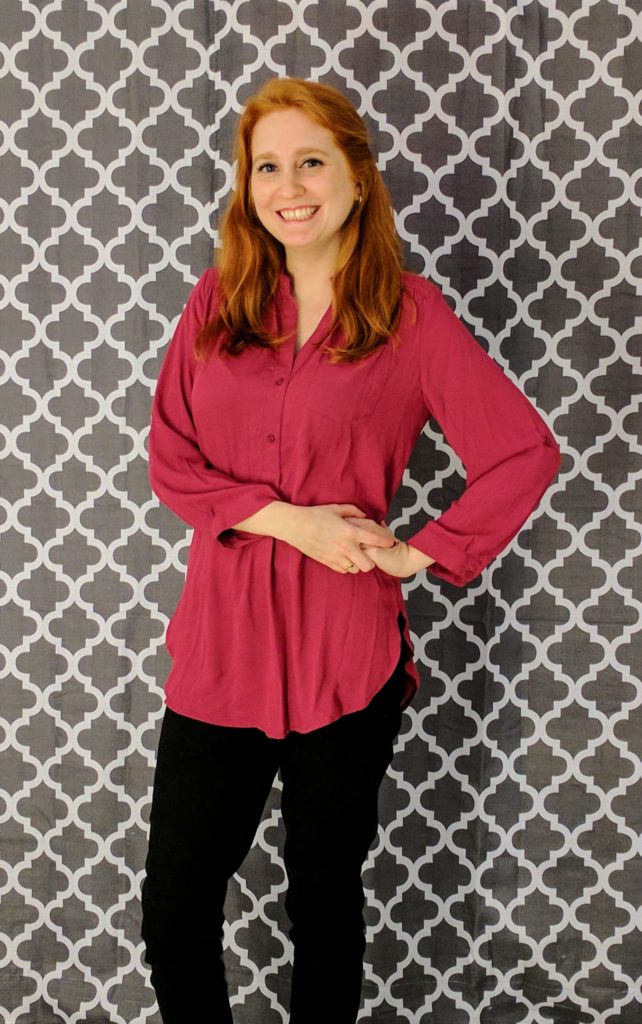 #2 – Pixley Millie Textured Knit Dress
I've been dreaming of this Pixley Millie Dress for a very long time now. I've seen it pop up on Pinterest several times and I've always thought it looked so flattering on all the Stitch Fixers. When I opened my Fix to find this beauty I was surprised and oh so excited to finally try it on. Pixley didn't disappoint once again. This dress is so cute, comfortable, and dainty. The royal blue coloring is lovely, and the see through neckline makes it so you don't even need a necklace to dress up this look. I only wish it was warm out so I could take this dress out on the town!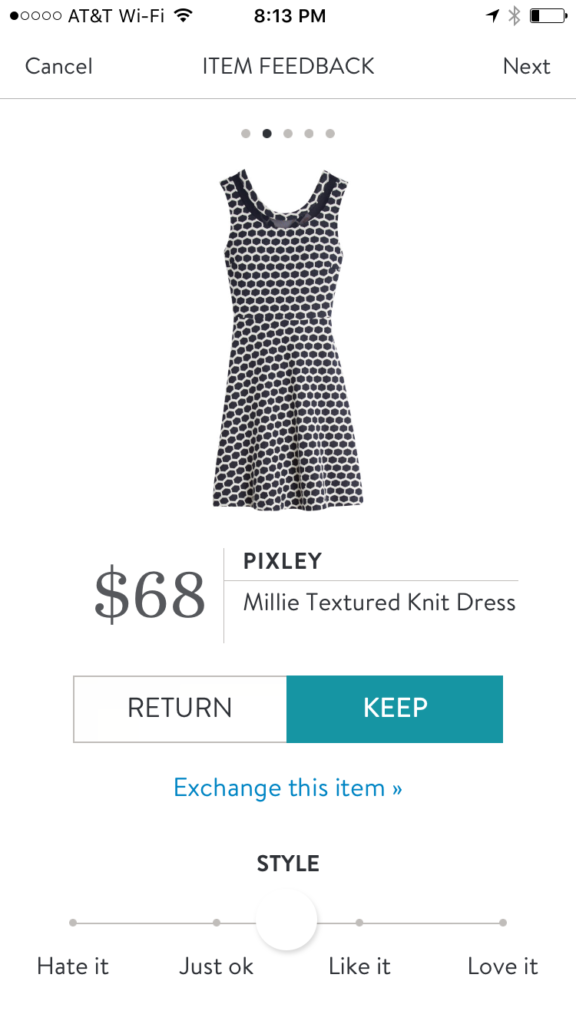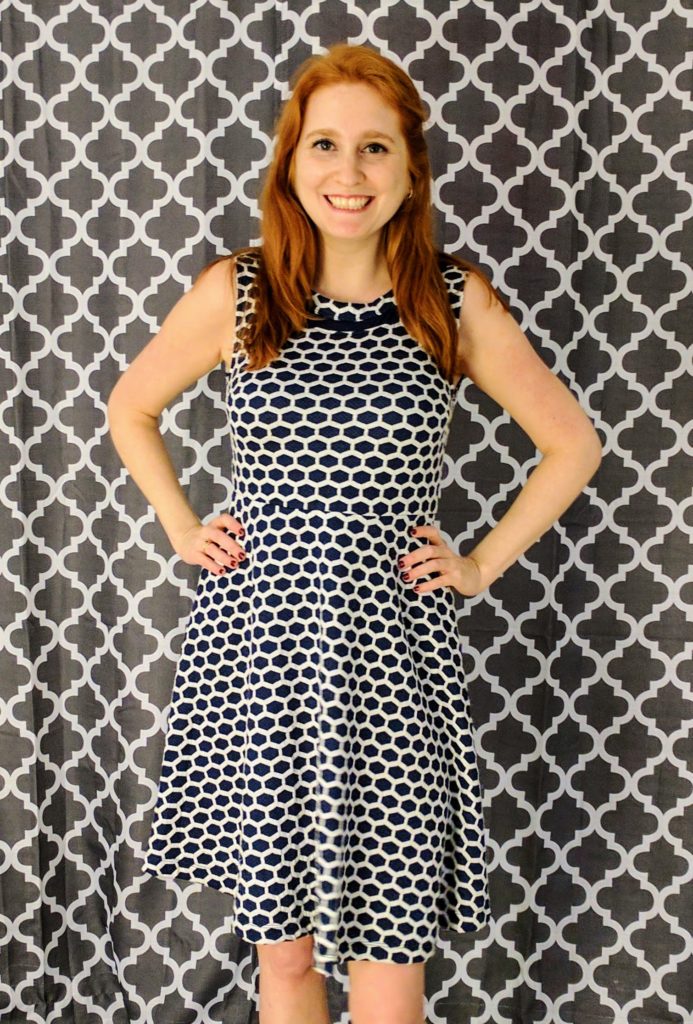 #3 – Kensie Mally Ponte Jacket
It was love at first sight when I slipped my arms through this Kensie jacket. It's so soft and luxurious with the way it drapes over your body, plus the color is to die for. This is a perfect piece for the holidays! While jacket is in the title, my stylist suggested wearing this indoors – perfect for around the office – or as a middle layer for colder days. This jacket isn't heavy enough for the winter season, but I think it could definitely be a great transition piece between seasons!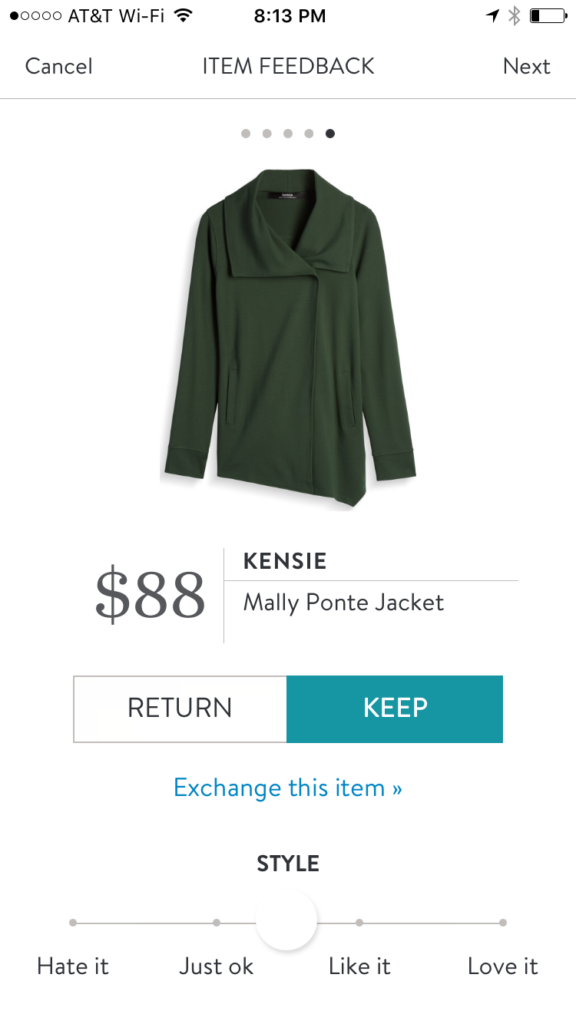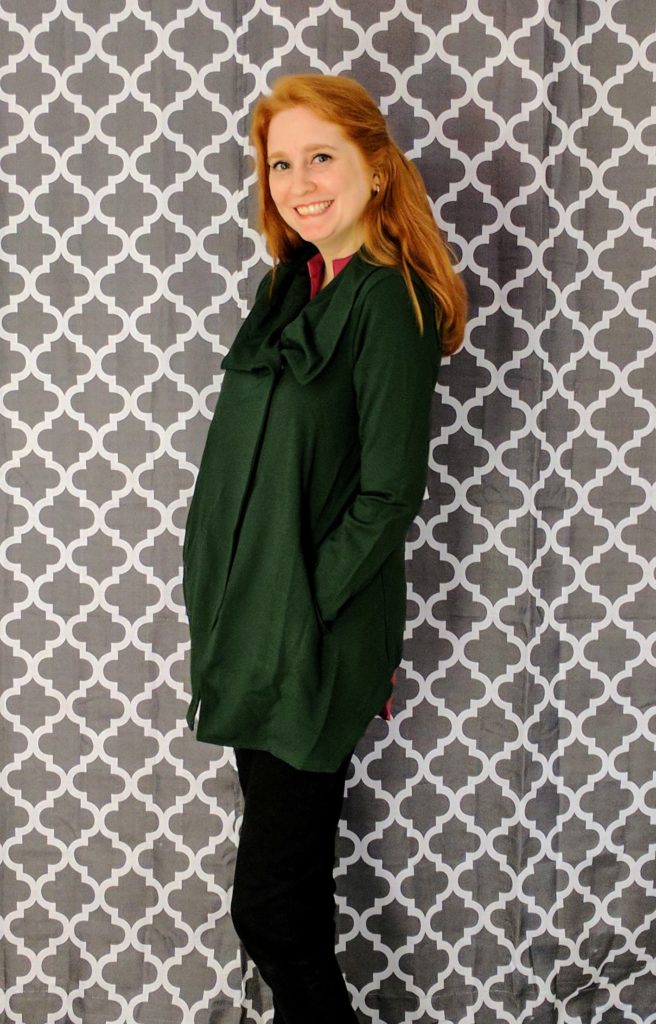 #4 – Revolution Fletcher Messenger Crossbody
This bag perfectly fit with my Fix pieces. Not only does the color compliment the 41hawthorn blouse, but it's great for pairing with the Kensie jacket. The material is so soft, there's great zipper sections and while it's a decent size there's hardly any weight to it. I love that it's big enough to fit a tablet. There's so much space in this crossbody I think I need to figure out more stuff to tote around with me 🙂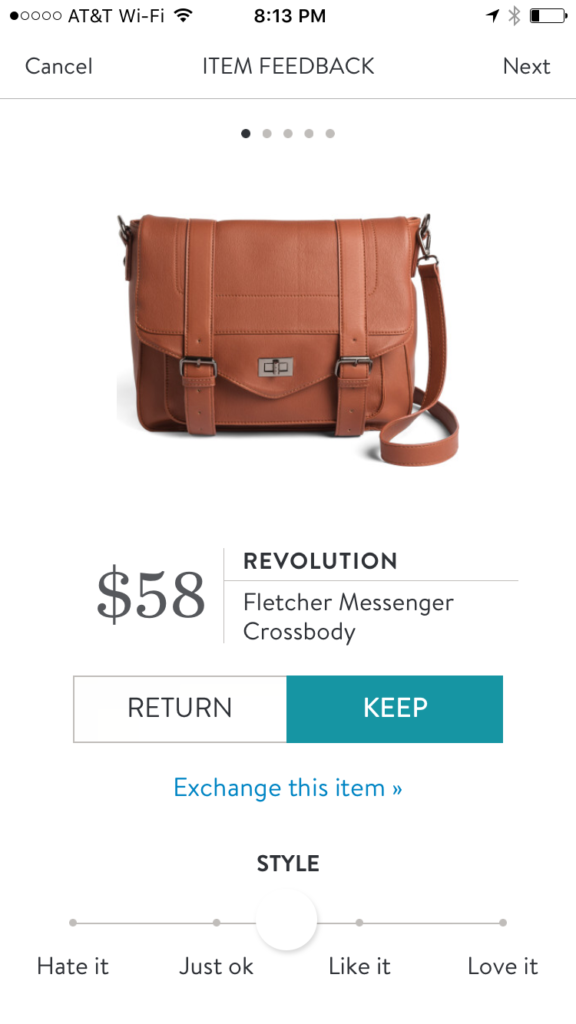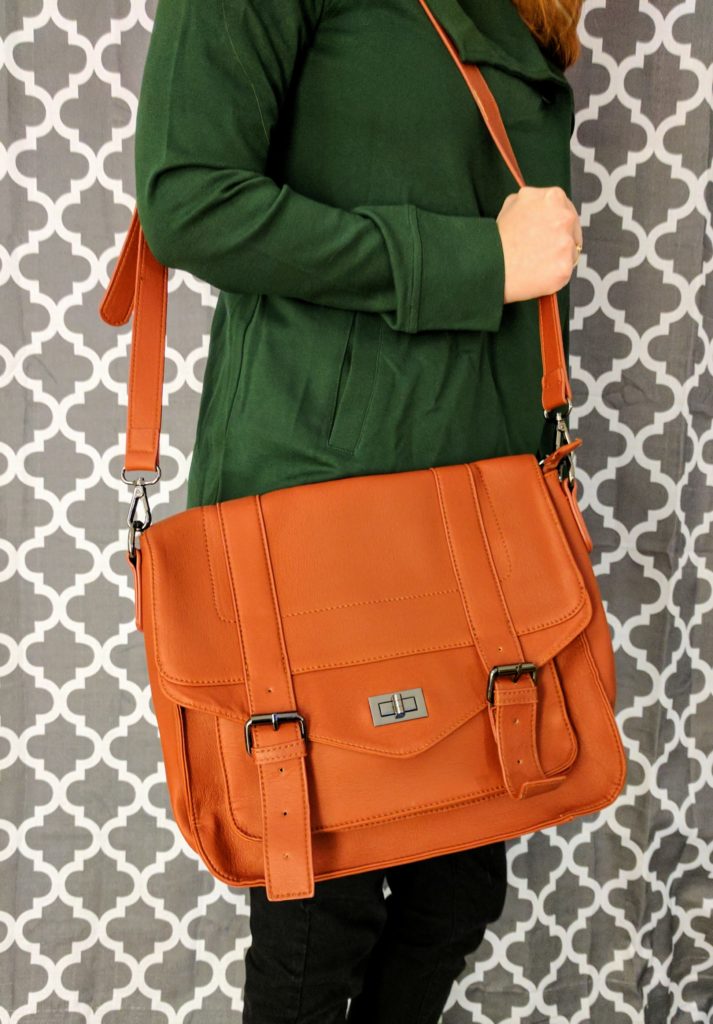 #5 – Amour Vert for Stitch Fix: Kaitlyn Striped Drawstring Pullover
At first look, this pullover didn't seem to exciting. The colors were dark and well it was a pullover, but let's be honest I needed some sweaters for the current weather so I was happy to get something warm. First impression aside, after I tried it on I understood why my stylist sent this piece, it's absolutely comfortable and perfect for lounging around and weekend excursions. Pair this pullover with black jeans for a crisp look or wear blue jeans for some contrast. Try this sweater on and you'll feel nice and toasty!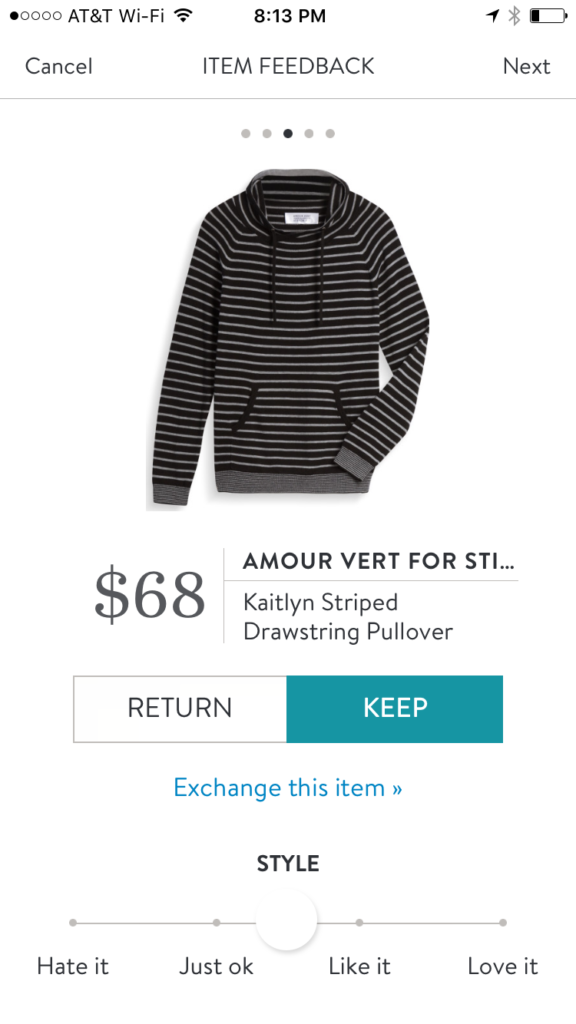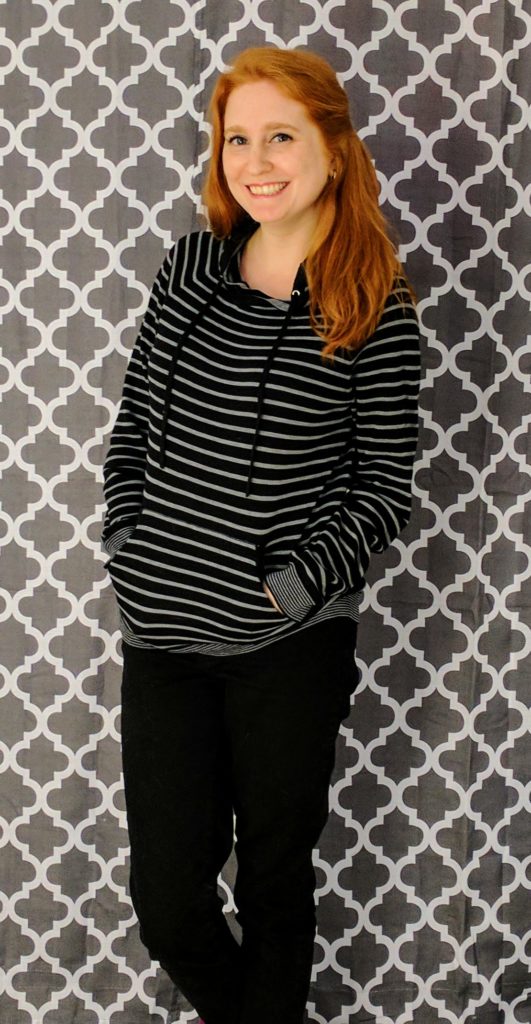 Final Thoughts: I don't know how she did it again, but Kim provided me with another 5/5 Fix. All the pieces are so easy to wear and I love it. Sometimes simple pieces are all you need to make you feel great. I can't wait to see what Kim has in store for my surprise birthday Fix next month!
There's still time to gift someone their own personal stylist this holiday season with a Stitch Fix Gift Card! Stitch Fix is open to both men and women of all shapes and sizes and is a great way to let someone explore new pieces and designers. Note: As a Stitch Fix Influence I'm eligible for compensation for every gift card sold and any Stitch Fix signup through my affiliate links (above and below)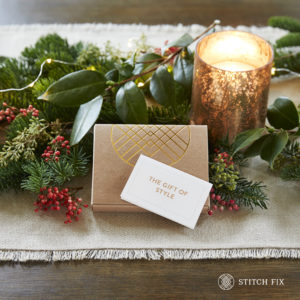 As always, suggestions for a better fix:
Be very specific. If there are certain pieces or types of clothing you really want, provide that in your styling note to your stylist.
Create a Pinterest Board. Stylists will check them out if you keep mentioning them in your style notes.
Call out designers or names of actual articles of clothing . Your stylist may not provide those exact items but they'll start to get a better sense of what style you're into.
Don't forget to follow my Pinterest Boards for more Stitch Fix fun!
Haven't tried Stitch Fix yet? Sign up with my Stitch Fix code!