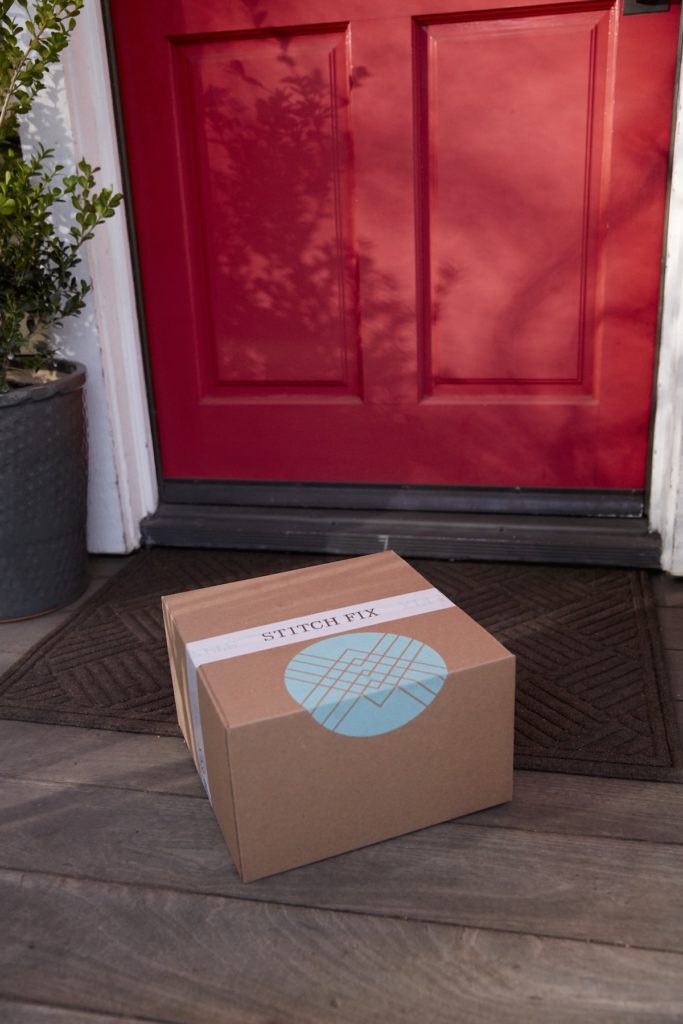 Disclosure: This post contains Stitch Fix Affiliate links, and I may receive compensation.
What's Stitch Fix
: An amazing fashion company that provides you with your own personal stylist who picks out pieces based on your style profile, requests, budget and your figure!
Since Spring is just a few days away, for my March fix I wanted to get a head start on Spring! My requests included a tan/beige trench coat, flowy dresses, and a flowy skirt with a top to match. For the most part most of my fix hit the nail on the head, but one item in particular left me disappointed.
#1 – Papermoon Barkley Woven Detail Knit Top
This top is another cute one from Papermoon, giving you the illusion of two tops in one, which is a style I like because it looks like you've put more thought into what you're wearing than you actually did! One small thing I'd change is to make the green part of the shirt a little bit longer, it cuts off at a slightly awkward length. The colors and pattern scream Spring. I really loved how soft this top was and how the back of the top went down further than the front, making it so you could get away with wearing this top with leggings if you wanted. Another cute detail is the print in the neckline opening, something unique and unexpected!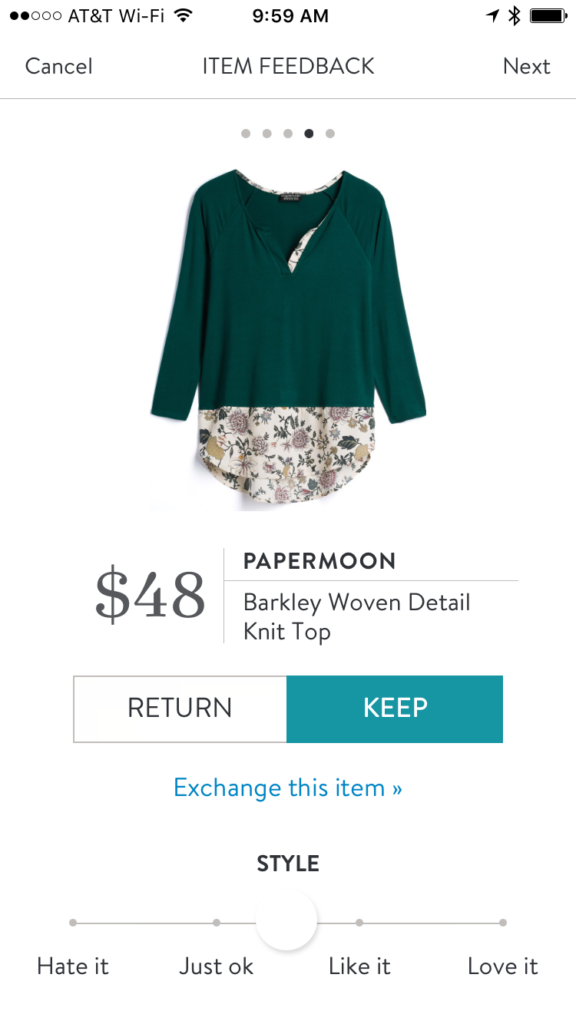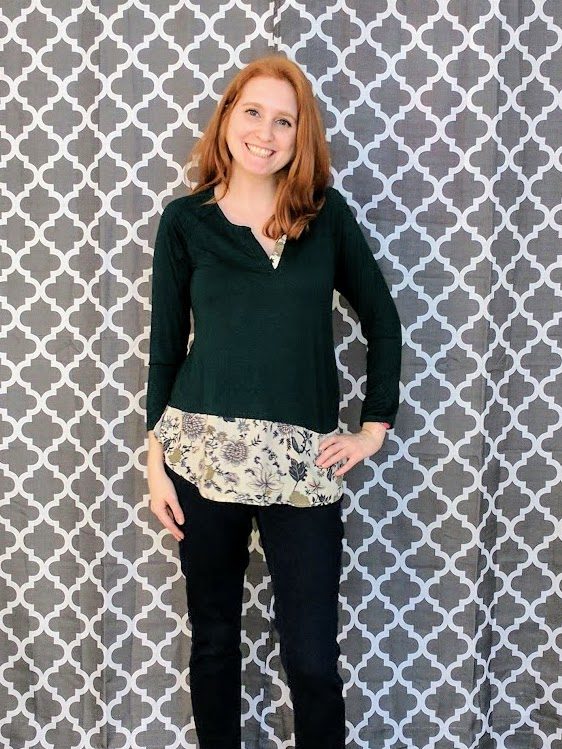 #2 – 41Hawthorn Tova Dress
I was really hoping for a lightweight flowy floral dress for Spring and this 41Hawthorn dress ticks off all my boxes! The print is gorgeous and makes me happy just looking at it. The built in elastic waistline gives the dress a bit more shape and helps make this is a great piece for any body shape. I absolutely love how comfortable and lightweight the dress is, making it a great pick for all sorts of events and locations, be it the office or out on the weekend. I'd also recommend this if you're attending a bridal shower because it's such a cheery and bright print.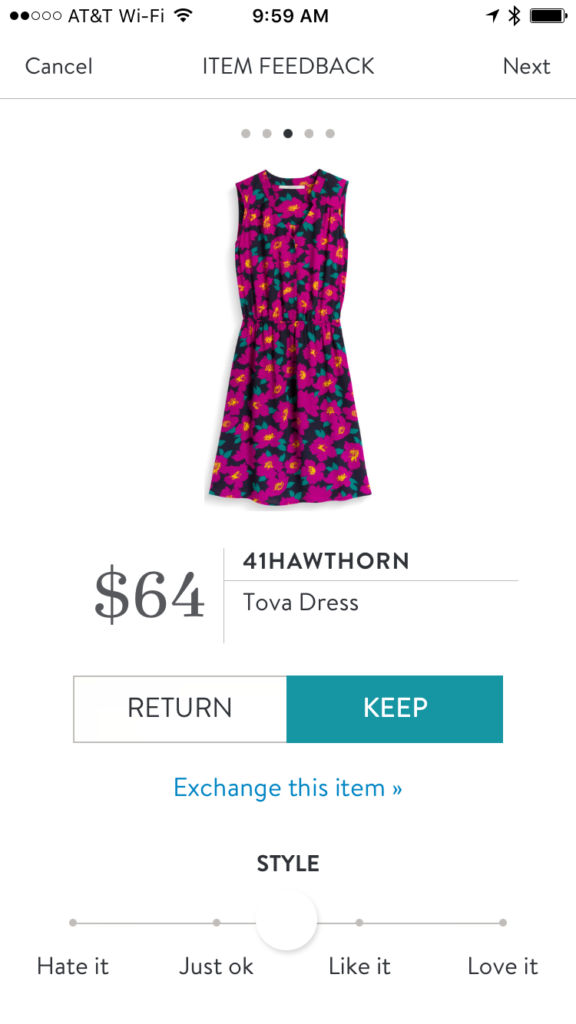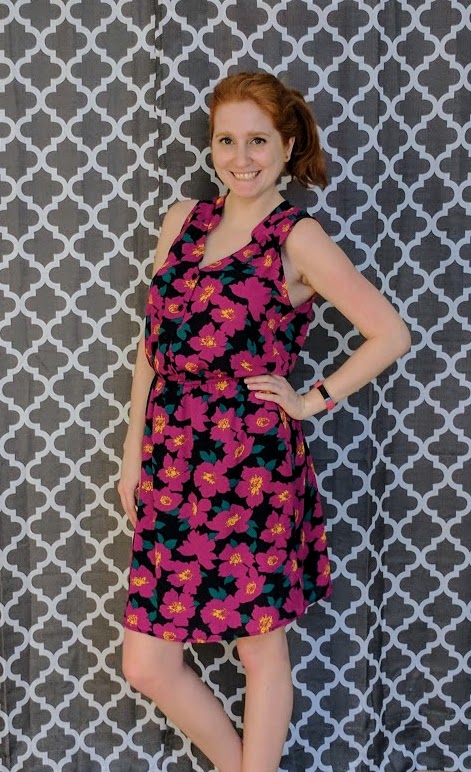 #3 – Renee C Lindia Printed Swing Skirt
I'm going to showcase the next two pieces together in my personal photo, since my stylist recommend pairing them together, but let's first start with the skirt by Renee C. I was hoping for a skirt that wasn't too tight and form fitting that had a little bit of flare to it, and this skirt delivered. The fabric is fairly thick and structured, but you still get a great swing look to it. The pattern is a beautiful navy background with white flowers. One of my favorite colors to wear is navy so this skirt is a perfect addition to my wardrobe.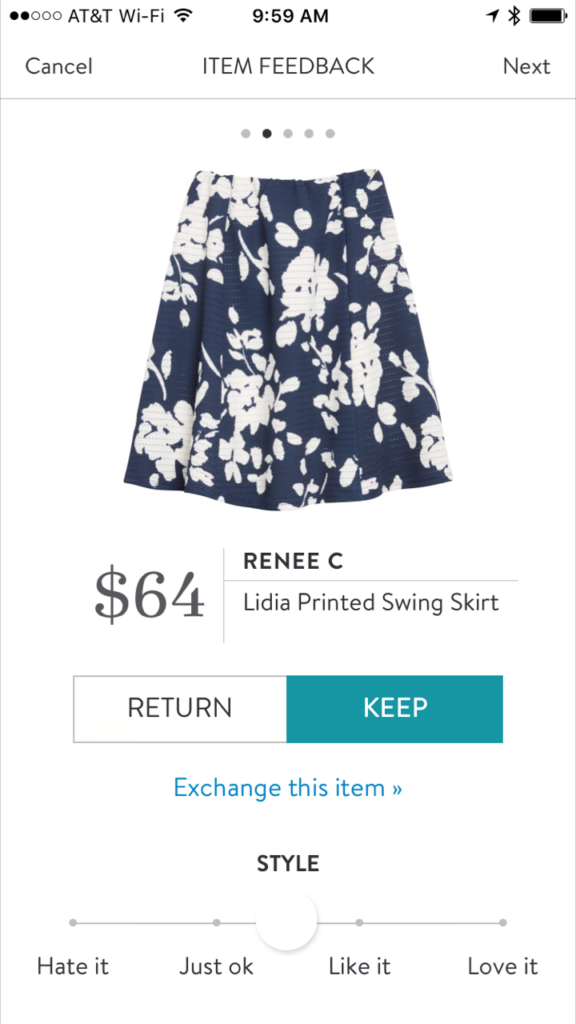 #4 – Papermoon Gracey Button Front Blouse
When I first pulled this top out I was a little worried with how bright it was, and if it would look ok on me since I have pretty fair skin and red hair – pink isn't always a redhead's friend – but it certainly screamed Spring fashion. Eventually, the shirt won me over and I found it was really breezy and comfortable to wear. I can see myself wearing it in most seasons because it has some length to the sleeves but it's also really light so it can be a pretty versitile piece. Now when I requested a skirt in my Fix, I was specific to ask for a top to go with it since I always have trouble finding tops in my wardrobe to match with skirts (I don't trust myself basically) but when I saw my stylist suggested this hot pink top with the navy floral skirt I wasn't sure I'd like the look. I learned my lesson though, and you can't judge two pieces without trying them on together. I was pleasantly surprised and felt the look was fresh, young, and maybe a bit fashion forward (for my wardrobe anyways).  What do you think?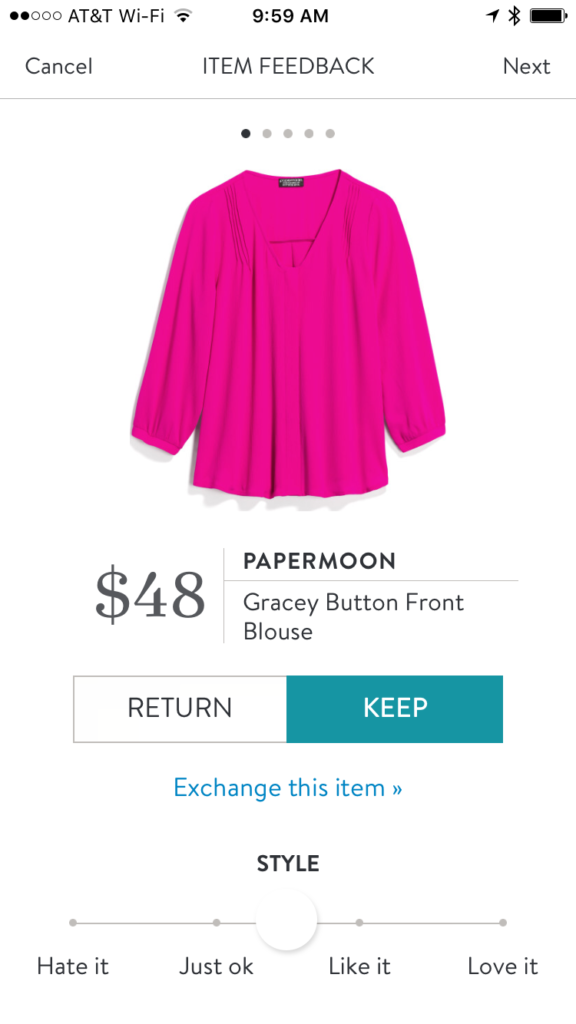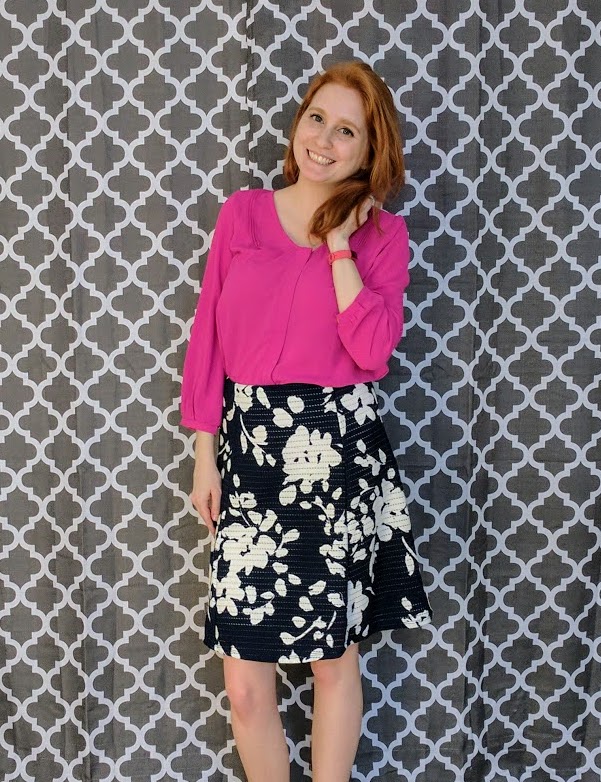 #5 – Laundry By Shelli Segal Ellin Rain Jacket
The item I was hoping to get the most was a classic trench coat, and was disheartened when I open my stylist's note to see she wasn't able to find one, but hoped this coat would do the trick. Do the trick it did not. First off, the color wasn't doing it for me. It's bright white, which is far from the tan/beige I was hoping for and I feared it would easily get dirty. The next thing that hit me was the scent. Yes, you read that right, the scent. The jacket smelled like a shower curtain liner, not something I want to go for 🙂 But I figured hey, you've got to try it on maybe these initial reactions will go away. Sadly, they didn't. The coat felt a size too big for me, and it didn't have a tie belt which really confused me. Why wouldn't you put a belt on this coat? Without the belt the coat went out pretty far and and it made me feel like I could hide a pregnant belly. I didn't like the look, smell, or feel of the jacket so I returned it. Thankfully it was expensive enough that it didn't cause any issues with the savings I would have made by keeping all 5 items.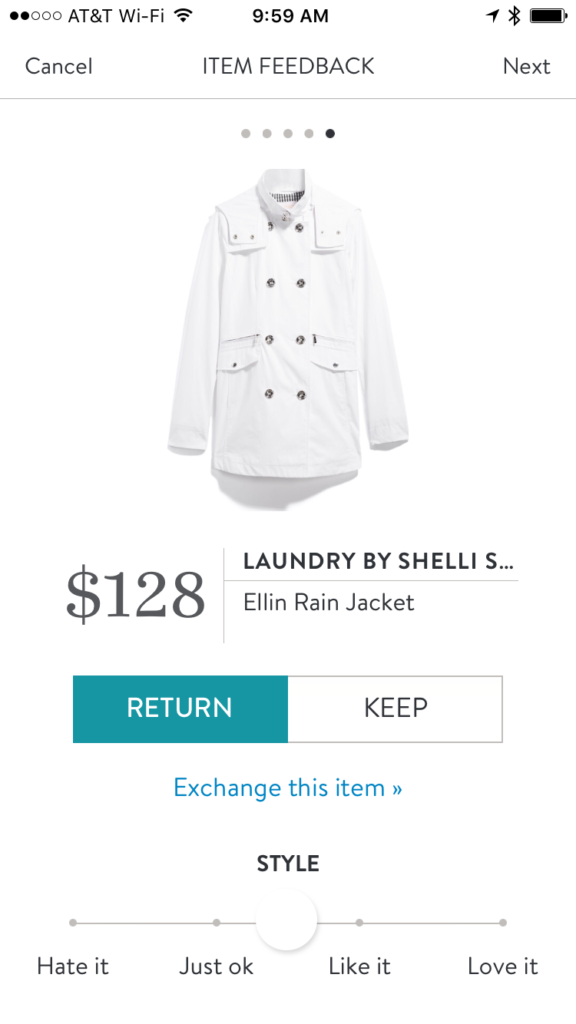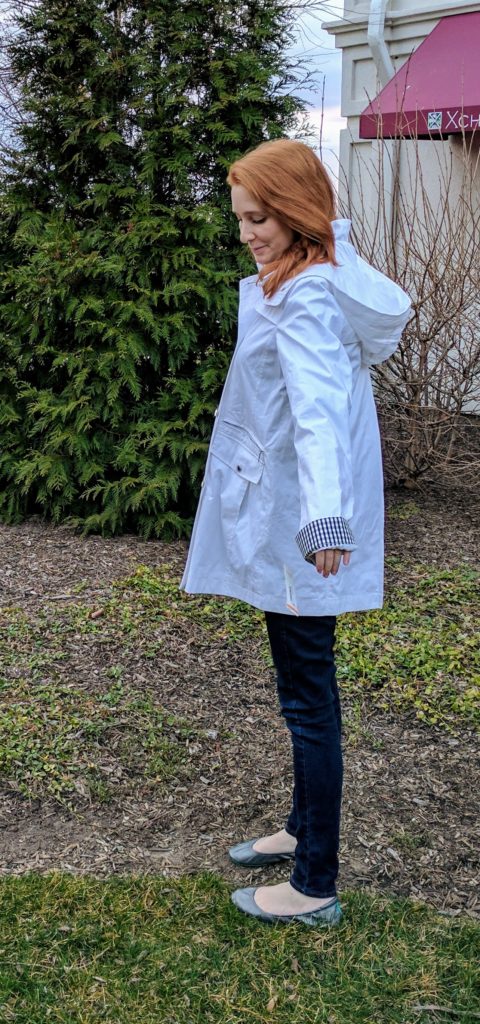 Final Thoughts: Overall, I was pretty satisfied with my Fix. Several of the pieces I had seen on Pinterest and had even pinned so it was exciting to see them in this month's box and to know my stylist continues to check out my pins. While I wasn't a huge fan of the jacket, basically everything I had requested was provided, which is always an awesome treat and surprise because I know not every request is possible with the stock Stitch Fix has on hand. I'll definitely be ordering another box soon to get some more transition pieces for Spring and Summer. What's on your spring/summer wish list?
As always, suggestions for a better fix:
Be very specific. If there are certain pieces or types of clothing you really want, provide that in your styling note to your stylist.
Create a Pinterest Board. Stylists will check them out if you keep mentioning them in your style notes.
Call out designers or names of actual articles of clothing . Your stylist may not provide those exact items but they'll start to get a better sense of what style you're into.
Don't forget to follow my Pinterest Boards for more Stitch Fix fun!
Haven't tried Stitch Fix yet? Sign up with my Stitch Fix code!