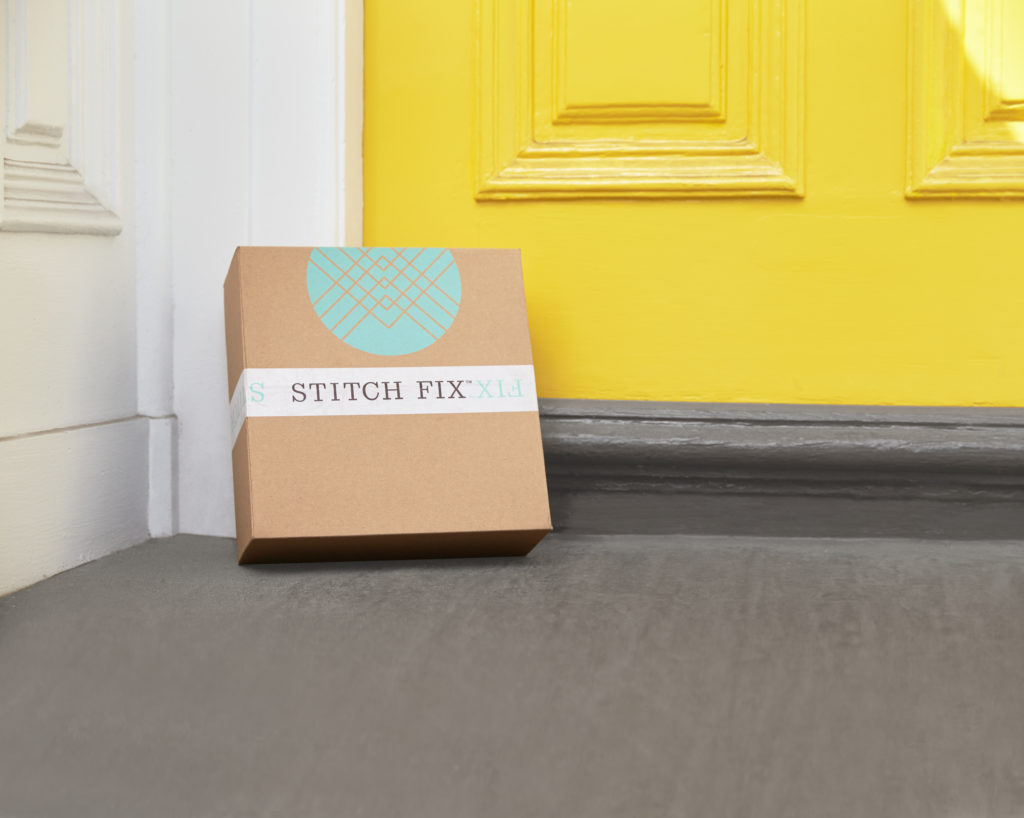 Disclosure: This post contains Stitch Fix Affiliate links, and I may receive compensation.
What's Stitch Fix
: An amazing fashion company that provides you with your own personal stylist who picks out pieces based on your style profile, requests, budget and your figure!
Spring is fully here and summer is just around the corner. As the weather starts to heat up I'm looking to add some lighter pieces into my wardrobe so I can conquer hot and steamy New York City commuting. This Fix I asked for some flowy dresses, a solid dark wash pair of shorts and some short sleeved tops.
#1 – Daniel Rainn Natalie Tie Neck Top
My first piece in my May fix was a short sleeved top from Daniel Rainn, one of my favorite designers with Stitch Fix. When I pulled the top out of the box my initial concern was the color of the top. While the cut, style, and pattern were cute, the main color of the top seemed like it might not work for someone with my coloring. Sure enough, after trying the top on, I felt it matched my skin tone too much and made me look washed out. Although the top was a miss for me, I think it would be a great top to wear to the office or on a even on a beach trip. If you have a darker skin tone, or are someone who can tan, this top would look amazing on you. Unfortunately, as a redhead, I don't tan so back to Stitch Fix the top goes.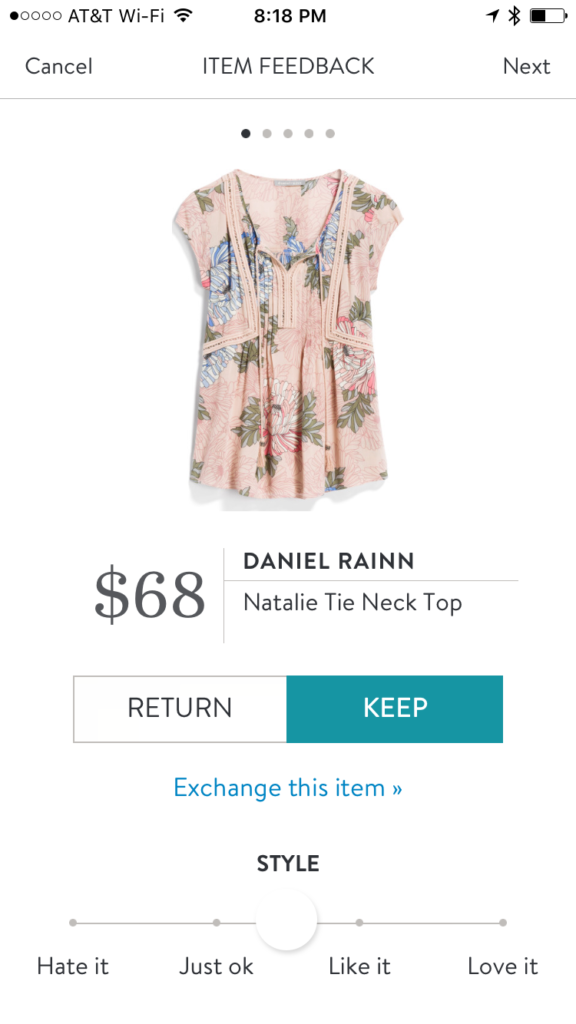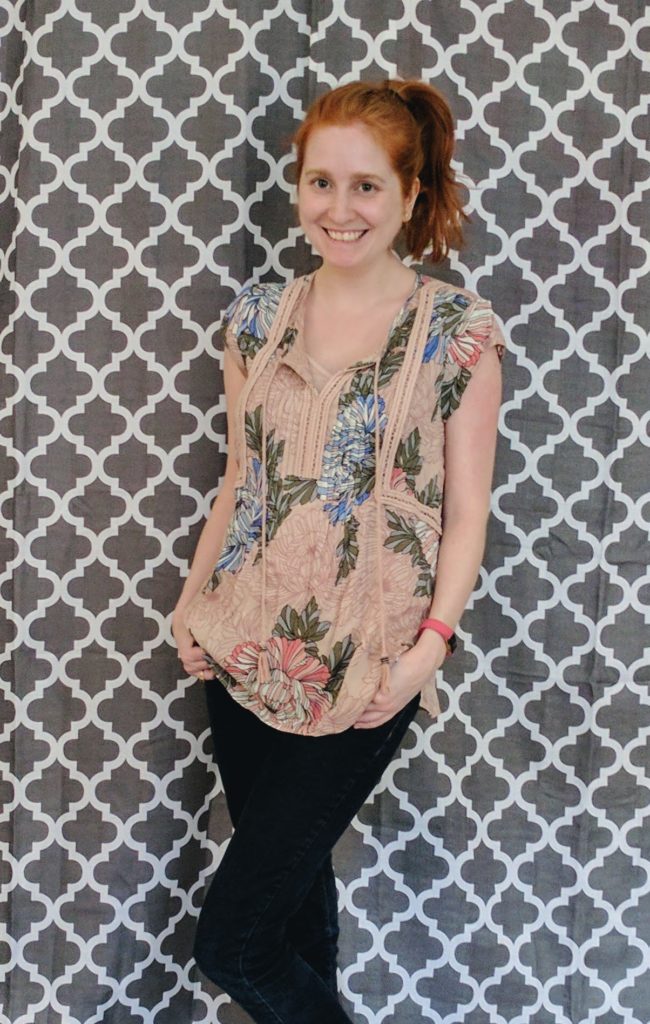 #2 – Margaret M Lorali Knit Dress
I'm so thankful that Stitch Fix brought Margaret M into my life. Margaret M is a company out of Canada that designs flattering clothing for women that is supposed to provide a slimming effect. I already own 2 pairs of pants and skirt from them, so of course I had to add one of their dresses to my wardrobe. The Lorali knit dress is fun, flowy, and so comfortable. The fabric is silky smooth and cool to the touch. I love how the waistline is designed, and how the pattern sits, giving you a really flattering figure. The color and pattern of this dress is also perfect for these spring/summer months. I have yet to be disappointed with Margaret M pieces in my Fixes.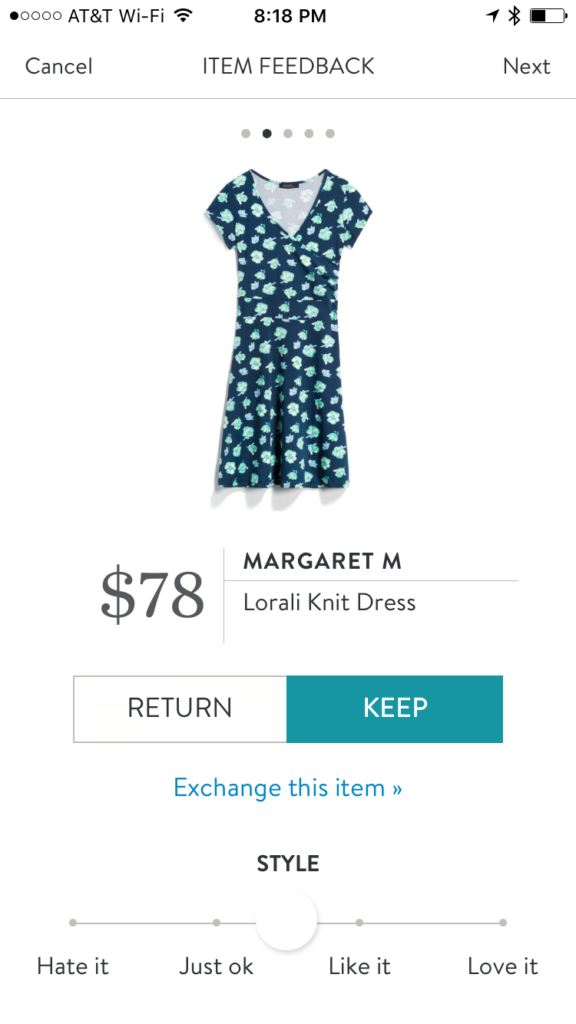 #3 – Crescent Cailyn Textured Dress
Royal blue dresses should be a staple in every woman's wardrobe, they look amazing with any skin tone and hair color. I love the texture on this dress from Crescent. The dress is full of little raised circles that help dress this dress up a bit, make it something you could wear for multiple occasions from the office, to a date, or even to a bridal shower. The tie waistband is cute and functional while the neckline detail is fun and frilly. I love the how this dress is lightweight and looks like it could travel well without having to worry about too many wrinkles popping up. As someone who has spent weeks traveling, I really appreciate pieces that I can throw into my suitcase and not have to worry about.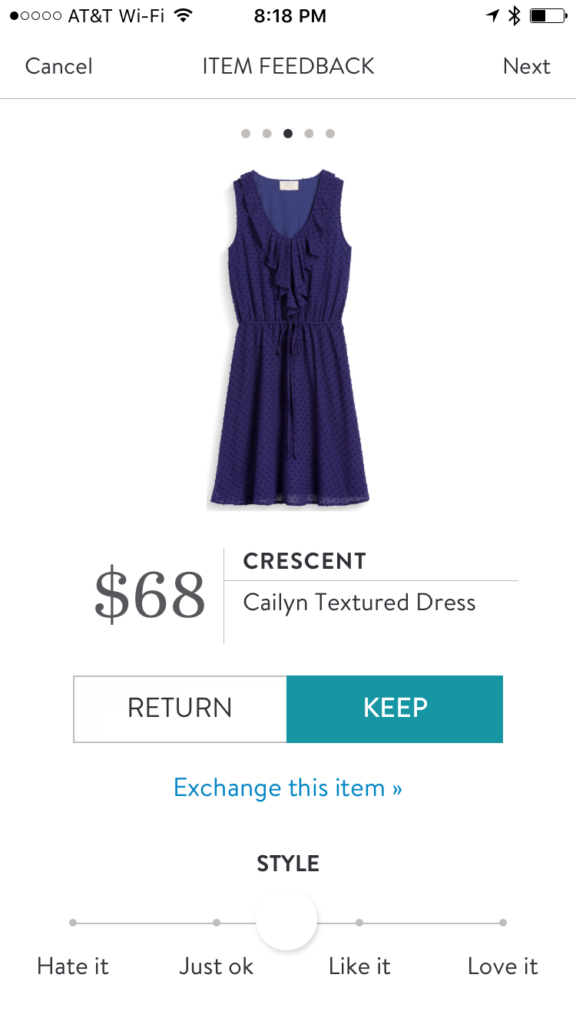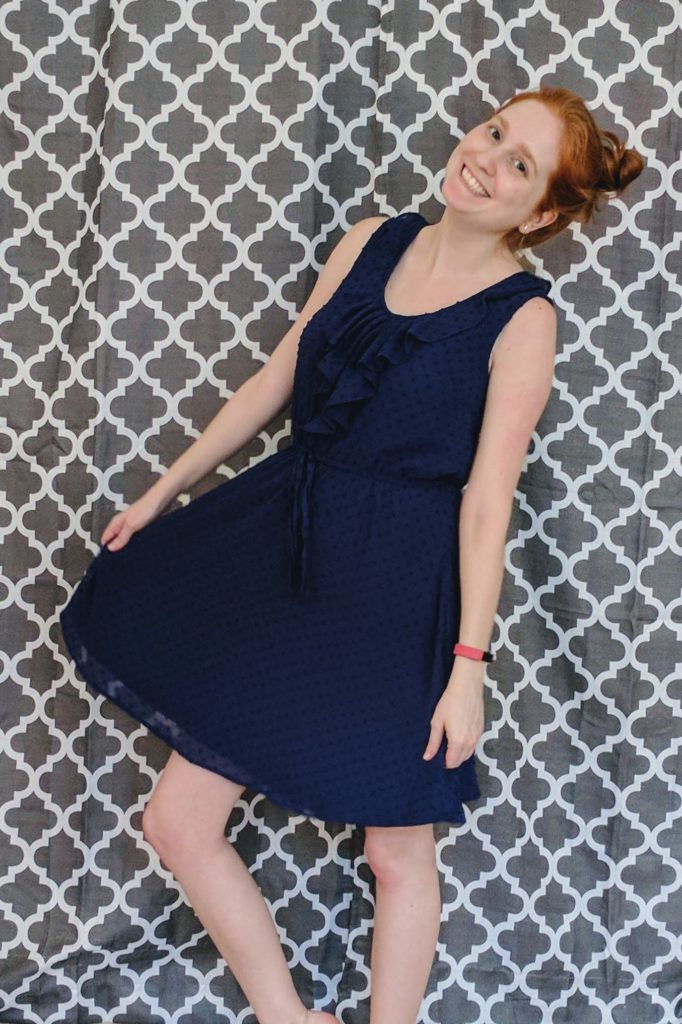 #4 – Market & Spruce Tanzie Open Back Top
I love a tank top. I've lived in tank tops most summers, and I love how this one is little dressier than usual but can also be pretty casual. While the front is pretty simple and plain, the back cutout adds a little something special, bringing this tank top up an extra notch. I recommend pairing this top with a pair of white pants or shorts.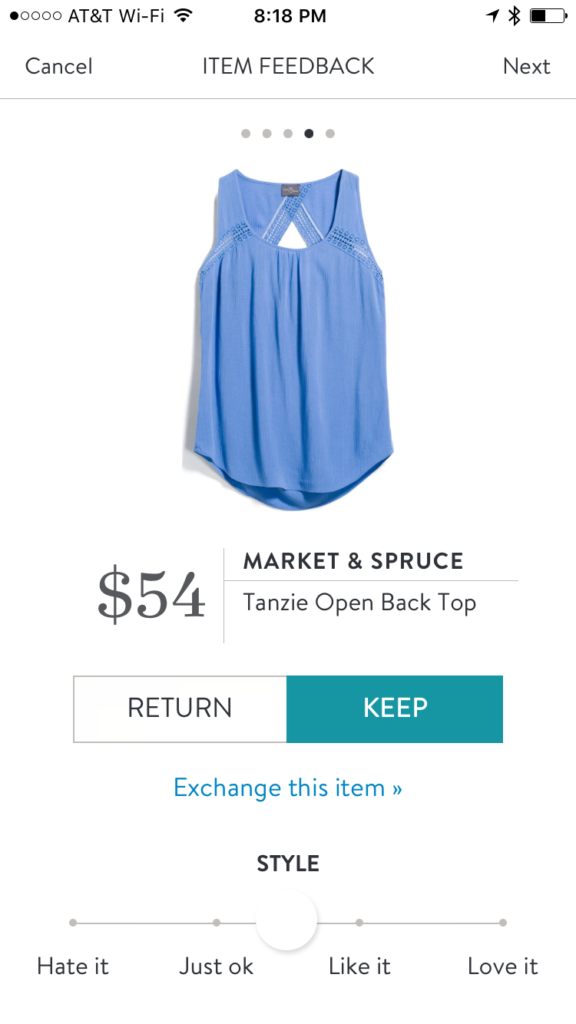 #5 – Level 99 Josh Denim Short
You can't survive Spring without a great pair of shorts. I had high hopes for Stitch Fix shorts, but this pair of denim shorts misses all the marks in my book. I was hoping for a solid dark wash pair of jeans, no distressing or whiskers. What I got instead was a pair of shorts that I can't explain any other way but to say they look like "mom shorts." Now, no offense to moms, but we've all heard about mom jeans, and these shorts are their spawn. Maybe it's the cut or fit on my body, but they just didn't look good. The shorts elongated my butt, and just looked strange. I wasn't a fan of the large pockets in the front either. I should note this was my first time requesting shorts from Stitch Fix, but I might give it another go and ask for a fun color or print in the future.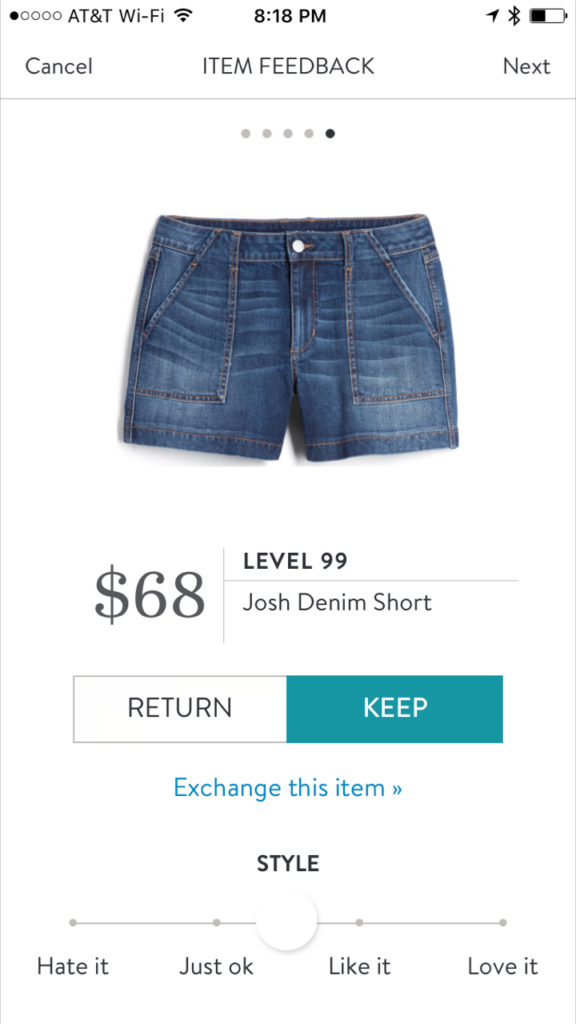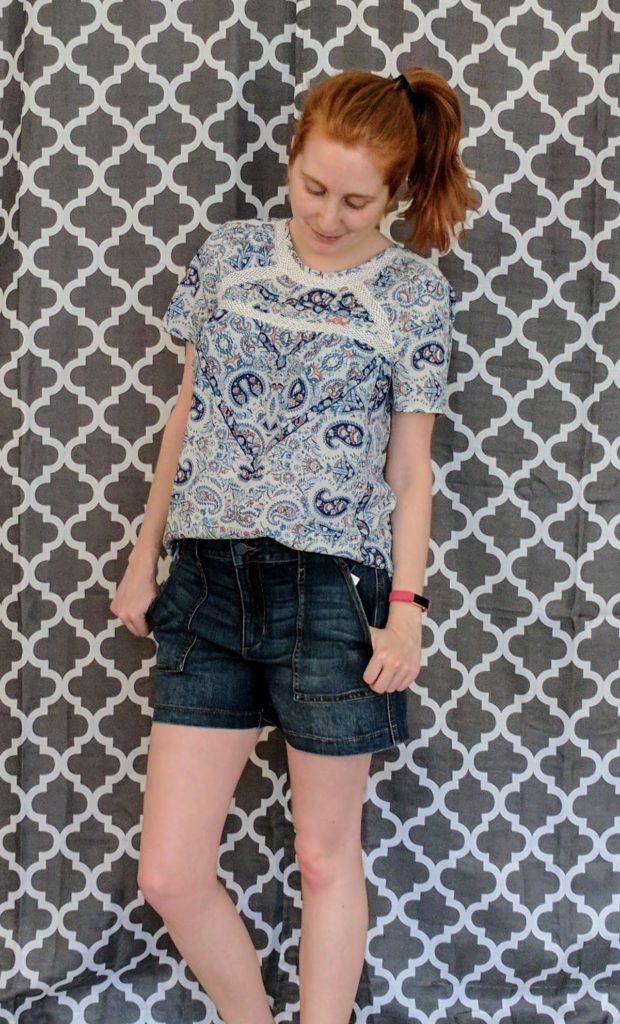 Final Thoughts: This fix provide a few cute items that I'm excited to circulate in my Spring wardrobe, but had a couple misses. I look forward to working with my stylist to find a few more pieces for the upcoming warm weather here in the North East.
As always, suggestions for a better fix:
Be very specific. If there are certain pieces or types of clothing you really want, provide that in your styling note to your stylist.
Create a Pinterest Board. Stylists will check them out if you keep mentioning them in your style notes.
Call out designers or names of actual articles of clothing . Your stylist may not provide those exact items but they'll start to get a better sense of what style you're into.
Don't forget to follow my Pinterest Boards for more Stitch Fix fun!
Haven't tried Stitch Fix yet? Sign up with my Stitch Fix code!