I'm always seeing ads for fashion and stylist services, mostly because the internet knows I'm a big fan of Stitch Fix so it figures I might be interested in some other options. So, when I received an unexpected bonus at work, I decided to splurge (it was right before the holidays) and give one of these other services a try and treat myself. I also wanted to find out if "high fashion" was really better, more fashionable, and if it was worth it.
The company I decided to take the leap with was Front Door Fashion. Before selecting them, I did a little research to see what they were all about and if people had good experiences with them. For reference, they were advertised to me on Facebook, which is how I found out about them. They seemed interesting, promising high-end clothing. Like Stitch Fix, you take a style quiz but not as visual per se as Stitch Fix. I asked for pieces to be travel friendly and fashion forward, aka I wanted to try some new trends.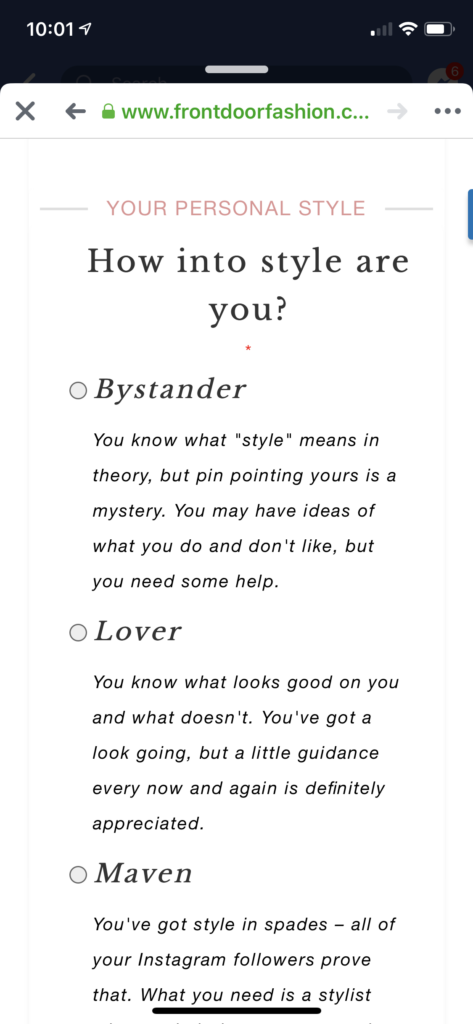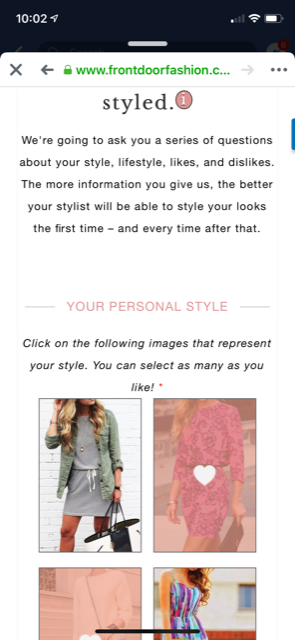 I remained hesitant for a while if I should bite the bullet, and even completed my profile, got to the schedule a box section, and then backed down. Do I really need more clothes? Should I really be spending this much money? Well, before I knew it, a stylist had been assigned to me after seeing that I completed my profile and wanted to help get a box together for me asap. Now, this wasn't a simple automated email message coming my way saying schedule your box now, no. In the matter of a day, I believe I was called, texted, and emailed. Whoa. For someone who doesn't like cold calls I certainly wasn't going to chat with someone about my fashion personality over the phone, especially when I don't know how I'd describe my look 🙂 I responded to the email, scheduled a box online and waited.
Once I got my box, a couple weeks later, I was given 5 days to try everything on and figure out what worked for me or didn't. Let's dig in.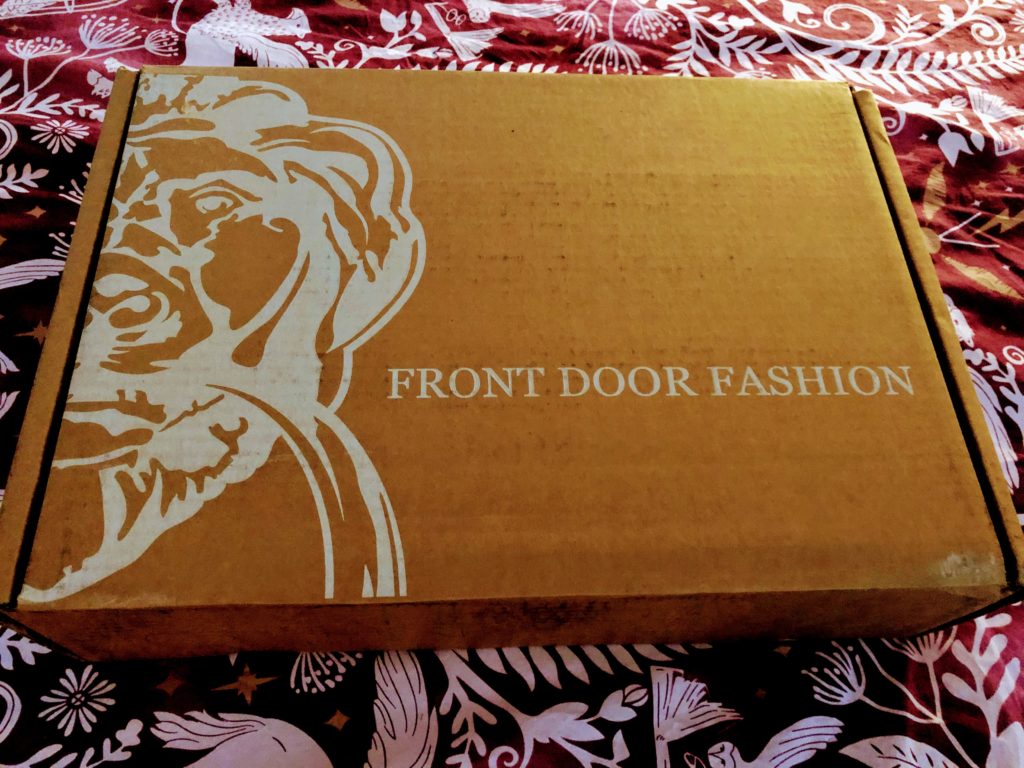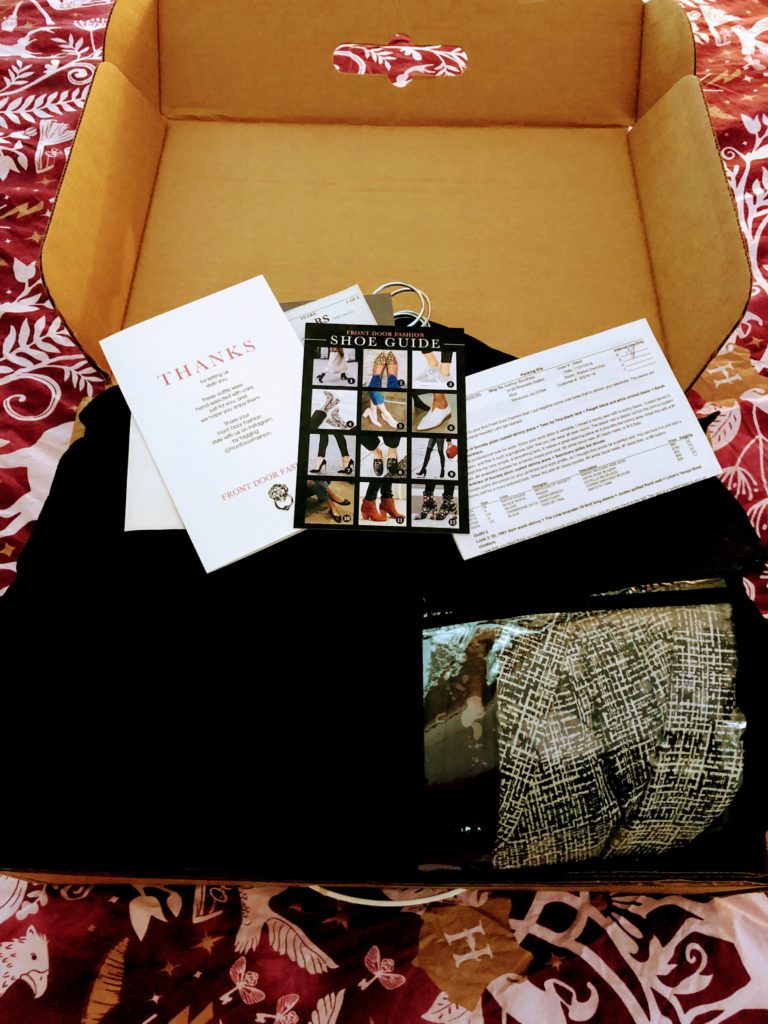 A large and heavy box arrived and inside was a massive garment bag, some papers describing the items, and a shoe suggestion card with images of shoes and what items they would look good with (although I received no shoes). Within the garment bag, items were segmented together in batches or outfits/looks. Usually this was done by a little jewelry bag wrapped around hangers. The paper print out also dictated which group of hangers was what. By first look, there was going to be some pieces that were going to be a Big NO for me.
One thing that I wish was included was a printout with images of the items, and how they should be paired together. Stitch Fix does a great job with this, although I still wish they'd include pictures with models in the clothing as well so you could see how pieces were supposed to fit and fall on you, but moving on… With FDF, I had to just go off paragraphs on a funny printed sheet to style myself. The website also didn't have any photos of the clothes or outfits, so the only peek you get is from me actually trying on the pieces.
Outfit #1
The first cluster of clothing items listed under Outfit 1 from my stylist consisted of the following designers, pieces, and prices.
Articles of Society – Sarah Release Hem Jean – $89
The cut of the jean was frayed and unfinished looking in a not good looking kind of way. I also wasn't sure where on the ankle it was supposed to fit me, so I felt uncomfortable, feeling like I was wearing high waters. I have a similar color jean already from Stitch Fix so I decided to pass on these for something in my wardrobe that already worked for me. I'm wearing these Articles of Society jeans in the pictures below, but you can't see the true color (dark purple) or how they cut off on my ankles strangely.
Sanctuary – Carrie Smocked Blouse – $99
There's a lot going on with this polka dot blouse. The neckline makes me feel like I'm stepping back in history in England, and the sleeves were a bit too puffy and long on me. Overall, I felt the top made me look larger than I am do to how loose and baggy it was on my frame. Not a keeper.
Paige6 – Anita Rose Blazer – $195
As a former Broadcast Journalist in training, I really like a good blazer and find they're always a fun item to add to one's closet. The price of this one really scared me though. I don't tend to spend this kind of money on myself, ever. The blazer itself is super comfortable and stretchy. It just had a nice feel to it and I figured I was splurging and trying something new, so if I wanted to, I should take the plunge. In the end, I kept this item.
Sarah Briggs – Estella Necklace – $65
A long silver necklace good for plain tops and adding a little something to an outfit. I kept it because I could easily pair it with some items I have and I could use a long necklace every now and then.
Tees by Tina – Smooth Tank – $38
Nothing too fancy about this item. It was just a long blank tight tank top. I was on the fence but ultimately decided I could probably find a cheaper option if I wanted one like this.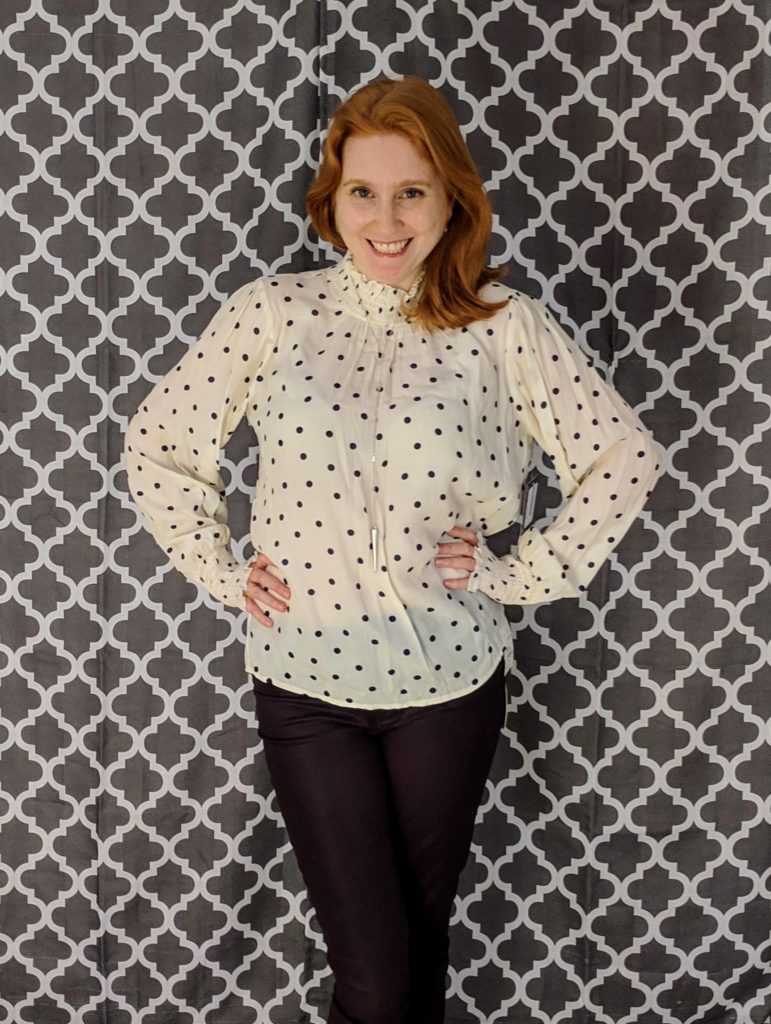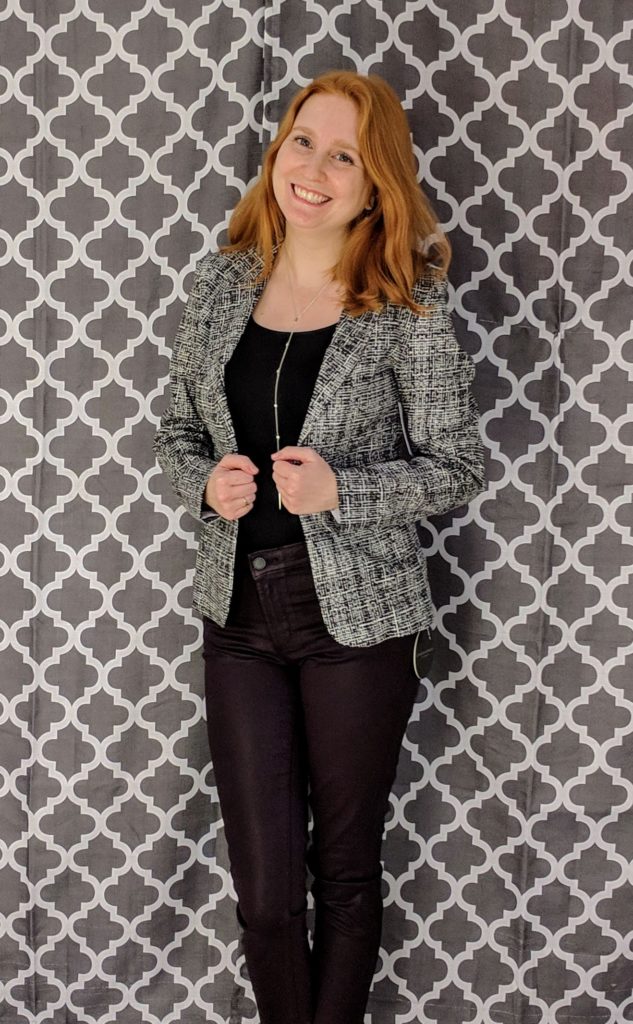 Outfit #2 
Below are the designers, pieces, and prices for this bunch of items.
DL1961 – Florence Jean – $178
I know a lot of people pay over $100 for jeans, but I've never done so. I guess it's a fairly common item to "invest" in since jeans are very durable and you can wear them for years. I typically get my jeans either from Old Navy, Delia's or Stitch Fix, and they are never more than $50 or $60, if that. However, these jeans come with a great stretch, they are dark in wash, which is what I wanted, and they aren't distressed in any way. They fit what I was looking for, and they are comfortable on so I splurged and purchased them.
Joules – Brindley Quilted Gilet – $92
I didn't expected to find a vest in my box, but apparently they must be in with the high-end fashion crowd too. While the print was cute and floral, it wasn't anything special in my mind. Certainly not worth over $90. It was a bit tight around my chest so it was a no go for sizing already. Even if this was cheaper, I don't think I would have kept it. Back to FDF it went!
Lover's Tempo – Floral Climber Earrings – $40
You won't see these pictured anywhere, but the earrings they paired with these outfits are three little flowers bunched together. I kept them without trying them on. I wish I had tried them on first since one of the bars for the earrings was bent out of shape and I had to play around with it to get it straight again. But, all good. They were cheap enough, cute, and seemed like an item I'd use multiple times so I decided to keep these as well.
Lavender Brown – Print Tank Top – $140
I'm a tank top loving girl, and if I can find one that's dressy and fun that's even better since I tend to just rock the plain old cotton tanks from Target. I loved the coloring and print of this top, but the fit was no bueno. It was gaping around the armpits, and was overall too large. If was a smaller size, and not so expensive ($140 for a TANK TOP!?) I might have kept it, but alas back it went.
The Line – Baylin Rib Tee – $44
I don't have a lot of basic plain long sleeve tops. While this one wasn't anything special, and I wouldn't call it high fashion, it fit a bill I didn't know I was looking for. It's always good to have a plain solid color long sleeve top and the price was cheap enough where I decided to just keep it. I also have two puffy vests in my closet so I figure I can just copy what the stylist suggested and use what I already have and pair that with this top.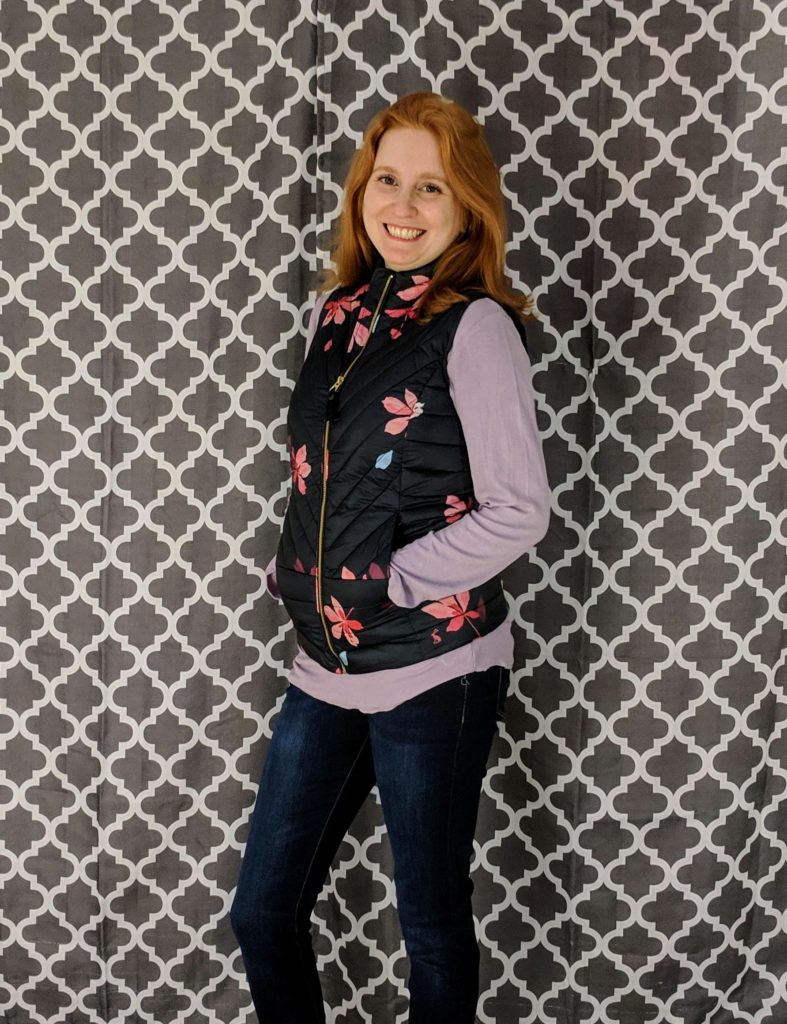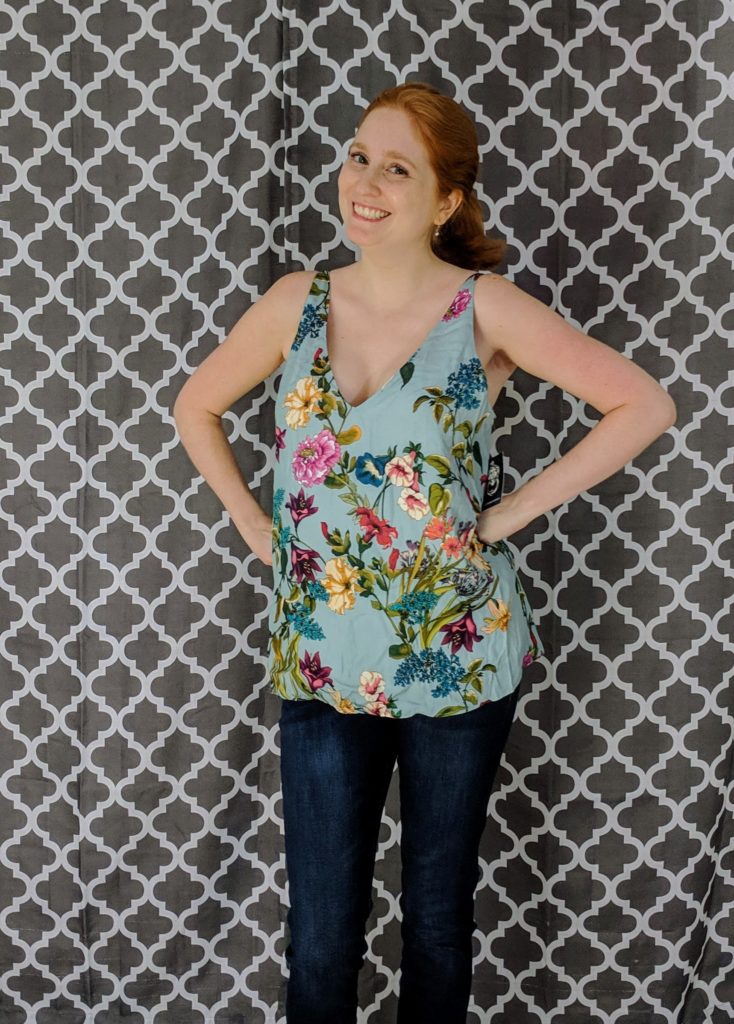 Outfit #3
On to the last group of clothes. This grouping was the smallest and had one of the most odd pieces that I knew from the start I was not going to keep. Here's the item breakdown:
Buddy Love – Sibley Sweater Dress – $72
Sweater dresses can be cute and comfy. This is an interesting twist on the classic, with bell like sleeves, a high-low cut, and an oversized look. I love dark greens on my complection and with my hair color, so I immediately liked that. I wasn't so sure with the cut and style of the dress, but I think it would be nice for a cozy weekend where I don't mind wearing an oversized sweater/dress. It is pretty short though, so I'll probably pair this with a fun pair of tights or some black leggings.
Buddy Love – Caroline Denim Jacket – $99
I know as part of my profile I mentioned I didn't like distressed jeans, so it was a little comical to get a jean jacket that couldn't have been more distressed. I'm not into the look of holes in clothes, particularly jackets. This jacket is a doozy. The gigantic pearls also really add to the uniqueness of this jacket. According to my stylist, this look is really in right now. I think I'll pass. Oversized jean jackets with crazy embellishment and distressing might be for some celebrities, but not for me.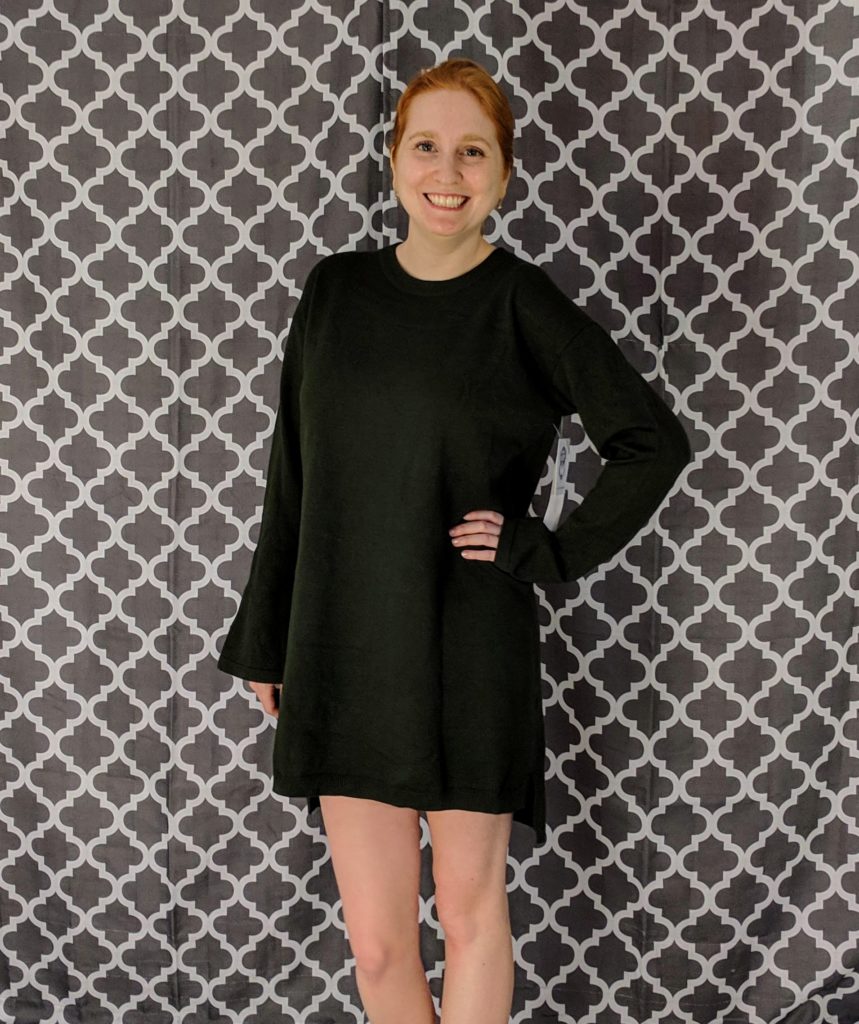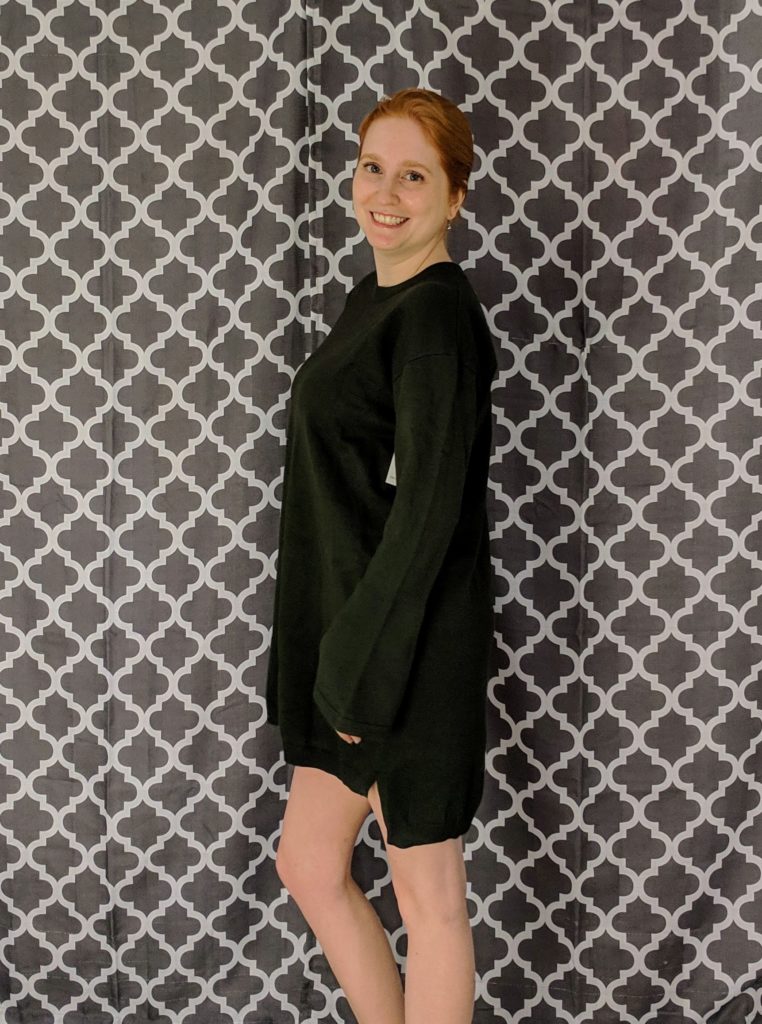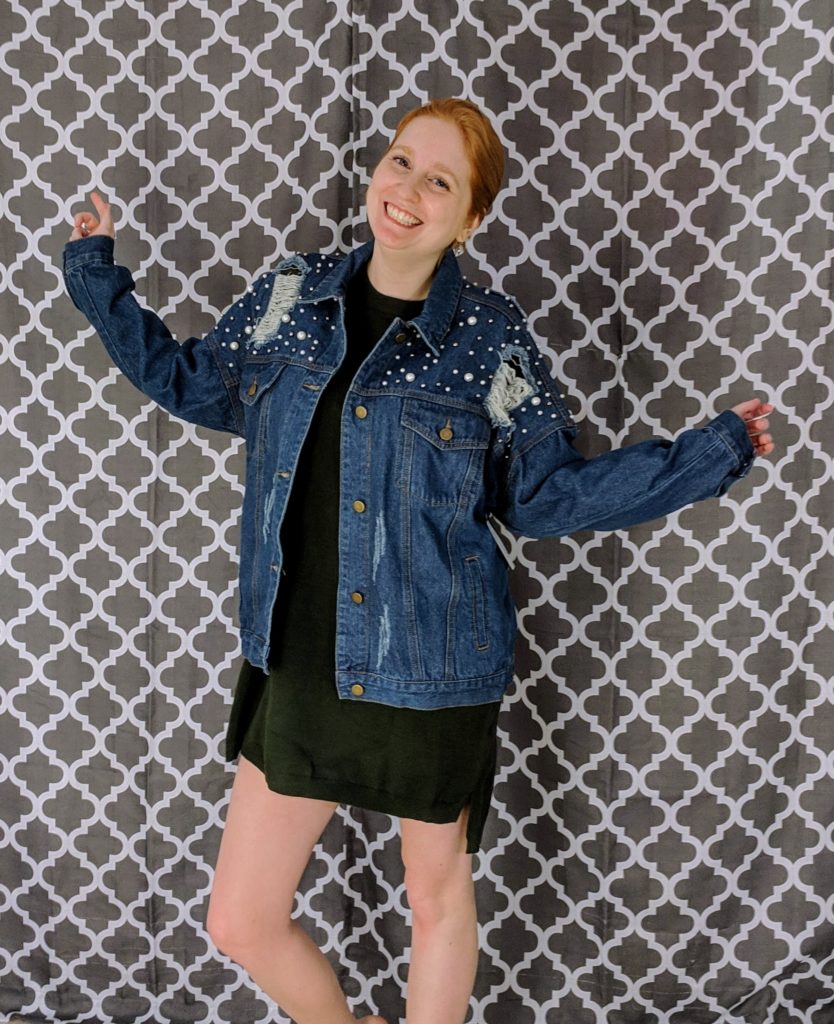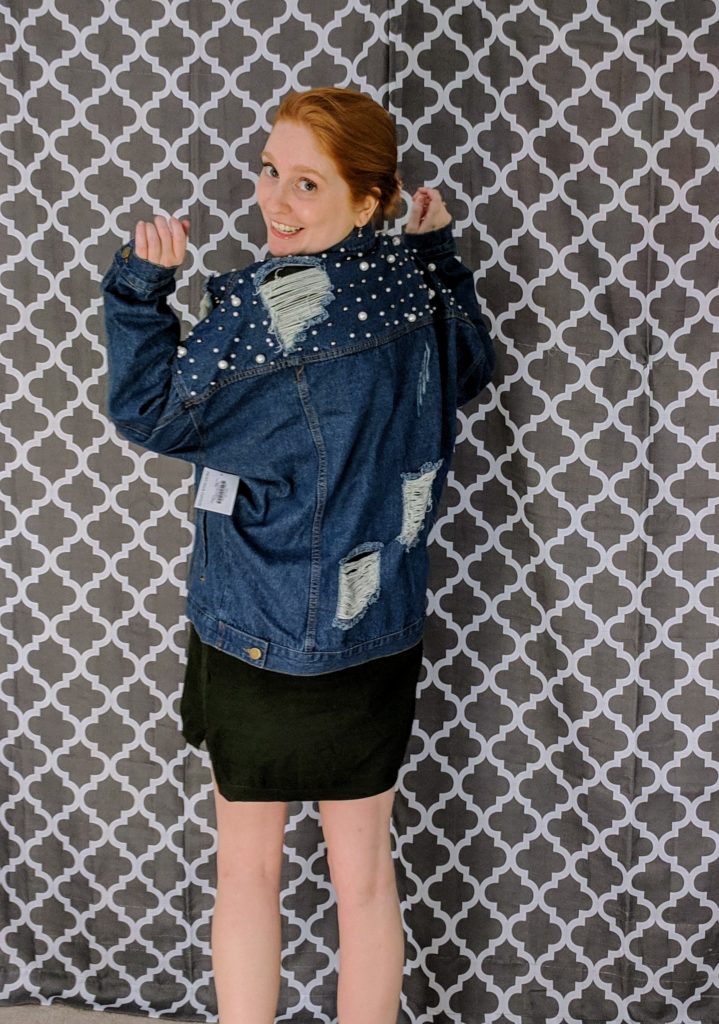 To summarize, I received 12 items in my Front Door Fashion box, worth a total of $1,151. Wow. That's a lot of money, but it's also a lot of stuff. If you buy 5 or more items you get 50% one item. I've seen some places say that 50% is off the most expensive, and others say the least. I believe I got it off the cheapest item. It total, I kept 6 items, two of which were jewelry. The items I chose weren't the most high end looking things, but I also asked for the cheapest price buckets for each item category as well. It was a fun experience, and it was neat to get so much to try on, but I didn't like as much as I had hoped. Usually with Stitch Fix it's a 5 out of 5 for me and I keep the whole box. My wallet probably thanks me for not getting this whole box 🙂
Now for those of you wondering about how Front Door Fashion compares to Stitch Fix, I've written out some of the key differences below in case your on the fence about one or both of the services.
Differences between Stitch Fix and Front Door Fashion:
Online experience

Checking out is an odd experience with FDF. There are no images on the site, the check out process is very odd where you just have one open response box to write any feedback or thoughts, and that's that. You have to do the actual purchasing and selecting of items on the sheet of paper that's placed in your box. I was shocked that this was how they did things and that you didn't even get to keep the paper with all the items and styling tips listed, but that was ultimately how you "checked" out what you were keeping and sending back. Stitch Fix's experience is a lot better where you leave feedback about each item, and each item is pictured so you can easily see what you're reviewing.

Styling Fee

Stitch Fix has a $20 styling fee each time you request a Fix. With FDF there was no "official" up front styling fee, you just requested a box, and then $100 was taken from your account and then that would be credited towards whatever you purchase, or if you kept nothing you're supposedly able to get that deposit back. Stitch Fix doesn't give you back the styling fee.

Timelines

FDF seems to have more time availability to get your box worked on right away, instead of choosing a date weeks/months in advance for Stitch Fix. I expected FDF to be a bit quicker than they were based on how aggressive they were, but eventually my box came a week or two later. I really prefer the Stitch Fix model here, because then I can choose a date that I know I'll be around for. While for FDF, if my box came when I was away, I was afraid I'd get charged their late fees since I could potentially miss the 5 day window.

Communication / Sales / Marketing

You could call Front Door Fashion stylists "pushy." They'll call you, text you, and email you. It doesn't stop once you've purchased a box either. They want to keep getting your business so there's a lot of reminder emails and promotional content sent your way about "deals" and "sales." Stitch Fix on the other hand never bothers me to order a box, or doesn't do it in a pushy way, it's more of a marketing email showing you some trends for that season. No one's ever called me either.

 Pricing

FDF pricing starts much higher than Stitch Fix. Going into the door you need to expect these items will probably cost serious cash. I was hesitant about this, but chose the cheapest category for every item since I knew I'd be getting more items than I usually get from a clothing box.

Number of items

With FDF you get a lot of items, usually 3-5 outfits, which means you get a LOT of pieces from tops, bottoms, and jewelry. You can sometimes create multiple looks by combining pieces from the grouped outfits you've been given. Stitch Fix on the other hand sends a max of 5 items, and they don't always go together to create an outfit unless that's what you explicitly want and ask for.
I'd say if you want a service that provides multiple and full outfits from tops, bottoms, and accessories and aren't afraid to spend a lot of money, Front Door Fashion may be for you. If you're looking more for individual pieces and a variety of items, Stitch Fix is better in that regard, and you can always ask for something specific, be it an outfit where all 5 items could go towards that one look, or some pieces that you can use together.
For now, Stitch Fix still has my loyalty, and I'll continue to get the occasional box from them since I think their selection is more geared toward me, and they understand my fashion a bit more. Granted I only tried Front Door Fashion once, I don't think some of the feedback and style icons I shared really fit with some of the pieces I received.
Both companies are super fun to try out and it might be worth switching back and forth now and then to see what new surprises they have in store.