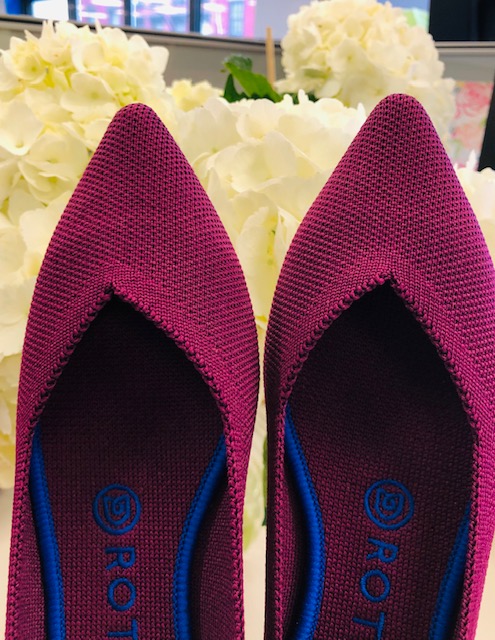 I've been on a quest for a long time, I'm talking years, to find a pair of flats that would work for me. For many years I gave up trying to find flats and decided to just wear sneakers or boots. One of the main reasons for giving up on flats was due to them never quite fitting my very narrow feet. My heels and ankles are really skinny and narrow. It's made finding flats that don't slip or flap off almost impossible.
Eventually, I discovered Tieks. They seemed interesting so I gave them a try. Overall, they looked ok, came in a ton of colors, but I had and still have problems with them.
Tieks don't come in half sizes. These are the one pair of shoes I've found that I could actually benefit from a half size in. Usually I'm a solid 7 in everything, but their 7 is a bit tight, and an 8 is too loose around the middle of the shoe.
Not washable. My feet sweat like crazy in Tieks. I'm assuming it's because they are so tight and are made of leather.
You need to break them in, at least I had to. Some people have had really great luck with Tieks and can wear them out of the box; not me. I've had to wear Tieks around my apartment in socks, and then usually stick some big fluffy socks in the toe sections when I'm not wearing them just to give them a little extra wiggle room when they are brand new.
They hurt my heels. Yes, I could put bucket this in with item #3 but I felt this needed it's own callout. I've had grooves in the back of my heels and blisters from Tieks.
While I do have 4 pairs of Tieks, I was still on a mission to see if there was anything better out there. I had seen a number of ads for Rothys and I kept wondering if they were too good to be true. Their price tag, like Tieks, is on the steeper side so I wasn't sure if it was going to be worth taking the plunge, but their return policy seemed pretty liberal so that was in the back of my mind. Then a couple of months ago, my friend and coworker got a pair and they looked pretty nice. They seemed to work out well for her, and she had no complaints so I figured what do I have left to lose.
Well, I took the plunge and I bought a pair of "The Point" shoes in Orchid, a beautiful purple. My research on the site showed that the company, and customers, recommended going with the Point version if you have narrow feet. When I pulled mine out of the box, they were literally the most comfortable flats I ever put on my feet. From the first moment I tried them on I literally had no complaints. I leapt and danced through my apartment. Still skeptical though, because in the past flats have felt ok temporarily, but then after a full day wearing them I wish I hadn't, I decided to bring them to the office. You can return Rothys as long as you haven't worn them outside and they are still in new condition. I packed them up in my bag and slipped them on when I got to my desk. Here's what went down.
There was no heel slippage. My shoes stayed on my feet successfully.
No noticeable pain, although one foot felt a little tight near the toe area on one side. The site suggests sizing up a half size in The Point but I was too nervous so I didn't.
My feet sweated a bit, but I felt the shoe was more breathable than Tieks.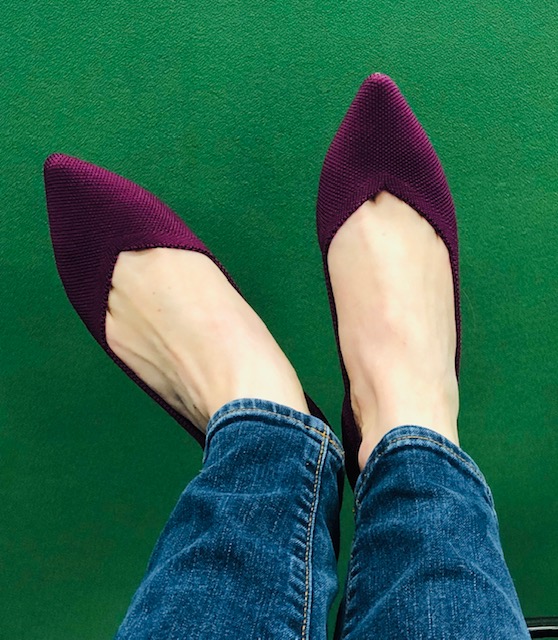 I'm now on my third full day of wearing Rothys and I can officially say I'm a fan. Here's why I recommend them:
No heel pain. None! This is unheard of for me.
No heel slippage. There's a nice heel backing in the shoe that makes things stay in place.
Super comfortable! After wearing them for extended periods of time I have no complaints and they do stretch a bit, in a good way.
True to size for me, but if you have a wider foot, going up a half size is probably a better idea.
Washable! Apparently you can throw these suckers into the washing machine!
Removable insert – and you can buy different color ones if you're into spicing it up a bit.
They are actually comfortable.
When I bought my pair, since I was still skeptical, I looked for a coupon code to get some money off. A lot of people post links to get $20 off so I was able to find one pretty quickly. If you want $20 off your first order to make it a little less pricey, check out my link! As a disclaimer, we both get $20 🙂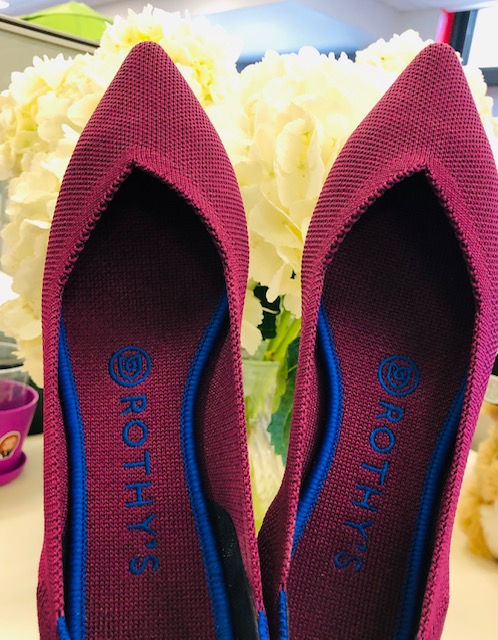 Happy walking!