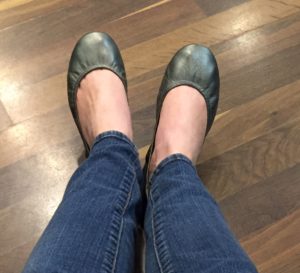 For the past year, I continued on my quest to find a solution for my flats that would make them not only comfortable to wear for long periods of time, but also keep them from getting smelly.
A few months ago I received a targeted ad on Facebook that suggested I try out a new sort of shoe insert that works wonderfully for flats, particularly Tieks. When I saw the mention of Tieks, and an image of the insert being used in them, I wondered to myself if this was the solution I've been looking for.
The product is called Gekks. On their website, they advertise Gekks as a "reinvented sock." When you purchase Gekks, you receive two thin adhesive inserts that you line up to fit the sole of your shoe of choice. Once you've got the insert stuck on, you'll take the "sock" that's been provided and attach it to the adhesive. The sock attacks to about 80% of the adhesive insert, and to the small adhesive strip that's provided for the heel, so everything is attached pretty firmly inside. The tip of the sock has a little toe section that I recommend holding to get your toes aligned fully inside, and then you're good to get walking.
These worked beautifully for a newer pair of Tieks I had. The ones I test walked in were only worn a few times, so they were in great condition, with limited wear and odor. I really liked how they kept my heel comfortable, and didn't make my feet sweaty.
After a few months of trying out the Gekks in my shoes, I felt it was time to step it up to the next level and see how good this product really was. Could it really survive in my oldest pair of Tieks that had seen better days? Would the Gekks keep the stink away from my feet? These particular Tieks are STINKY, and I mean bad. You can read more about my original review of them here to see what I'm talking about. So, it was time to test them out!
Before putting in the Gekks, we did some prep work, wiping out the inside of the flats with a wet paper towel and letting them sit to dry. Then, it was time to install the Gekks. Below I have the Gekks fully inserted, including the adhesive pieces and the sock.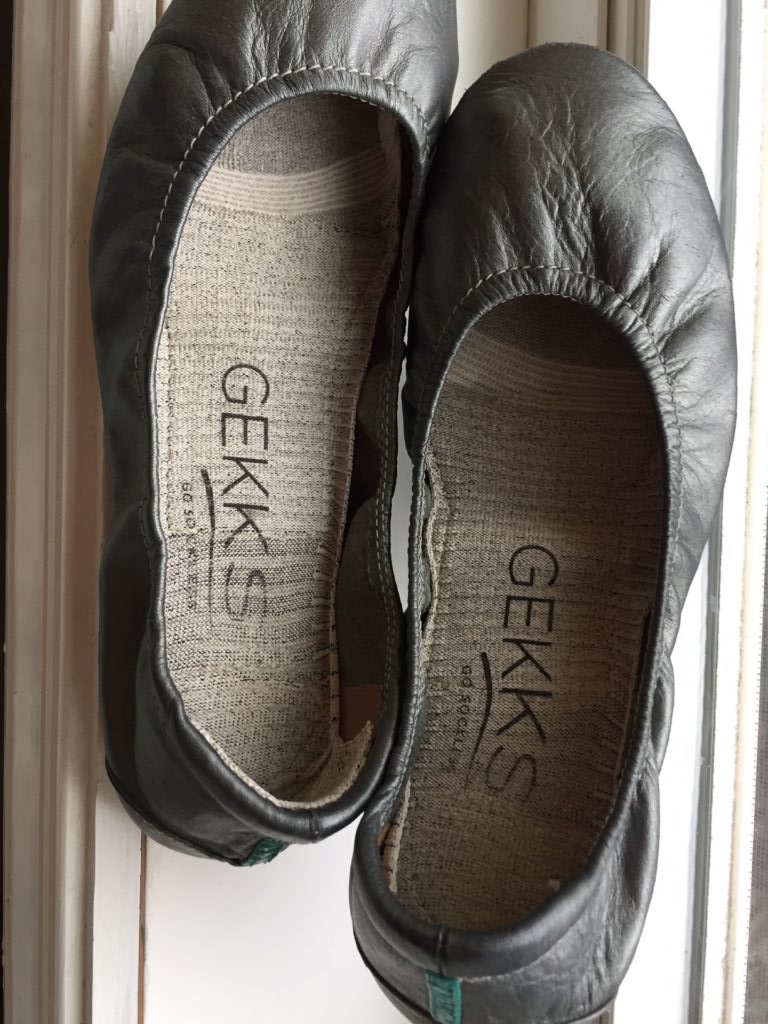 The next day I took my stinky Tieks out on their first journey with their new Gekks buddies. This involved commuting to the city, wearing them all day in the office, and doing lots of walking. Once I got home it was time to see how my feet survived.
I slowly peeled my feet out of the flats and raised my foot to my nose, fearful of what the outcome would be. I was shocked. My feet didn't stink! Now remember, these are my really stinky, seen better days pair of flats, so the fact that the Gekks were able to protect my feet and contain the previous odor from spreading was amazing. Now I'm sure with continued use they will get a bit stinky again, just because these Tieks were pretty bad in the first place, but the Gekss are machine washable! All you have to do is unstick them, which is very easy to do, and throw them in the wash. I haven't washed any of my pairs yet, but I imagine they'll wash fine. You could even throw them in a little washing bag if you were worried about them.
So far, I'm really pleased with the product. They've saved my Tieks, and I automatically place a pair in each pair of flats I get. The only downside is their site has super slow shipping. My last order was super late and took forever, but it looks like you can find them from a reseller on Amazon. Note, a lot of the reviews on Amazon aren't great, but I haven't experienced any issues with mine.
If you're looking for something to keep your flats comfortable, in good condition and odor free, you need to try these out. From one girl to another, it's worth it!
UPDATE (2/15/2019): If you're looking to try a different flat, that I've found works better for me, check out my post here on Rothys.