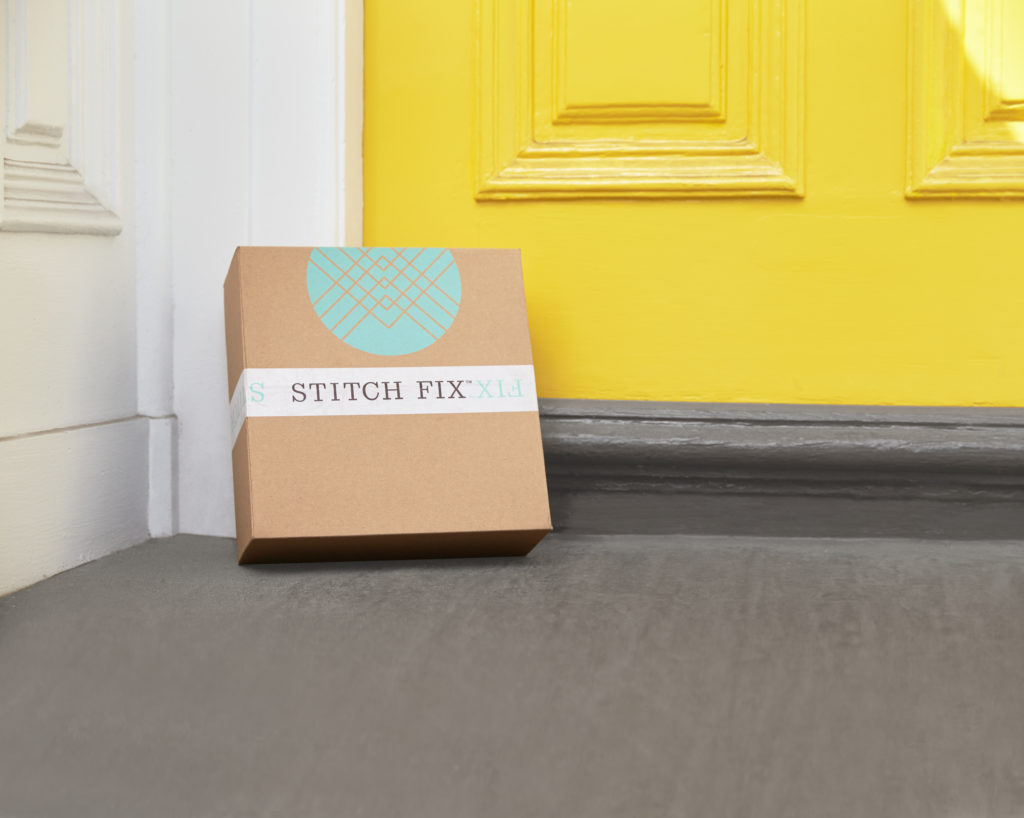 A few months ago I took my first trip to Asia. I was full of all sorts of emotions, from not knowing what to expect, wondering what I would eat, if I would be able to communicate with people, and what in the world should I pack! The first leg of my trip was to the Philippines, a place I never expected I would visit, but when works calls and an adventure awaits, you pack that bag and go. I knew that offices in the Philippines, particularly Manila, had some rules around dress code, and that shorts were apparently a no no. However, I looked at the weather report and I wondered how I would survive without shorts. So, I pulled up the Stitch Fix app and requested an emergency Stitch Fix travel fix with one BIG requirement, everything must have pockets!
If you've been reading my Fix posts, you know I love a dress with pockets, so I knew I had to request those, and I also told my stylist to throw in a skirt too, but only if it had pockets. Why was I pocked obsessed? Well, a girl has to carry her phone, clip her work badge on to something, and be able to carry other essentials of course!
Alright, enough back story, get ready for the Ultimate Pocket Fix from Stitch Fix!
#1 THML Andrea Textured Knit Dress
The first dress I pulled out was an solid black knit dress with a small black and white turtleneck. The fabric seemed pretty heavy, not super lightweight, so I was immediately concerned that I would be way too hot in this dress, especially with a high neck line. I tried it on, and found it was pretty comfortable, but the true test would be in the Philippines. I was happy to find the dress did indeed have pockets, but I felt the pockets were a little extra bulky so when I wore the dress it seemed to accentuate my hips, making them look bigger. Fast forward to the Philippines, and I pulled this little number out, and it seemed to hold up with the high humidity and 80+ degree temps. Win! It also worked well for going from day to night. After wearing the dress all day in the office, I then went out for a late dinner with a coworker/friend and I felt I looked dressy and appropriate for a nice evening out.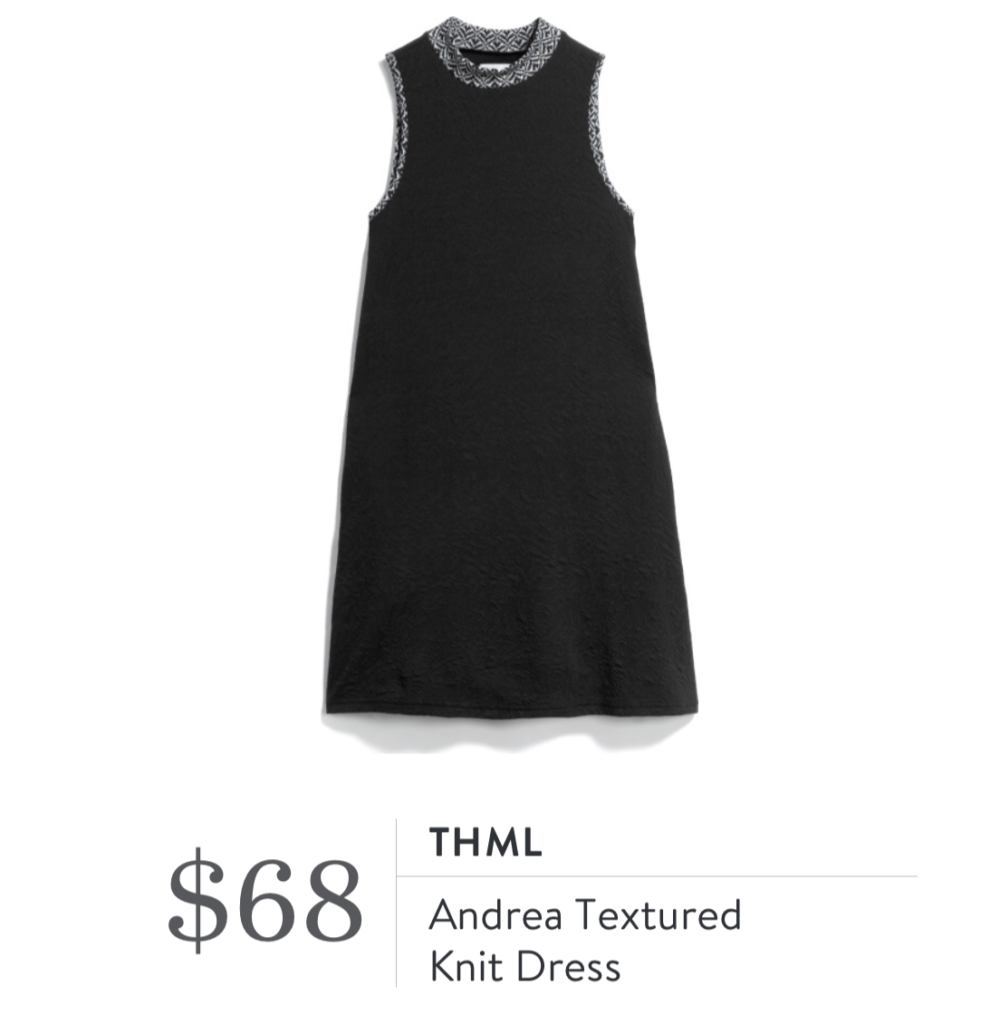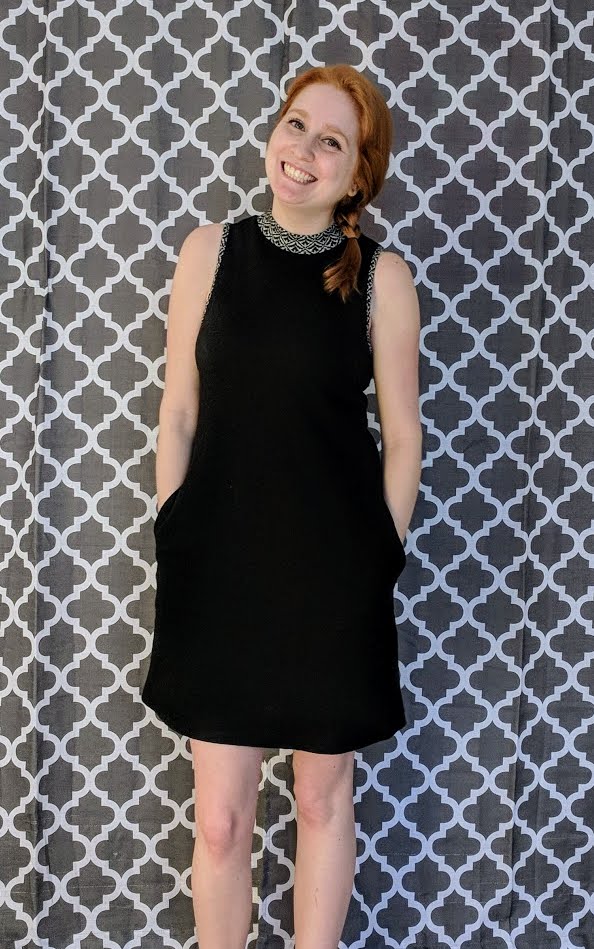 #2 – Daniel Rainn Estefany Lace Detail Split Neck Blouse
Next up was a super cute blouse by one of my favorites, Daniel Rainn. When I saw I received a shirt, it was a giveaway that a skirt was coming, since I asked for a matching top if a skirt was given. I absolutely love the color and pattern of this top. It screams summer, fun, and it's perfect for traveling. Not only did this shirt not wrinkle during travel, but it kept me feeling cool and chic! The little birds make me think tropics, and I was in a pretty "tropical" area at times, so I loved how my stylist took notice of where I was going and incorporated a fun pattern to match. You'll see this paired with the skirt in the next item below. Oh, and don't forget to wear a nude colored bra with this top, it is a bit see through via the fabric and lace near the chest.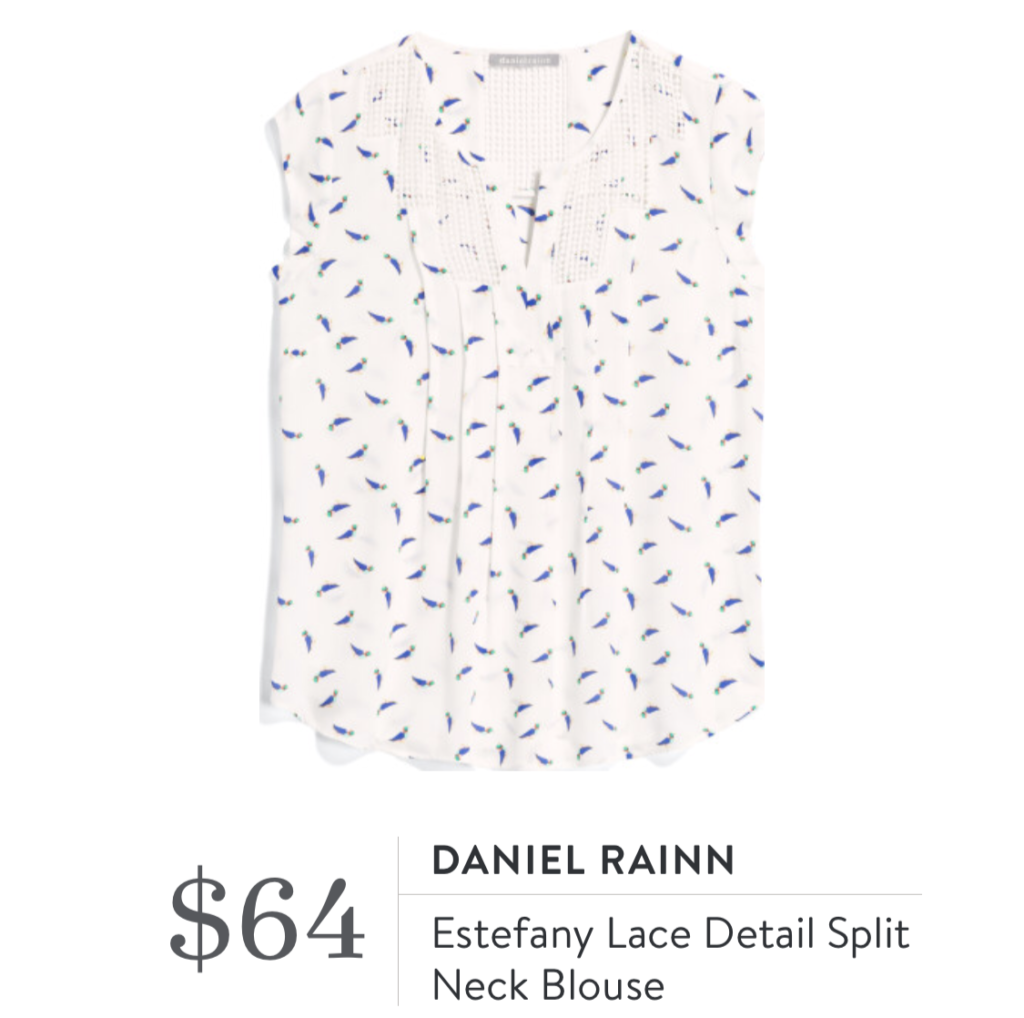 #3 – Liverpool Aislin Pencil Skirt
Before this Fix, I didn't own a pencil skirt. I know, it's practically a fashion sin, but I just never found one that I felt looked flattering. This Liverpool skirt changed my mind on the pencil skirt. Not only is the skirt cute, but it's extremely flattering. If you've been thinking about trying out a pencil skirt, look no further. This skirt fits perfectly, without being too tight. Of course, it has pockets! This skirt zips and buttons up, allowing for a comfortable fit. Pair it with a fun printed top, and you're ready to take on work or date night! The below outfit was a hit with my teammate/friend.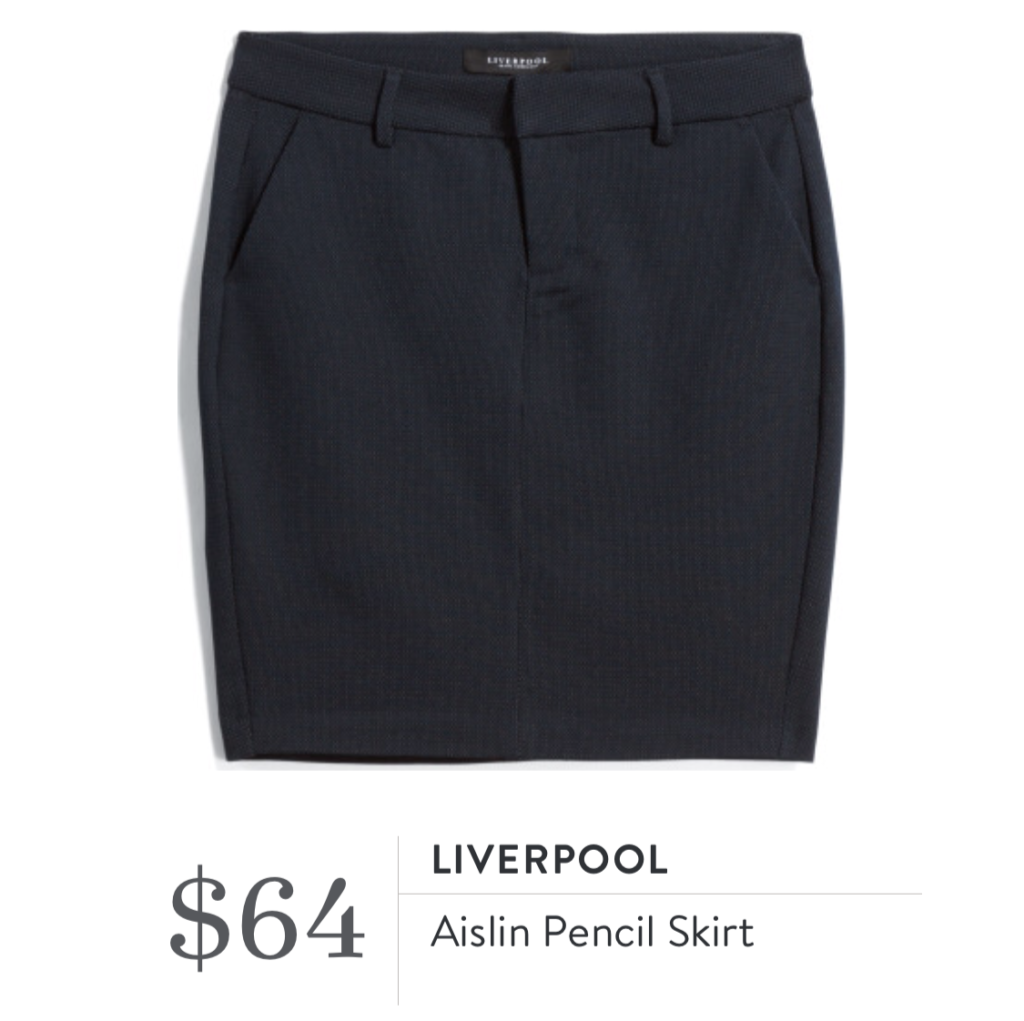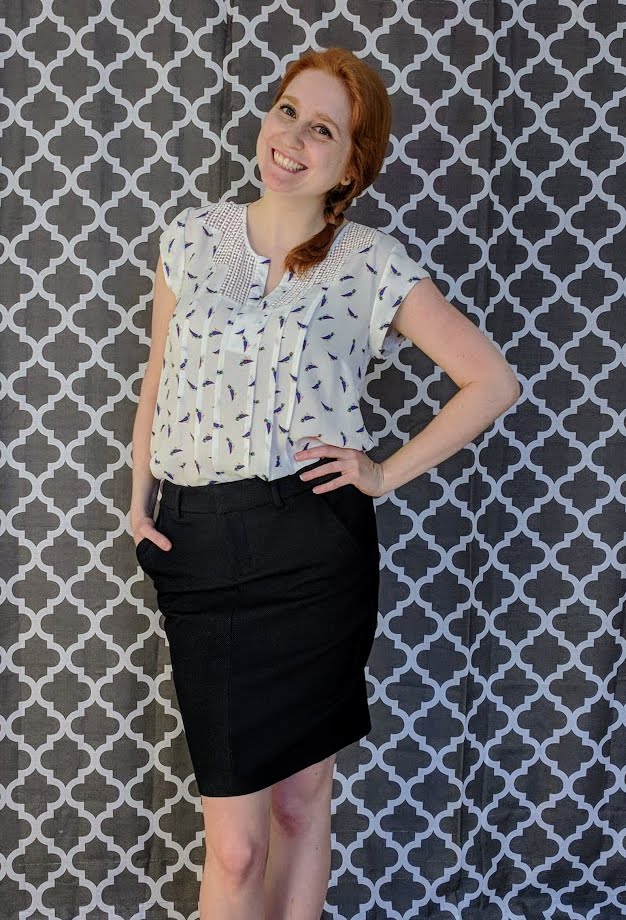 #4 – Truly Poppy Carlina Cold Shoulder Dress
A cold shoulder dress for a tropical climate? Yes! I've never owned a cold shoulder dress before, and in my last Fix post you saw me get my first cold shoulder top. This dress actually came first, I just decided to post this Fix in a more appropriate season (spring/summer) than when I received it (winter). I was a little nervous because there seemed to be a lot of sleeve situation going on, but I figured I'd give it a shot and see what it looked like on. I'm so glad I received this dress, not only is it a beautiful plum color, but it's perfect for spring/summer and outings of all types. I added a sweater (occasionally) when I was in the office to help keep me warm from the AC, and although there's a lot of sleeve action, I was able to neatly tuck everything in under a thin fitted sweater, a major plus. The back of the dress has a cut out, and is brought together by two big snaps. I didn't have any issues with the snaps coming undone, but it can be a little tricky snapping things into place the first try, but you get used it!
I received tons of compliments on this dress while I was on my business trip, which is an added bonus!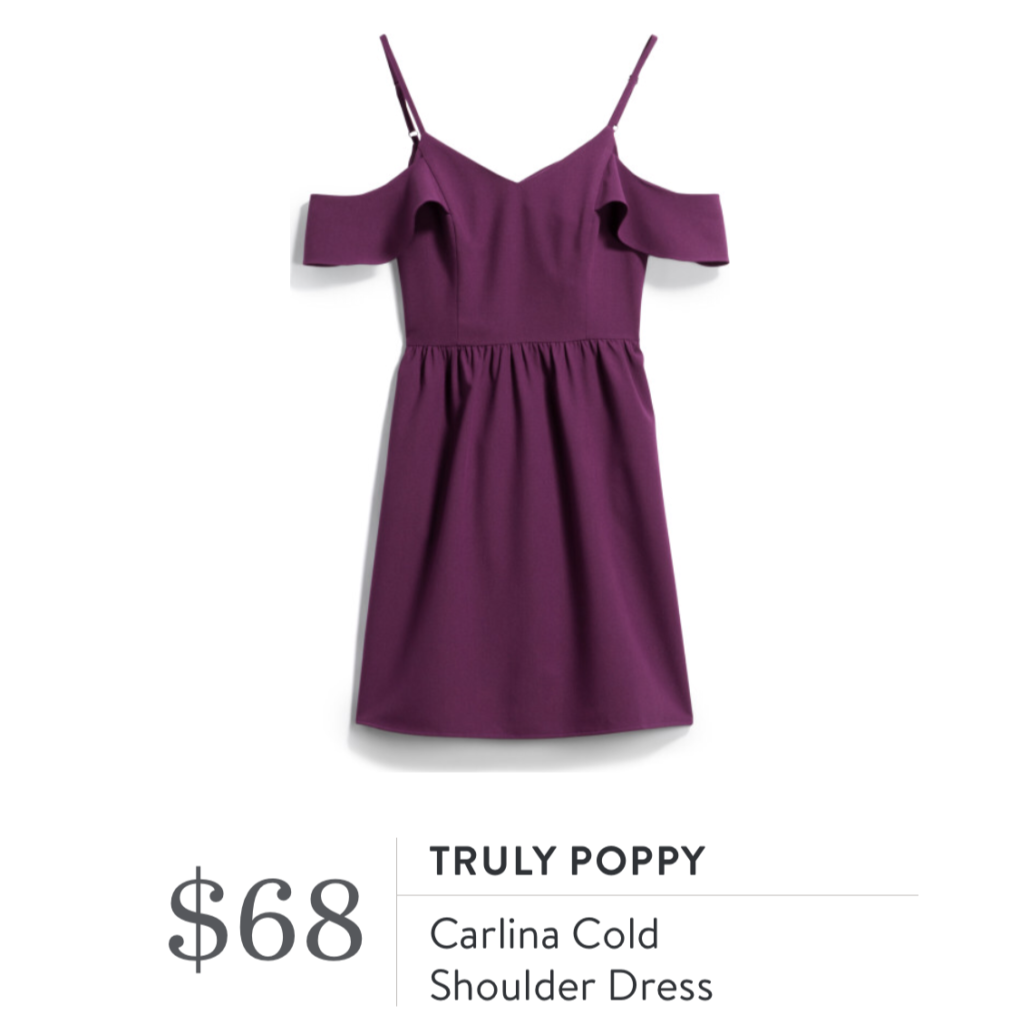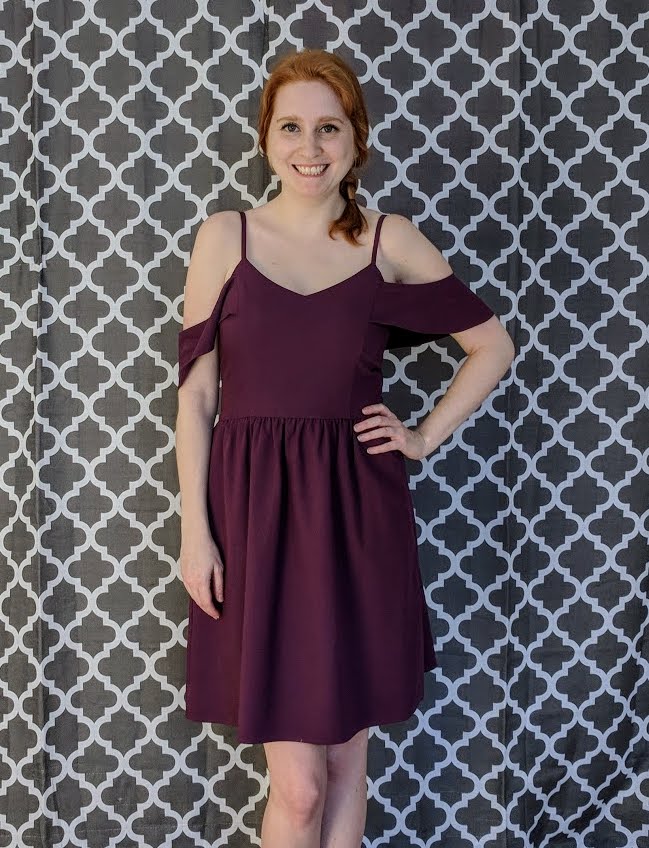 #5 – Truly Poppy Crissie Linen Dress
Now you may say to yourself, didn't I just see this dress. Close, but nope! I thought the same thing when I pulled out this dress. When I put on the Crissie dress the fit was immediately different. Both dresses from Truly Poppy were provided in the same size, but this one was significantly tighter, especially in the chest area, making everything look very unflattering. I was a bit upset because I was hoping this was going to be another winner that I could put in my suitcase for my big trip to Asia, but it just wasn't going to cut it. I tried to see if I could exchange it for a size larger, but the checkout page said they didn't have the size I wanted, so I returned the dress, left feedback in the open response section at checkout and called it a day.
Surprisingly, Stitch Fix contacted me a few days later to say they were able to get this dress in the next size up and wondered if I wanted to  try it out. I said "sure!" The dress came after my trip, but it fit great! This was my first time doing an exchange with Stitch Fix, and it went smoothly. I loved how proactive they were to find me a new size, it really made my day. While I didn't have this item for my trip, I'm glad I have it now.
The back of this dress has a cute cut out, as does the previous Truly Poppy Dress. It helps keep you cool in humid weather and adds a little sass. Best part of course is the pockets! I also want to give a shout out for the scalloping at the neck line, it's a nice added detail that makes this a fun option. If you're going to wear a bra, make sure to pair it with a strapless bra that doesn't have too thick of a band in the back, or it will show. Pair this dress with a light sweater and you're ready for a Spring evening stroll. You'll love how breezy the linen is!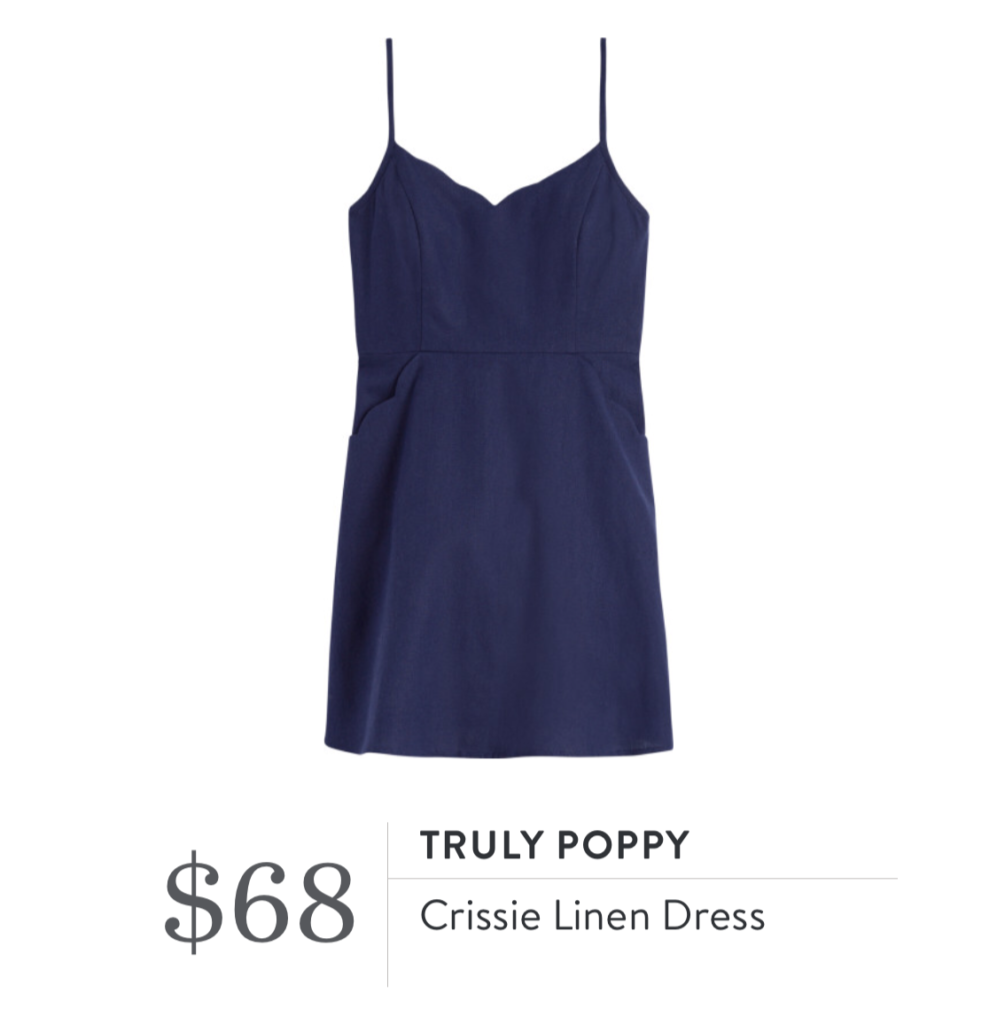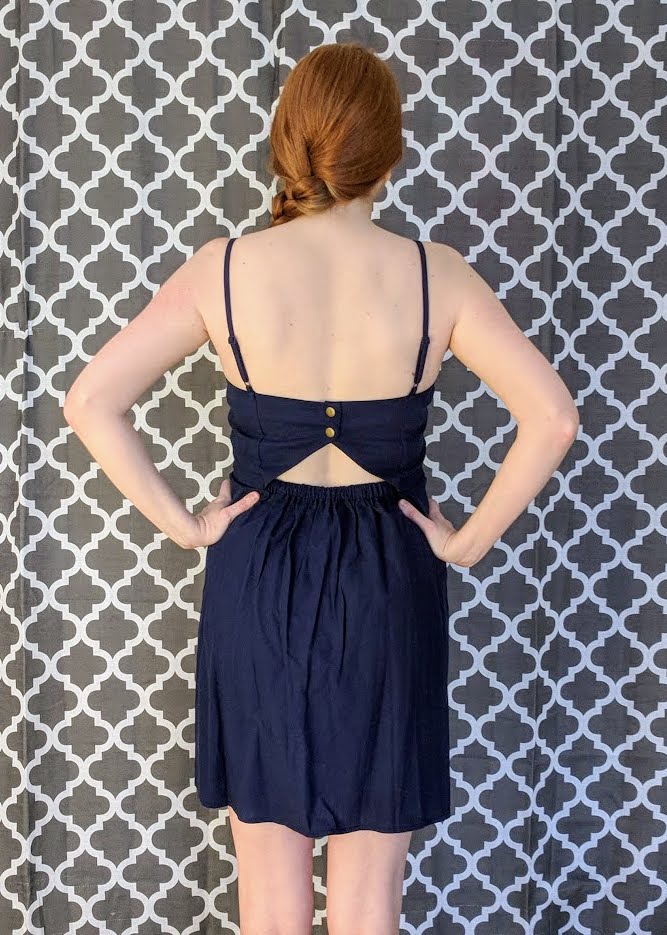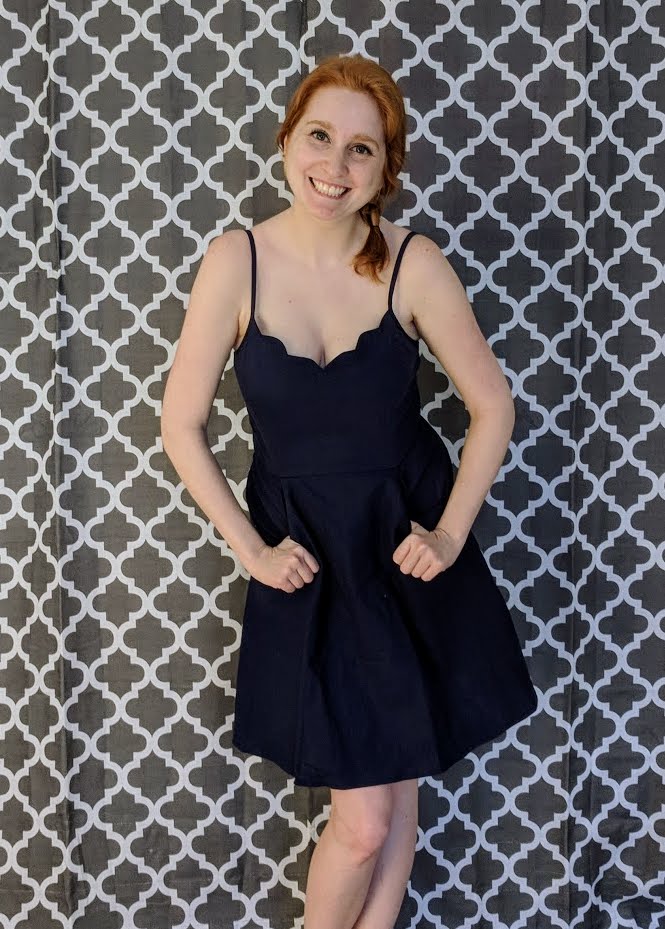 Final Thoughts: While I may not have necessarily picked all of these items on my own if they were in store, I'm truly happy with the pieces I received. My stylist came through with my odd request of everything must have pockets. Thank you for delivering, Cassandra! If you're a pocket in dresses kind of girl, you can't go wrong with any of these pieces. My philosophy in life is that all dresses should have pockets, and this Fix has certainly spoiled me. Hope you enjoyed this Fix and that you found an item or two you'll want to request too!
Don't forget to follow my Pinterest Boards for more Stitch Fix fun!
Haven't tried Stitch Fix yet? Sign up with my Stitch Fix code!