It's time for another Infinitely Loft box review. It's been a while, which means I've had several boxes come and go, but I wanted to share one of my more recent rentals.
Item #1 was a multi color knit sweater. It was soft, comfortable, and a great length for wearing over leggings. I returned it because I'm not a huge fan of wearing tops with bright reds it it (hard to tell with the lighting here). As a redhead, I try to be cautious with my clothing color choices.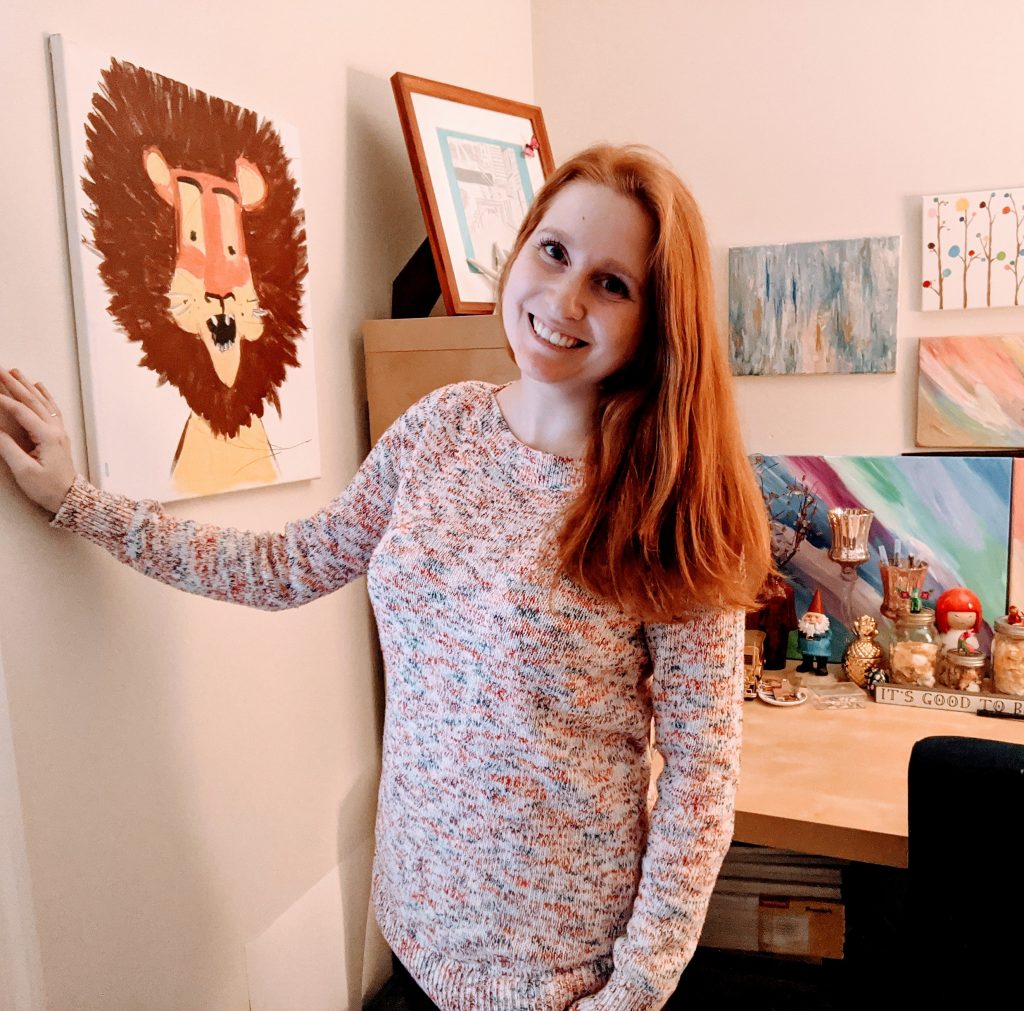 Item #2 for this review is a front waist tie up sweater. It was cute, I wanted to love it and keep it, but when I wore it all day I found it to be a bit itchy. Not overly itchy where I wanted to pull it off, but I could tell there was wool in the fabric blend. When I'm looking for sweaters, I want them to be itch free, soft and cozy. While this option was different with the tie in the front, it wasn't a purchase item for me.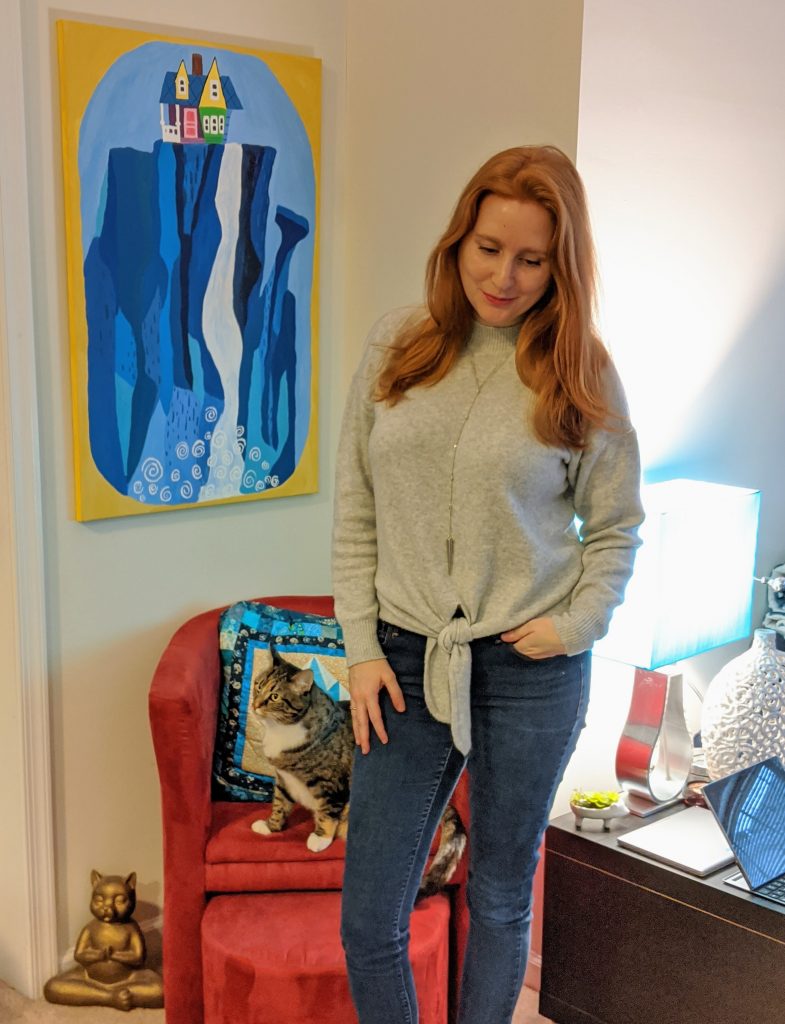 Some of my other most recent observations have been around sizing and fit. I've found a lot of the more flowy tops and some of the sweaters are tending to run a bit big. Both sweaters above could have been a bit more tailored.
When I pick out items for my closet, the model in the photos seem to be in tops that are fitted closer to the body. I've been getting size small in all tops, but I'm starting to wonder if I should try XS in some items that seem like they might be a bit baggier. Other tops that aren't knit seem to fit as expected in size small.
Finally, for item #3, I'm super pumped to share that I received an item I've had on my priorities list for a couple of months now, a faux leather biker-esque jacket. I felt so cool when I put it on the first time.
And just because, I had to do a fun photo shoot with my boyfriend's lightsaber. I mean, who could pass up on a lightsaber!? Don't mind my messy art station.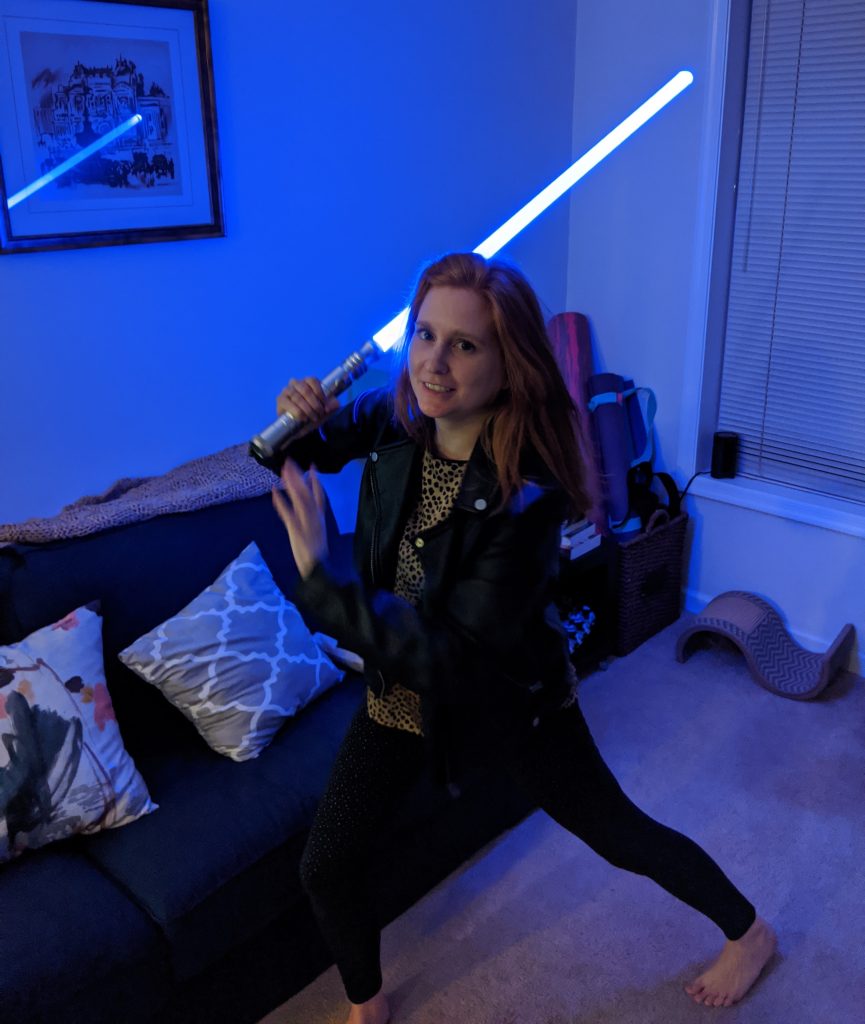 Take note of the animal print top, a rental item I have in my possession right now! It's short sleeve, slinky, and so much fun. I might just have to purchase it to go with the jacket that I of course had to keep!!!
I'm still thoroughly enjoying my rental experience with Infinitely Loft, and I'm anxiously awaiting spring weather so I can get some of the cute rompers and sleeveless tops I've put on hold!
In total, I've probably purchased and kept around 6 items. I'm sure with the upcoming seasons I'll be using this service to update my spring and summer time wardrobe.
If you want to give Infinitely Loft a spin too, get $20 off your first box here!