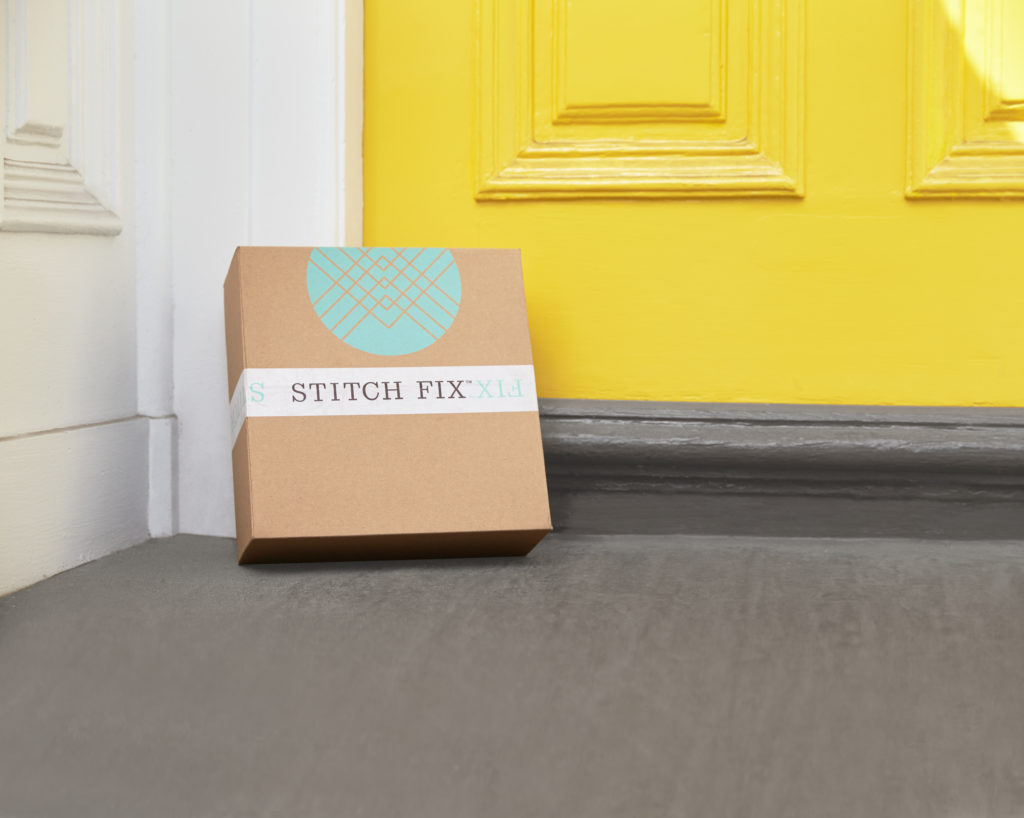 Disclosure: This post contains Stitch Fix Affiliate links, and I may receive compensation.
What's Stitch Fix
: An amazing fashion company that provides you with your own personal stylist who picks out pieces based on your style profile, requests, budget and your figure!
My next fix was scheduled to arrive the week of my 27th birthday so I asked my stylist to provide a surprise box of goodies to celebrate because who likes to know everything they're getting for their birthday!
Surprise boxes from Stitch Fix can either be a hit or a miss but I wanted to have a little fun this month.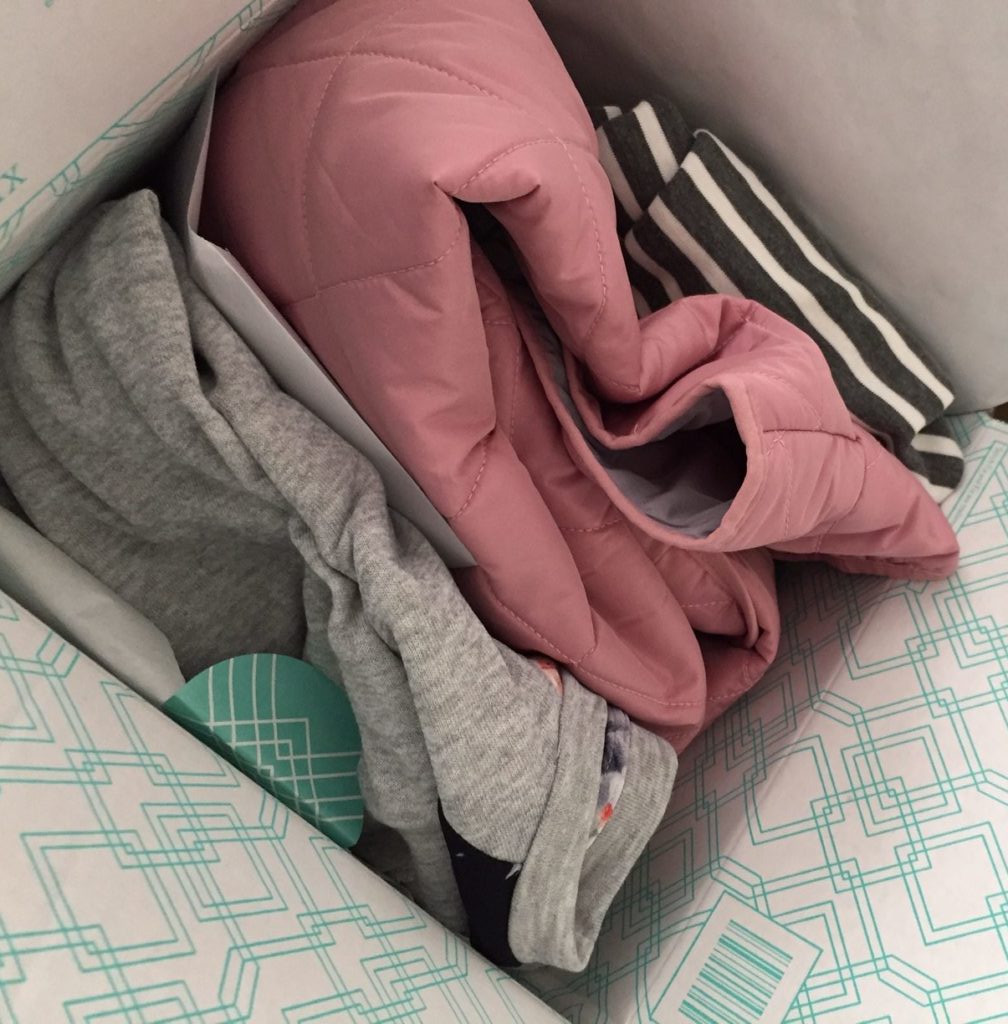 My surprise box contained a knit top, a boatneck top, a quilted vest, a pullover and a tunic. Let's unwrap!
#1 – Papermoon Mauly Mixed Material Knit Top
Papermoon is one of my favorite Stitch Fix designers and I've always loved their pieces. Let's be honest, this knit top is really a pull over sweatshirt. What I love about this Papermoon top is how cute and comfortable it is. It's not your everyday sweatshirt thanks to the mixed materials used. The sleeves are so silky and smooth and when you slip your arms through them you'll just want to wrap your arms around yourself. The only thing I would change about this top would be to make it a bit longer, as it cuts a little shorter on the torso than I tend to prefer, but it's still a great piece for lounging around and running errands in.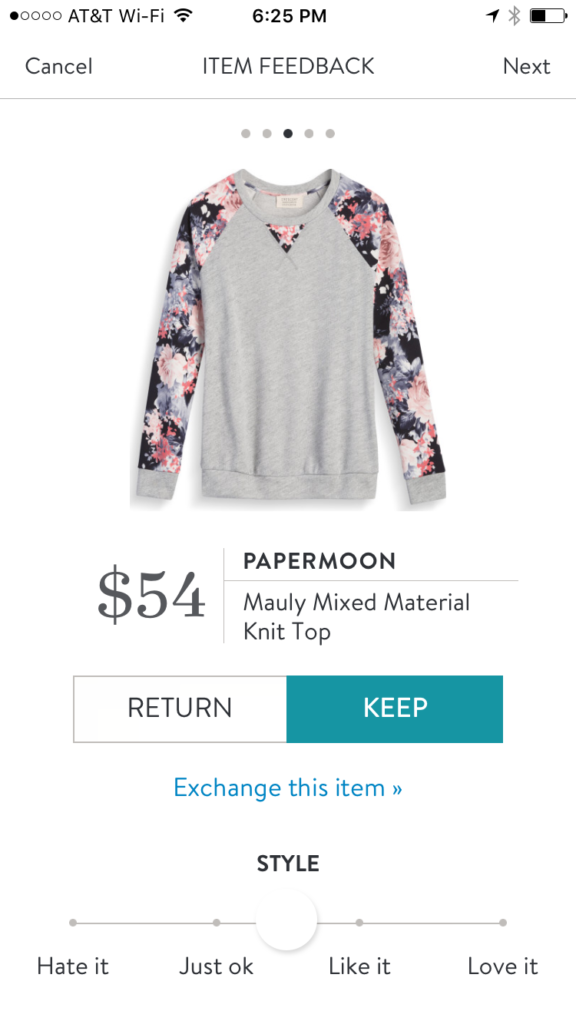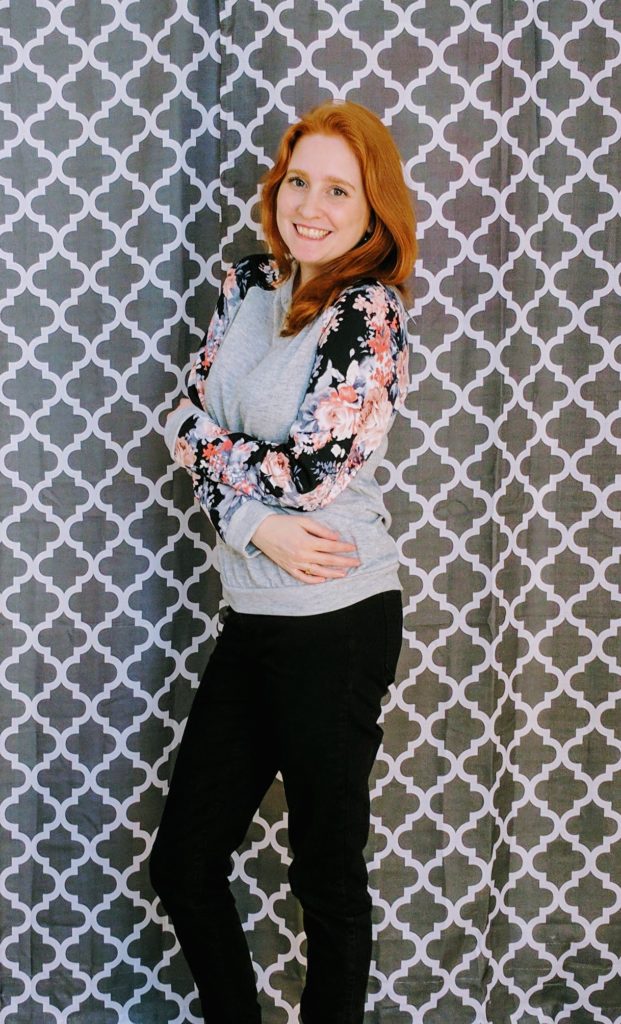 #2 – Market and Spruce Evella Boatneck Top
When my eyes spotted this top on Pinterest I had to pin it right away in hopes my stylist would notice, and lo and behold she did! This top is absolutely perfection from the neckline to the color combination. The best part is how it looks like you've layered two tops and put more effort into the look than you actually did. This is an absolutely effortless and classy style. The sleeves can be rolled down or up, but I recommend wearing them folded up so that you can get a beautiful pop of color to bring this look together. I have a feeling this is going to be my next go to top for work.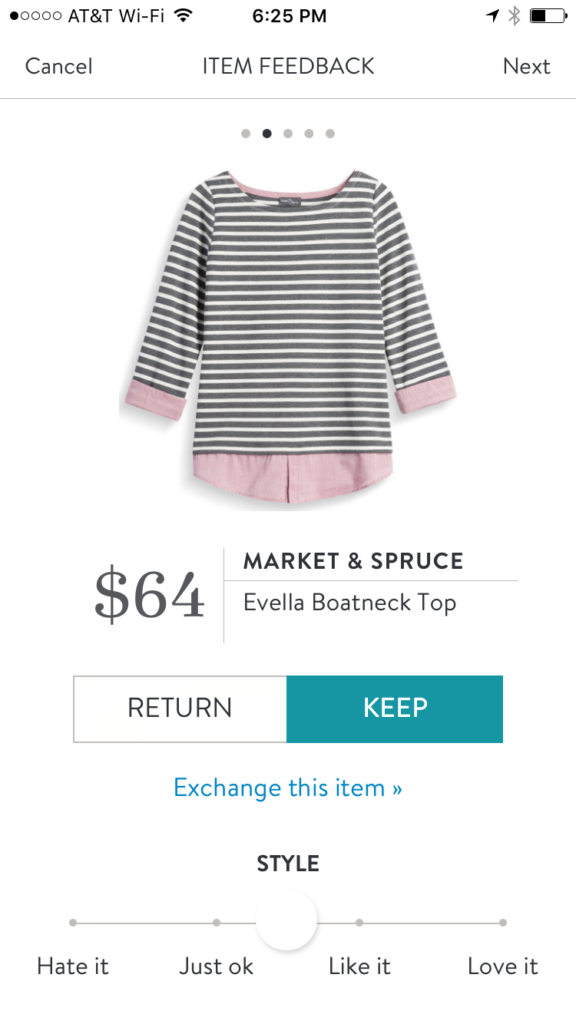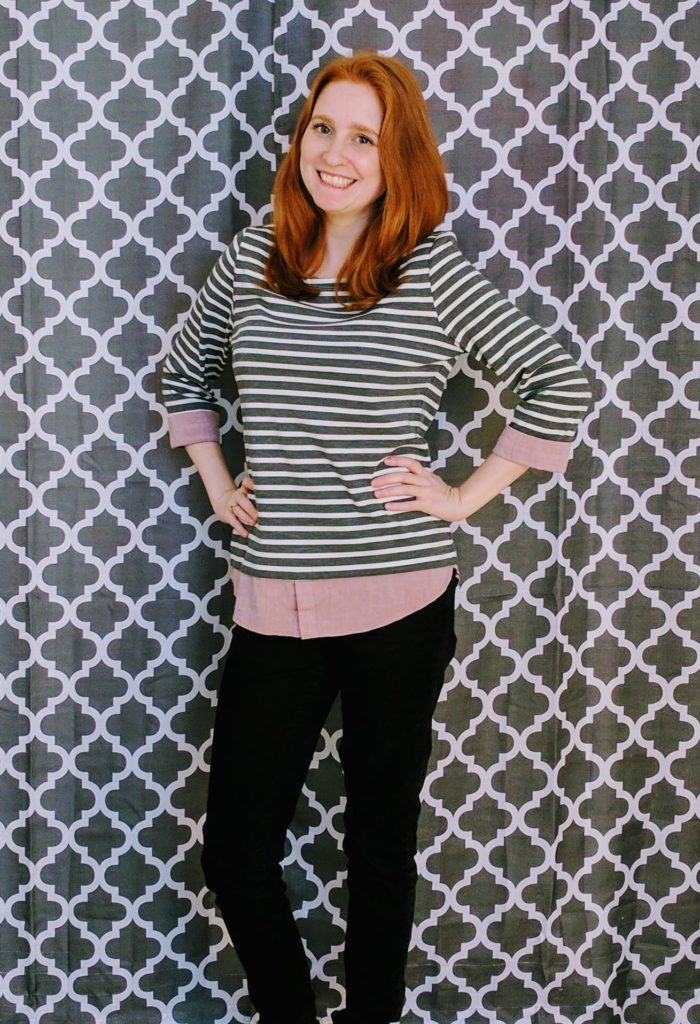 #3 – Market & Spruce Wilco Solid Quilted Vest
Occasionally I like to rock the preppy look and what's more preppy than a quilted vest? What I love about this vest in particular is how lightweight it is. It hardly weighs anything but it's got a bit of warmth to it, and would be perfect for layering under a jacket since there's no bulk at all. The color is so cute and seems to go wonderfully with my first two pieces from this fix. Texture wise, I don't think you could find a softer vest out there! It feels just like delectable whipped frosting (hey this is a birthday box after all). If you're looking for a vest to wear into winter and into early spring, you need to request this one, you'll fall in love!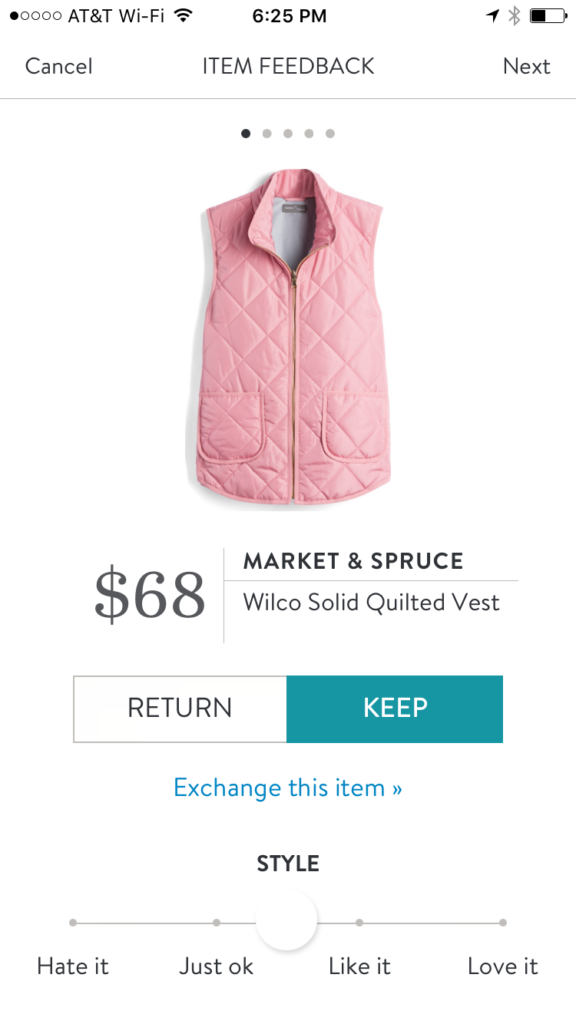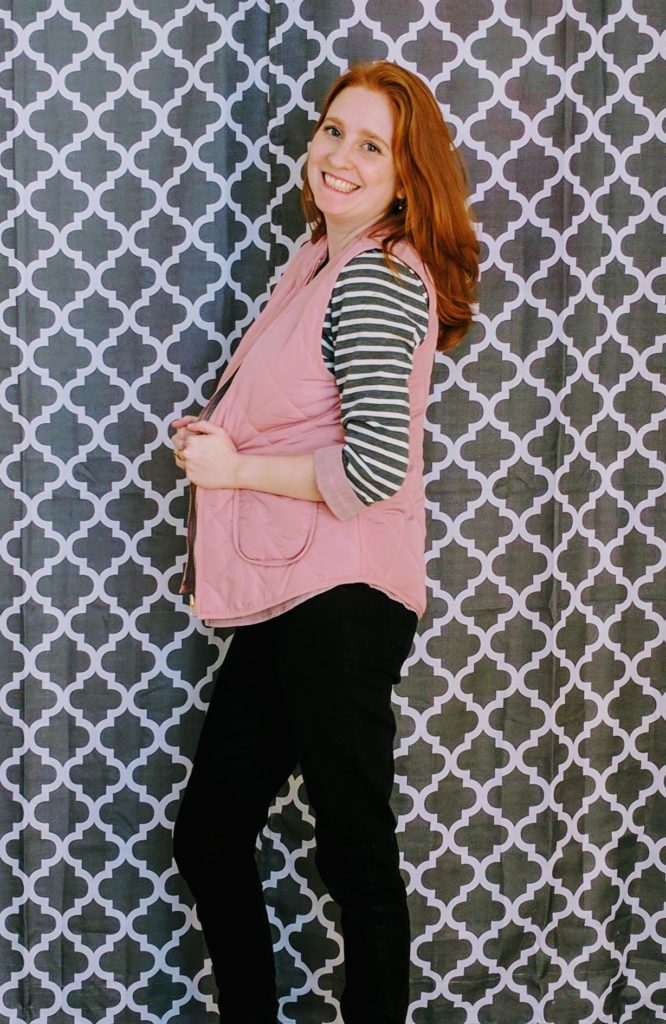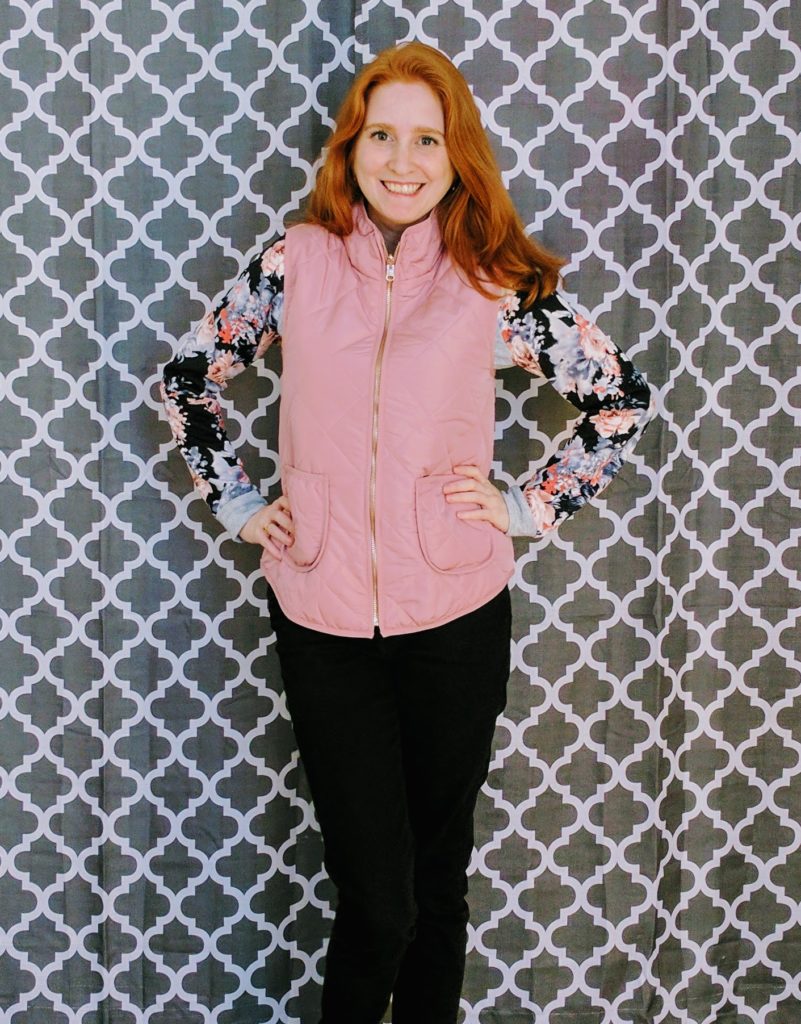 #4 – Renee C Brockman Two Pocket Tunic
While I did request a surprise birthday box for this fix, I did ask for there to be a top or two that I could wear with leggings, but it had to be long enough in the front and the back. My stylist provide this Renee C Tunic, but it didn't really have a tunic feel to it. The color is a very dark green that looks too black for my liking. Cut wise, the tunic felt very boxy and it looked like I was wearing a man's dress shirt. Sadly, the color and fit just didn't cut it and I decided to return this piece. I made sure to take a quick photo in the top to show you what it looked like on before I shipped it back so you can see just how masculine it appears.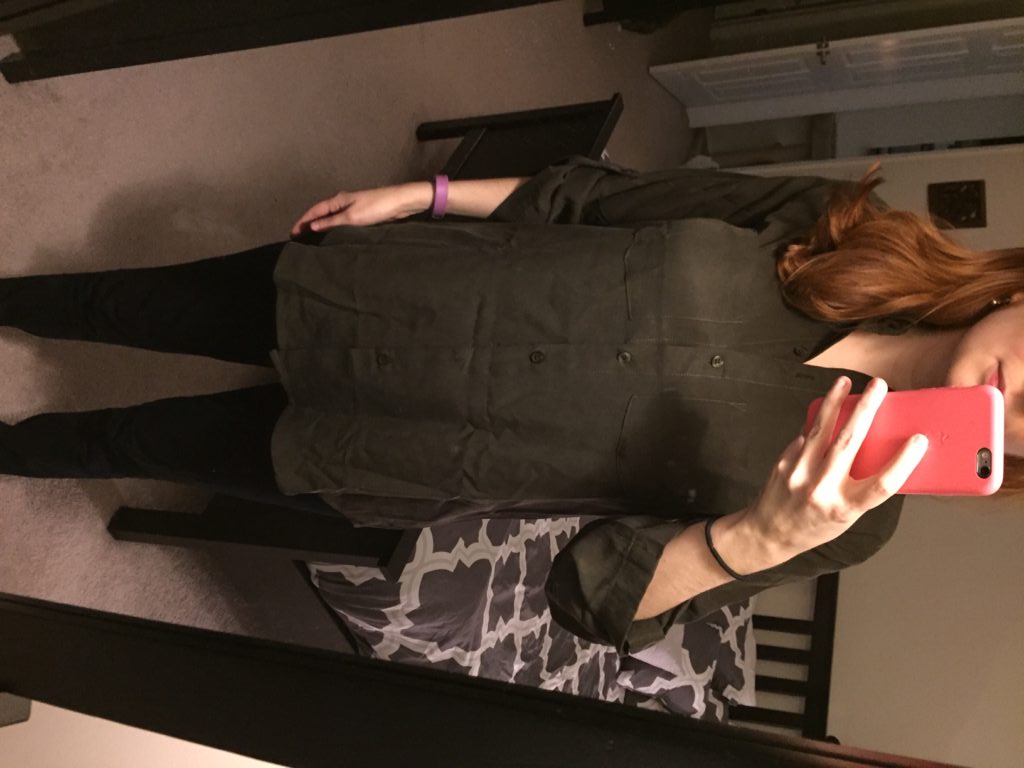 #5 – Salt and Jekyll Gleana Stitch Detail Pullover
It's winter so sweaters are always great to add to your wardrobe, and last winter I received a pretty sweet sweater from Stitch Fix so when my stylist's note mentioned a winter white sweater was included I was excited to give it a try. The color was cute, and I don't really have a winter white sweater in my collection, but the shape and design just didn't stand out as something special. I feel I could buy this sweater off the rack somewhere and I tend to use Stitch Fix for the opposite of that. On top of the sweater not screaming "keep me" to me, it had a pulled thread right on the chest which is a disaster waiting to happen. Would I have kept it if it didn't have a pulled thread? Maybe. However I already knew I was definitely going to return one piece and it made sense financially to send back two items so fate just had it out for this sweater.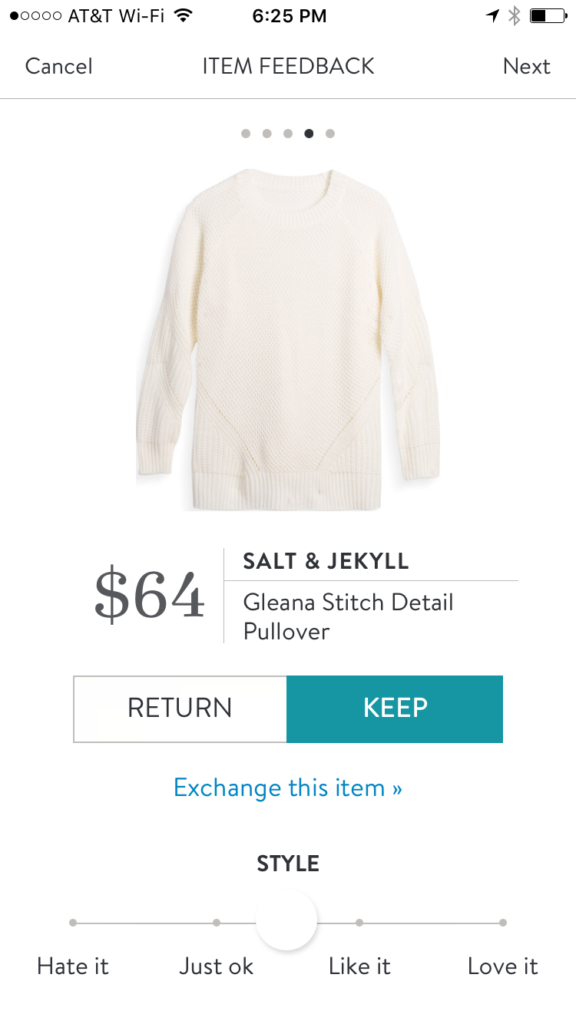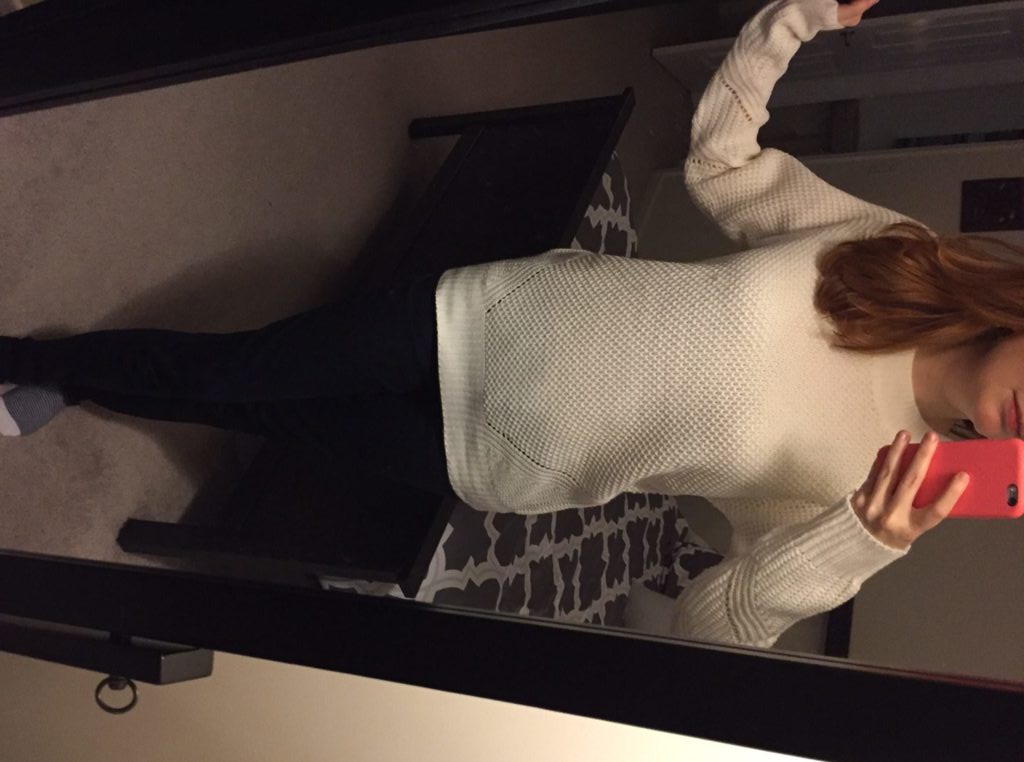 Final Thoughts: Market & Spruce was on point this month. The two pieces I received from them were too cute for words and perfectly preppy. I loved how my box was randomly pinked out for my birthday box, just like my birthday cake 🙂 While it's been awhile since I had to return items from a Fix, I'm happy with the choices I made and feel the items I returned were better off being returned or else they probably would have just sat in my closet unused.
Coming Next: Coming up I'll be sharing my first ever Men's Stitch Fix Review!! My boyfriend got his first Fix this month and I can't wait to tell you all about it! Do check back in later this week 🙂
As always, suggestions for a better fix:
Be very specific. If there are certain pieces or types of clothing you really want, provide that in your styling note to your stylist.
Create a Pinterest Board. Stylists will check them out if you keep mentioning them in your style notes.
Call out designers or names of actual articles of clothing . Your stylist may not provide those exact items but they'll start to get a better sense of what style you're into.
Don't forget to follow my Pinterest Boards for more Stitch Fix fun!
Haven't tried Stitch Fix yet? Sign up with my Stitch Fix code!