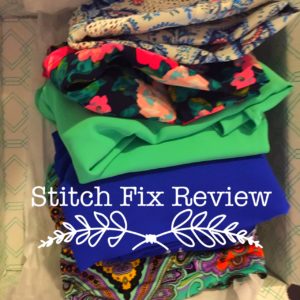 It's time for another Stitch Fix Review! For my 6th Fix I requested my stylist Kim provide me with flowly tops and dresses since it's been pretty hot here in NYC and there's nothing worse than wearing overly warm clothing when commuting on the train and subway!
This Fix contained four tops and one dress. As I opened the box, I was pleasantly surprised with the color selection, everything was bright and cheery. So, let's get down to business and check out the fashion!
#1 – Lore Pleat Detail Blouse by 41Hawthorn
This top is bright, flowy, and really comfy. Right down the center is a full length pleat, which is flattering for the top part at least, but I felt that the bottom of the pleat looked a little awkward. I think once I steam the top (there were a few wrinkles) that might make the top look more flattering overall.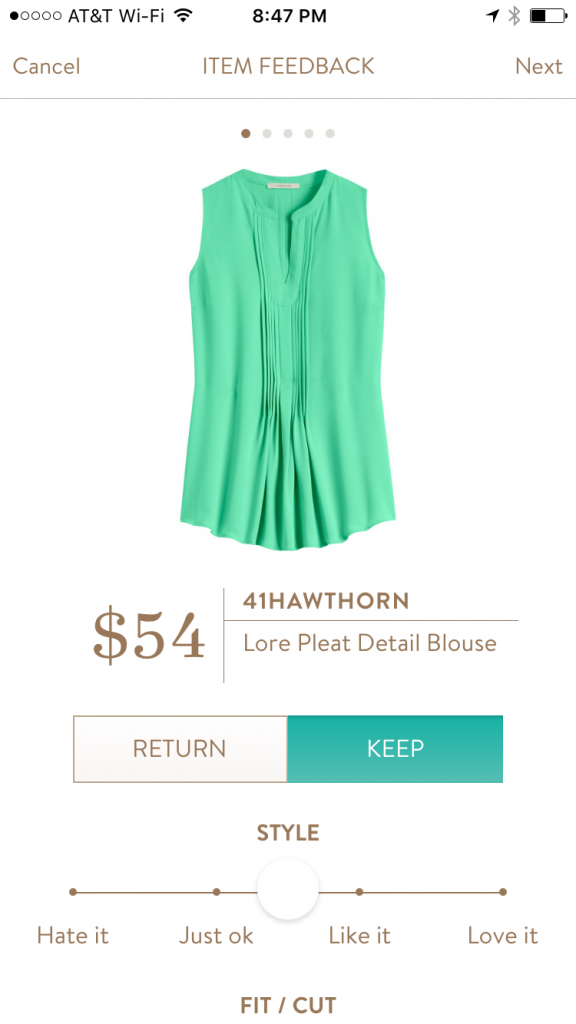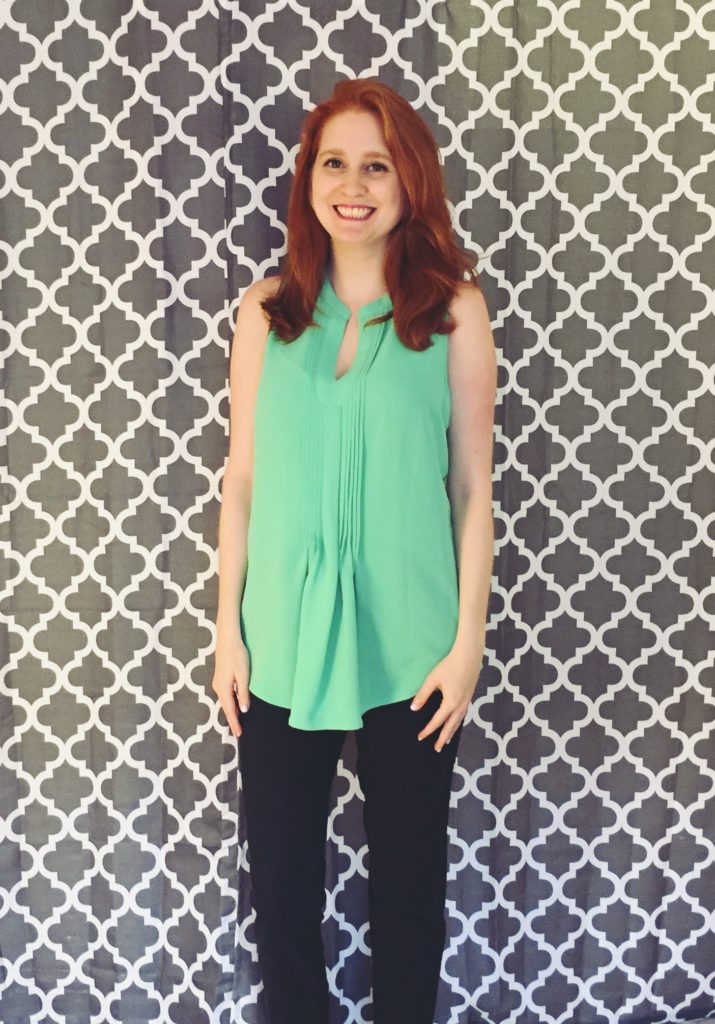 #2 – Doutzen Crochet Detail Top by Daniel Rainn
Another pinned top has come my way! My stylist has been checking out my Pinterest Board again, and spotted I had pinned this top. Daniel Rainn must really be into crochet this season because this is the second top, two Fixes in a row, where I've received a crochet top from the designer. I can't say I'm a big crochet person myself, but this top wasn't too overdone and the detail was done in a charming way. I did find that the crochet landed on an awkward part of my chest, so sometimes when I went to lift my arms up the chest piece of crochet made things a bit stiff. I'm thinking with use and washing things will relax a bit. Overall, a comfy option that looks cute with jeans or white pants.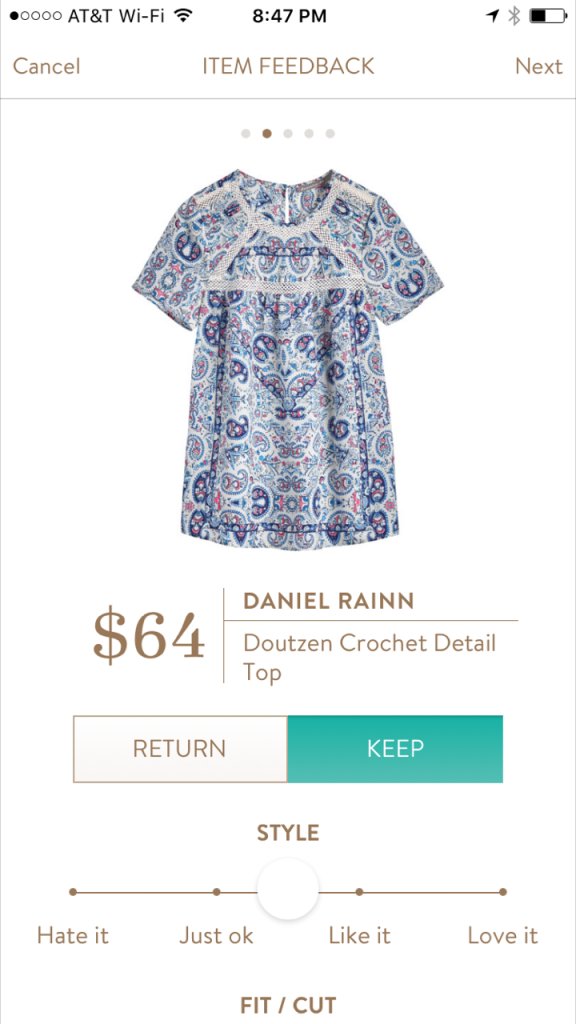 #3 – Senza Embroidery Detail Top by Skies are Blue 
This top is just too cute and so much fun! It really brightens my mood and if my red hair didn't say "look at me" enough, this top will certainly get someone's attention. I recieved a size small in this top, and it's still got tons of room to move around and breathe in, and it's absolutely comfortable! I think this could be a Fourth of July contender.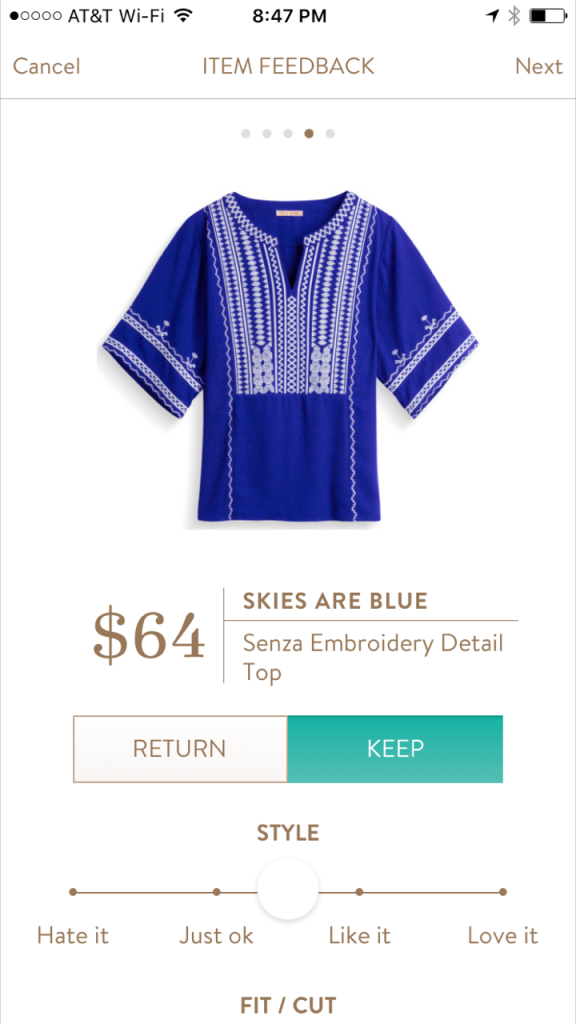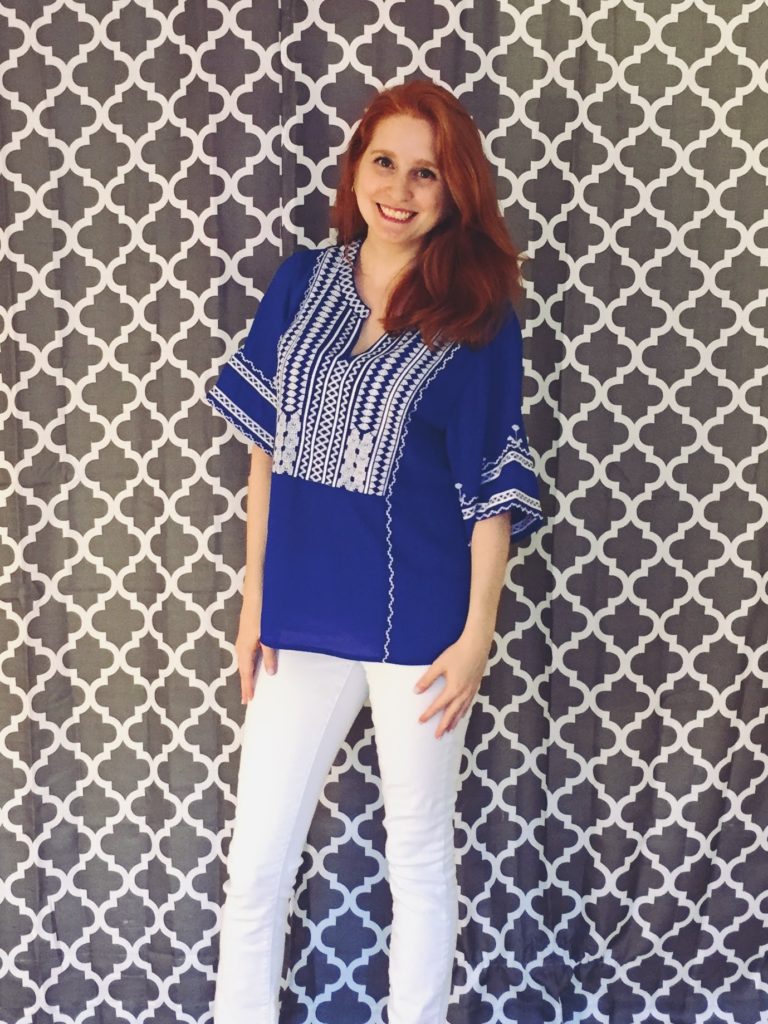 #4 – Rolfe Knit Back Top by Brixon Ivy
Talk about a cute casual tank! I absolutely love this top. The back is solid navy, no print, while the front is a bright floral design, perfect for shorts or jeans. I have a feeling I'm going to get a lot of use out of this top this summer. Oh, and the top is so soft! It's a must have tank ladies!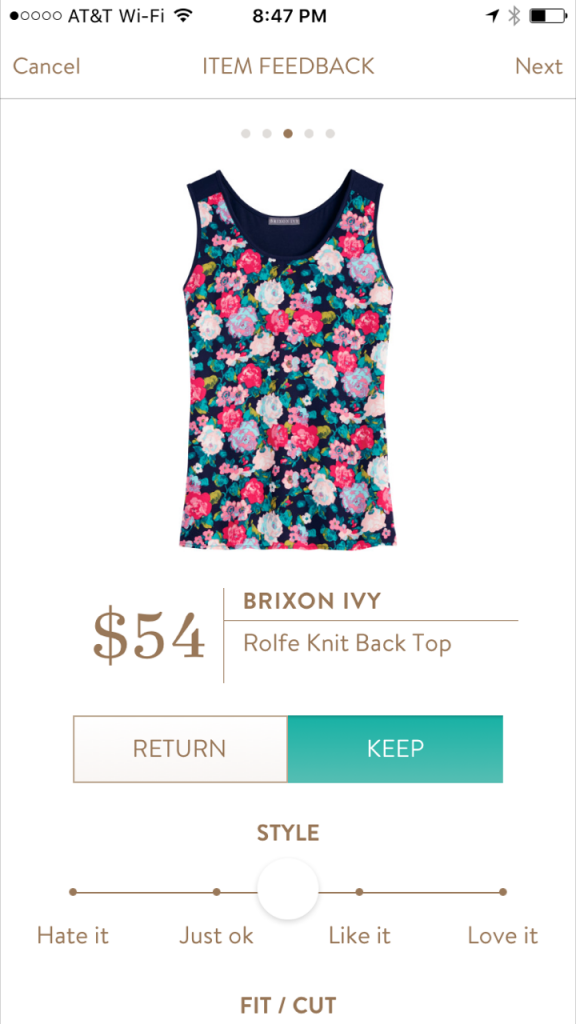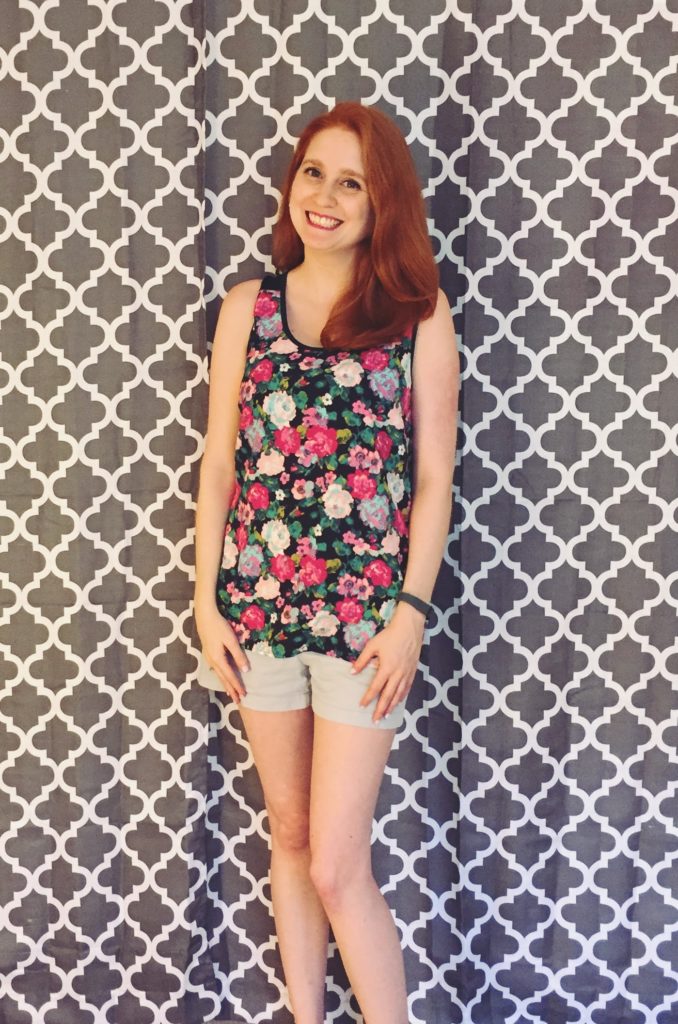 #5 – Evelyne Jersey V-neck Maxi Dress by Le Lis
When I read my stylist's note saying she included a maxi dress I have to admit I wasn't excited. I'm not a maxi dress kind of girl. I've owned one other in my life and it's sitting in the back of my closet. For me, when I hear the words maxi dress, I feel I have to be some super tall modelesque type, who's at least five foot eight, which I'm not. But, I said what the heck let's give this a try and see if my stylist is onto something. Let me tell you, I had the hardest time getting this dress on. First it was hard to figure out where the front was vs the back, and then the elastic bodice wasn't so elastic so as I was pulling the dress over my chest it definitely stretched out some of the sewing holding in the elastic, but I eventually got myself situated. Once in the dress, I felt it was pretty flattering and I liked that it had thick enough straps to conceal bra straps. I'm going to keep an open mind and hope the dress grows on me. One neat tidbit is the dress was made in the USA, not something you see a lot!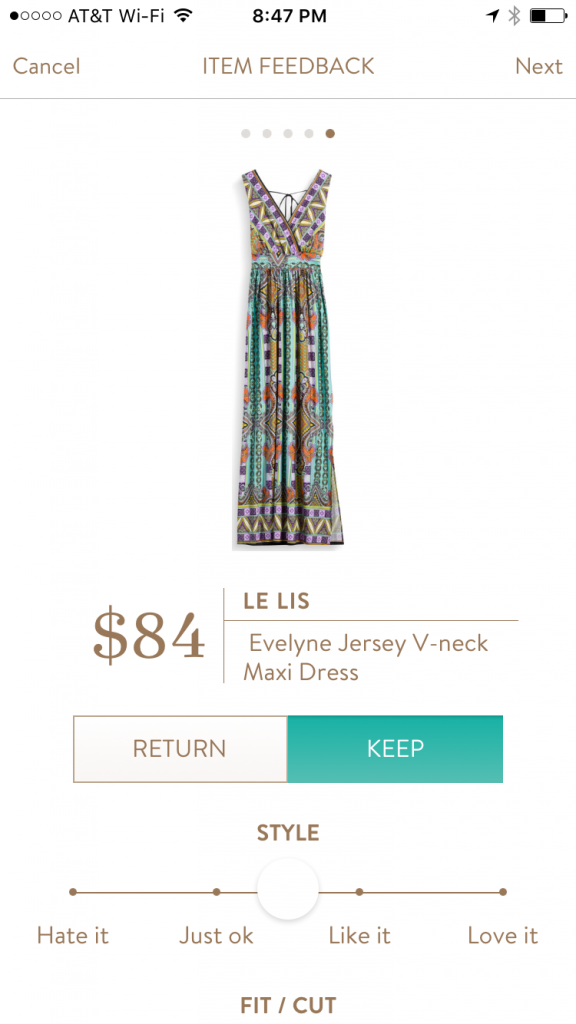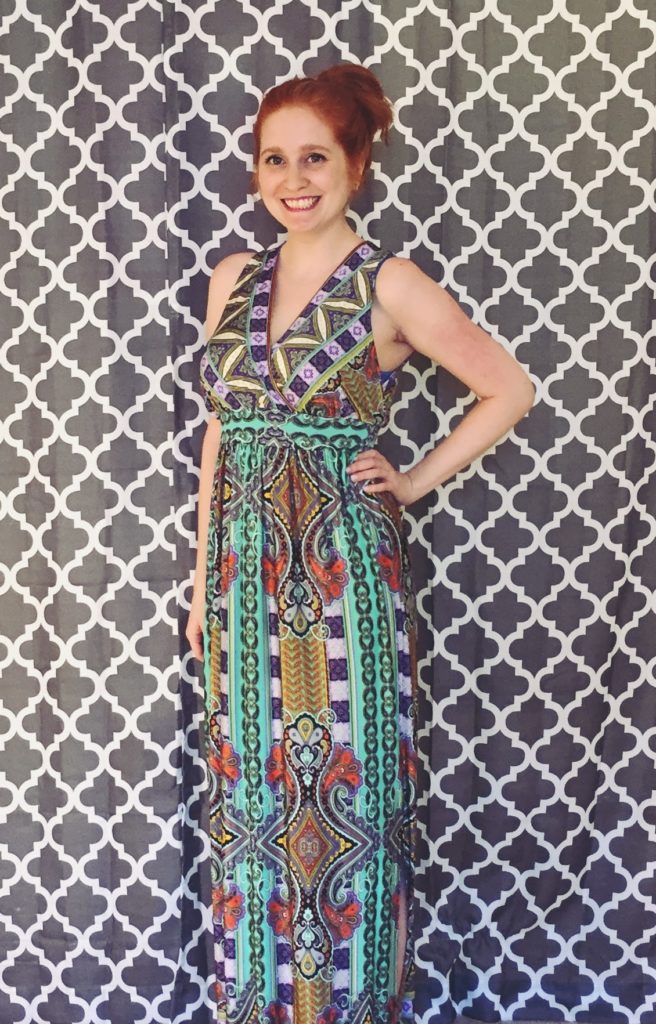 Some final thoughts:  This fix was great! As I tried on each item I kept saying to myself "is this going to be a 5 out of 5, I think it just might be." Ultimately, it was and I decided to keep all 5. I didn't have any issues with any of the items, and I really felt like my stylist is starting to get better in tune with my likes and style.
Suggestions for a better fix:
Be very specific. If there are certain pieces or types of clothing you really want, provide that in your styling note to your stylist.
Create a Pinterest Board. Stylists will check them out if you keep mentioning them in your style notes.
Call out designers or names of actual articles of clothing . Your stylist may not provide those exact items but they'll start to get a better sense of what style you're into.
Don't forget to follow my Pinterest Boards for more Stitch Fix fun!
What are you waiting for? Give Stitch Fix a try!