Quick fashion companies seem to be all the rage lately due to sites like Facebook, Instagram, and perhaps more than any other site, TikTok.
On TikTok you'll find tons of videos of women trying on clothing items from a lot of the Quick or Hot Fashion websites that have popped up and gained popularity on the internet. Most of these companies tend to be from overseas in Asia, where sizing and quality are really up in the air and it's almost like a game to see what you end up with.
I was feeling the quarantine boredom and blues and made the decision to click around a site advertised to me on social media (most likely Instagram) called Luvn Beauty. The clothes looked cute, the prices were cheap, and there were reviews on the site for the items I was looking at, so I figured it couldn't be that sketchy, could it?
I gave in, and purchased two rompers after what I thought was extensive review of the items, the size charts, and the customer feedback. I ended up purchasing the Sleeveless Round Neck Stripy Romper in a size medium, and the Fashion Sleeveless Round Neck Tie Button Romper in a size small. I really went back and forth a bit on what sizes to get, and it seemed based on size charts I was a different size in each. I figured the items were cheap enough that hey, let's get the different sizes and it'll help me understand better for the future what size I really am from this company.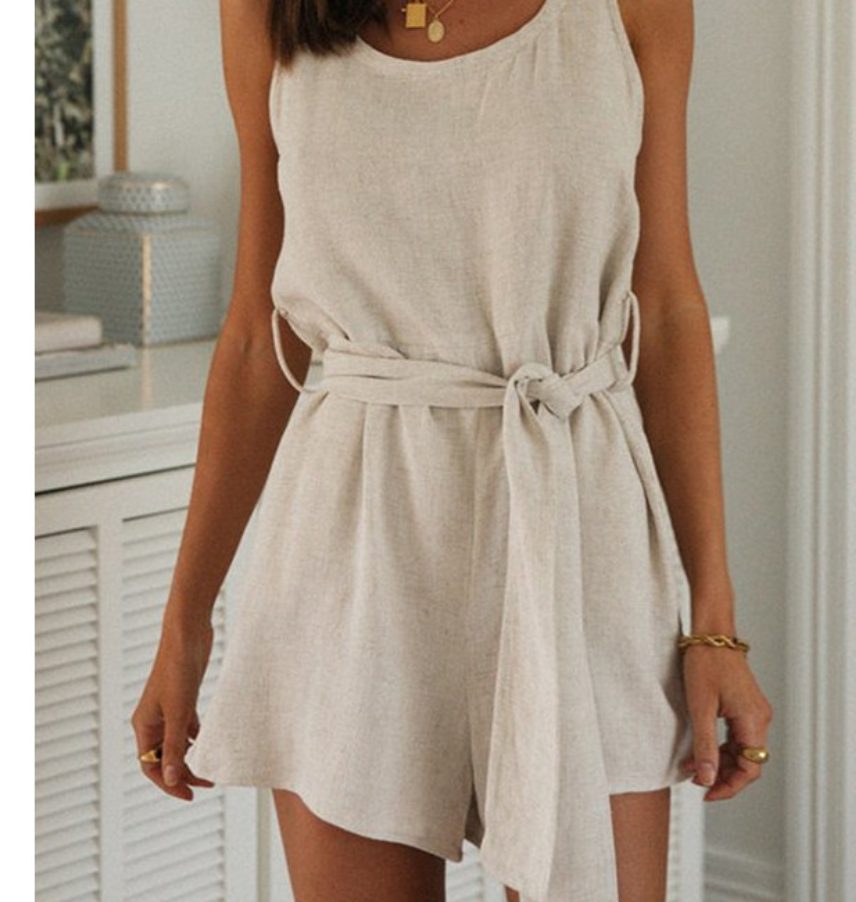 Both looked cute, the first one a little more form fitting, and the second baggy and loose. There were reviews for each and people seemed to love the items, so why not?
Then reality kicked in.
I used paypal to checkout, and then a couple days later on my mobile banking app I checked to make sure the purchase went through and saw the paypal purchase went to a random place in China, no reference to Luvn Beauty. That was my first clue I had made a mistake haha. I had hoped this wasn't coming from China, because I knew shipping would be slow and that what I got in the mail may not be what I ordered.
After talking to support, eventually my item shipped. It appeared to sit in Jamaica Queens in New York for several days after it "shipped" which probably meant after it made it to America, and then after a week or two after that it made its way to me. What was strange on the package was that the from address was in New Jersey, another odd indicator that this was a strange setup.
The first item, the stripped white and blue romper seemed decent-ish. The fabric was not what I expected. From the photos the fabric looked a bit heavier and stiff. This romper had very silky thin fabric instead. From a fit perspective, I was able to get it on and fit into it, but it was a bit loose in the armpit chest area, and was longer on my torso and legs than I expected.
The second, tan-ish looking romper which gave me safari vibes, was cheap looking. The fabric was very thin, didn't look great, and was just a disappointment right out of the bag. Trying it on was another thing. It felt like it was riding up on my lower half of the body, and I couldn't get the buttons to button around my chest. Of course as I was putting this post together and looking for the item on the site I realize I was wearing it backwards and the buttons are supposed to go on the back, but I would need help with that.
I reached out to learn more about returns, but of course they wanted me to send it back to some random address in China, which I expected would be costly and take forever so it wasn't worth it. I bet they do this on purpose, knowing most people won't go through the hassle. I did end up wearing the blue and white romper this week while working from home, and it was ok, but I'm not sure I like how big/loose it is on my frame, but alas it's acceptable for a day at home.
While I was browsing Reddit in bed this morning, I saw a post in one of the Women subreddits about what's something you saw and bought from social media, but regret. One of the comment threads was about clothes you see advertised online, that look good, seem well priced, but end up being a fail. The one company I recognized the name of in the thread was Shein, which I see everywhere on TikTok. For the commenters it seems that site is a hit or miss, and from TikTok it seems most people enjoy the items they get, but I think I'll stay away. Maybe it's time to try a clothing subscription box again. Stitch Fix maybe? I've also heard a bit about Wantable, and they seemed to have decent reviews. We'll have to see what the Summer months bring to my wardrobe.