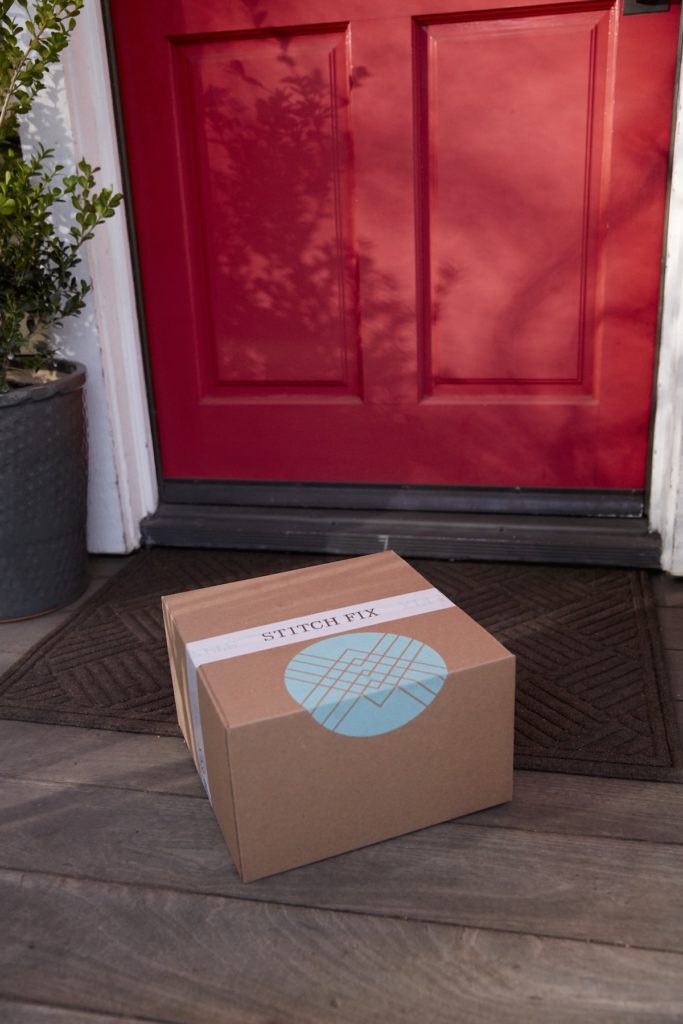 This post is long overdue, but better late than never! At the end of Summer I received another Fix where I explicitly asked for dresses I could wear to work and to try a romper that was short sleeved or sleeveless since my last one was full length sleeves. Here's how my Fix unfolded…
#1 – Market & Spruce Elody Embroidered Detail Dress
I've really gotten to love a floral print over my past X years with Stitch Fix. This dress from Market & Spruce, one of my favorite "companies" from Stitch Fix is no exception. The string detail in the back of the neck is interesting and adds a little something unexpected. I was a little worried at first about the crochet detail that takes up so much of the front neck/chest part of this dress, fearing I wouldn't be able to wear a normal bra with it, but I found you don't notice nude bra straps through it since the dress is kind of busy. This dress is super comfy and flattering with the cinched in waist band. One of the best things about this dress, besides it's flowy-ness, and beautiful pattern is the fact that it travels so well. While I may not be rocking this dress anymore at the moment, it's perfect for trips to warmer climates, like where I was in the past couple of weeks, New Orleans and Austin. It works in the sweltering southern heat of the US that's still prevalent every now and then during this time of the year.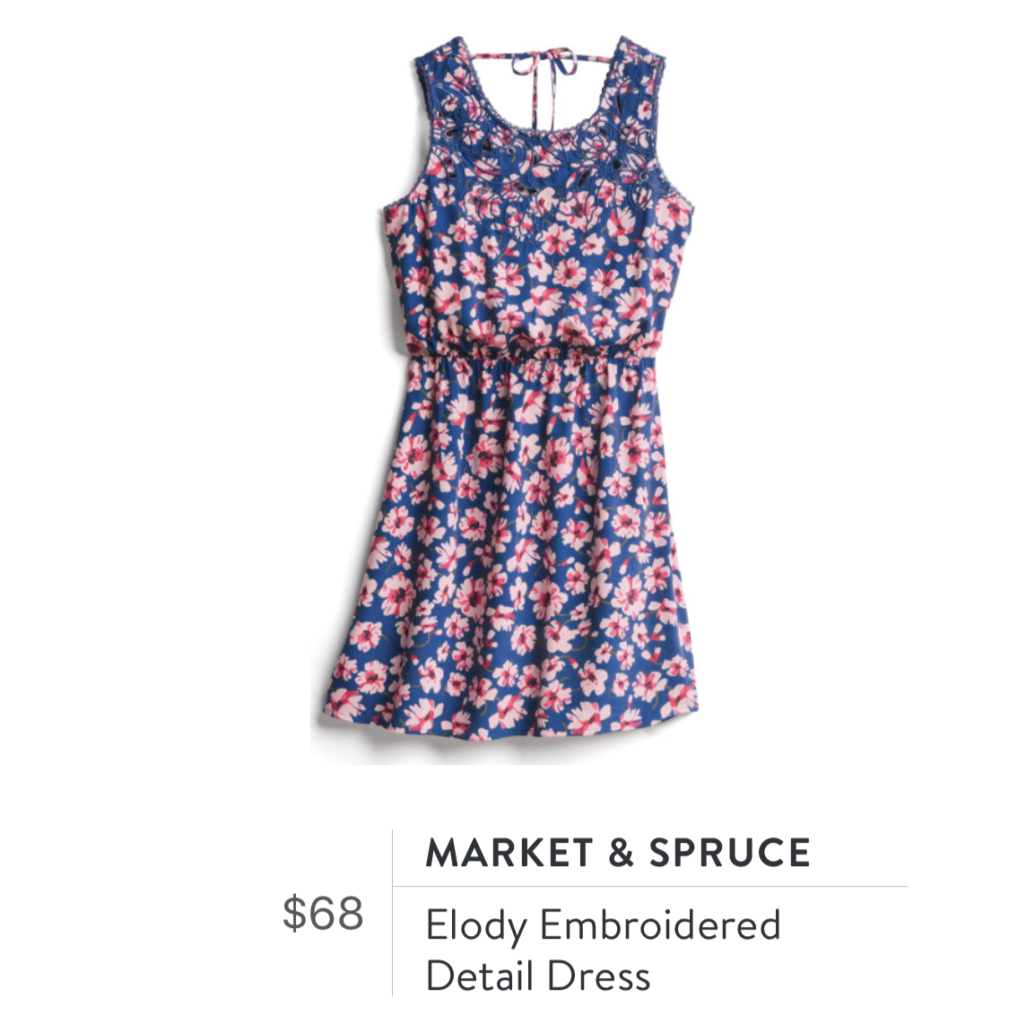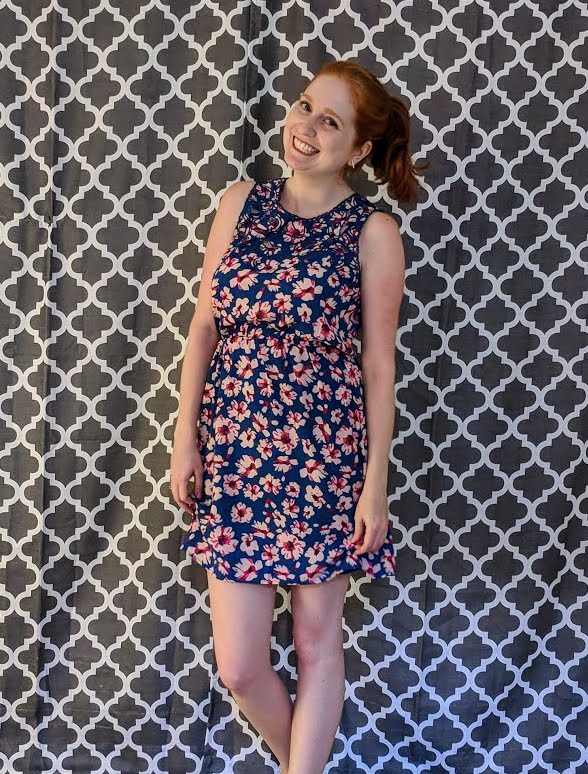 #2 – Wisp Ryenne Jersey Dress
This dress is a bit "dressed up" you could say. While the style didn't immediately talk to me, as it reminded me of something my mother might wear (a more mature cut and print) but after trying it on, it was super comfortable, and the waistband flatters one's chest. While I do think I look more mature in this dress, I guess that isn't a bad thing. I am getting older, and I'm not a young twenty something anymore. Nothing wrong with looking a little more mature in the office, even if I work for a Tech giant. This dress also works well for travel. You could bunch this thing up and it'll never wrinkle.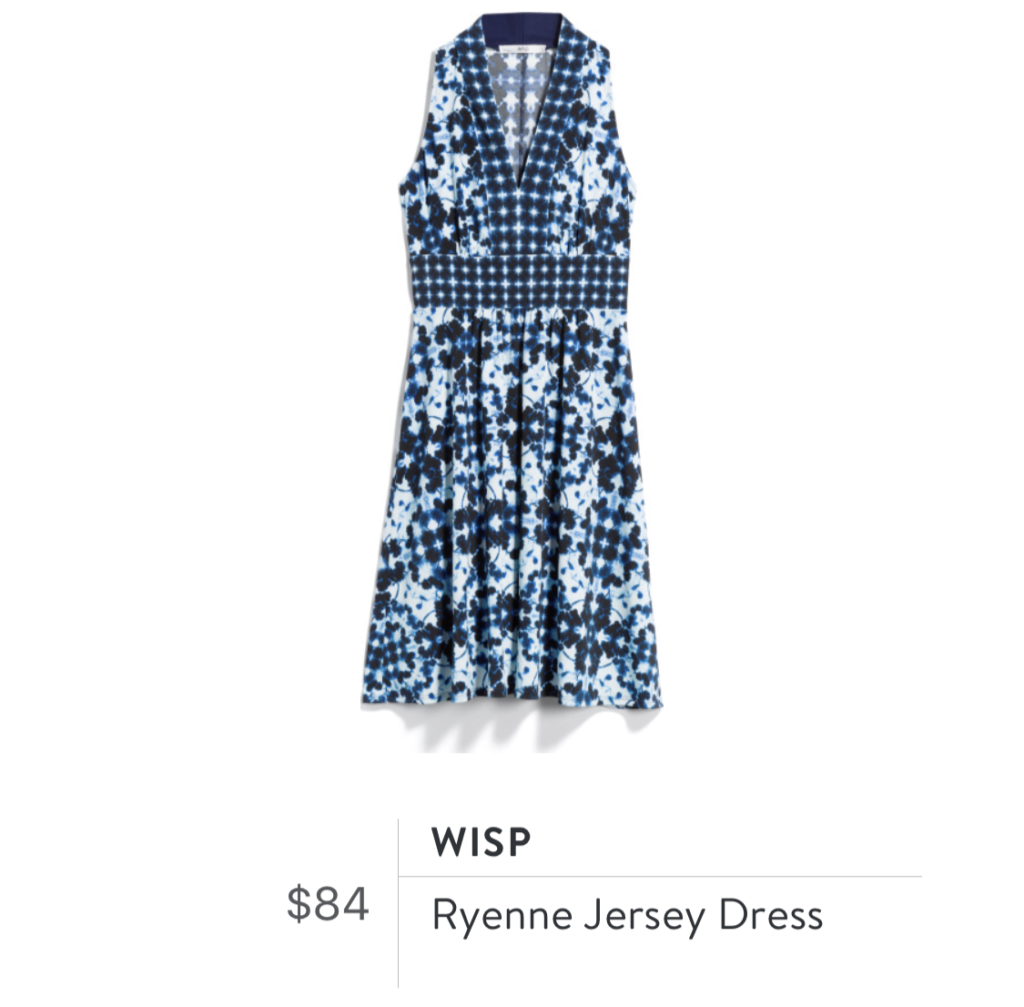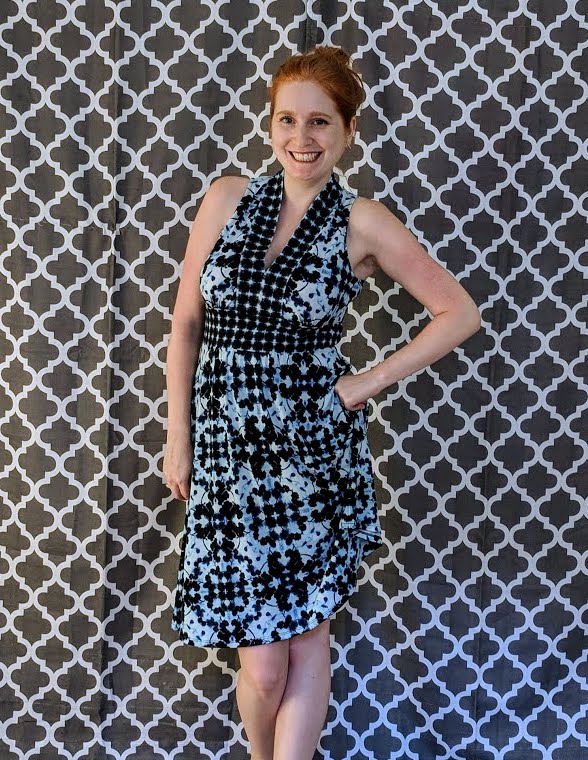 #3 – Market & Spruce Gala Lattice Detail Dress
Another Fix and another Market & Spruce. This dress is pretty similar to the one I received above, similar fabric and feel to it. The only major differences are that this one doesn't have crochet details and it runs a bit big. I felt the cinched waist line wasn't tight enough, or the torso part of the dress was too long, making the cinched waist sometimes fall too low. It's still super comfy though! The pattern of this dress is also super cute, casual, but the cut and style makes it a perfect dress for work or going out and about on the weekend.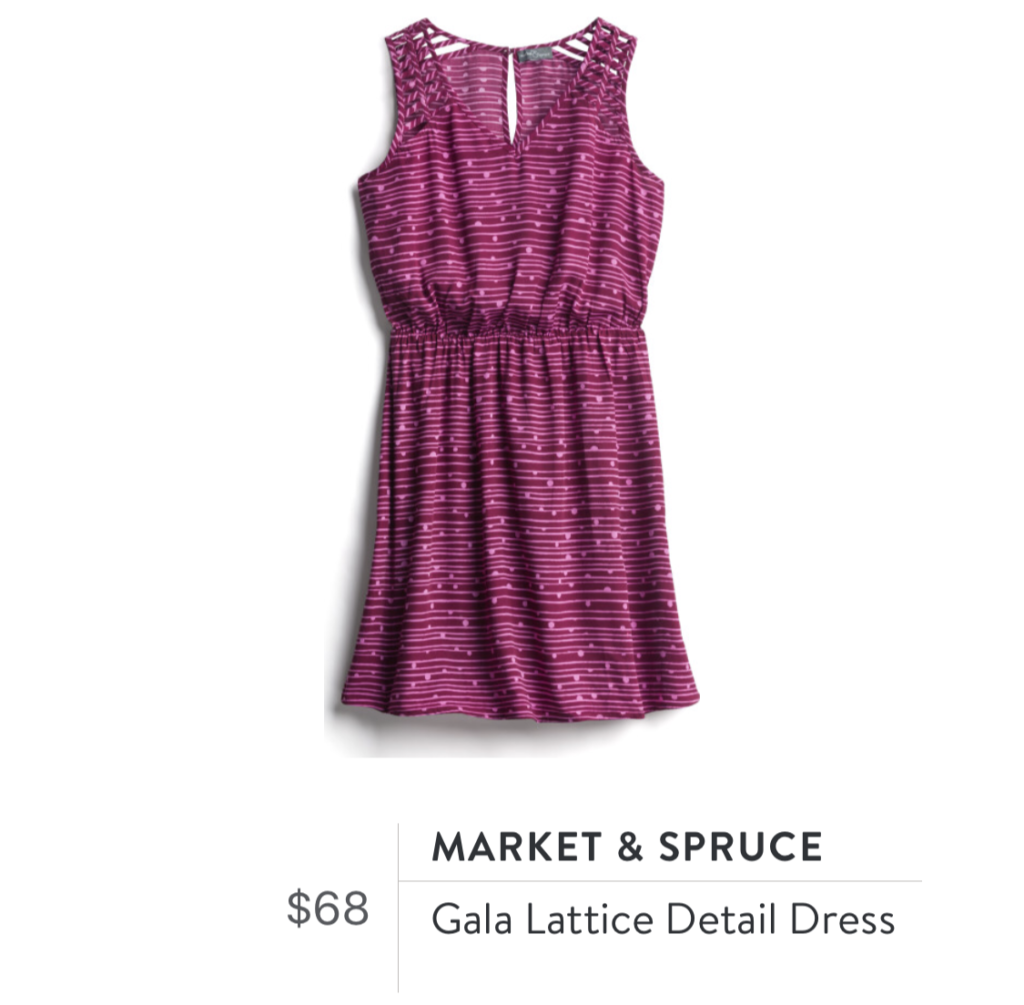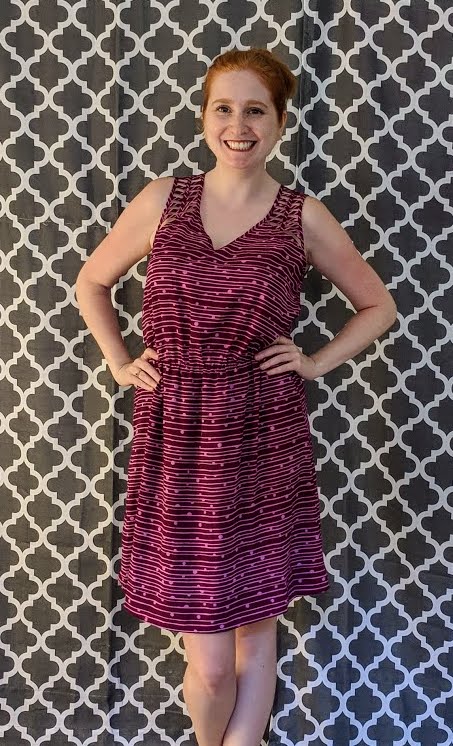 #4 – Kaleigh Annabelle Knit Dress
This knit dress is hands down my favorite in the box! The cut and pattern reminds me a retro style dress. One of the best parts of this dress is how lightweight it is on. It's beyond comfortable. I was also pleasantly surprised to see the straps were perfectly wide enough and cut just right to allow you to get away with a normal bra and not have to worry about straps hanging out in the back, not that that's stopped me before… But overall, this dress by Kaleigh is just a polka dot of fun! You could pair this with a white blazer and take the town by storm, or just wear it casually as is with simple sandals.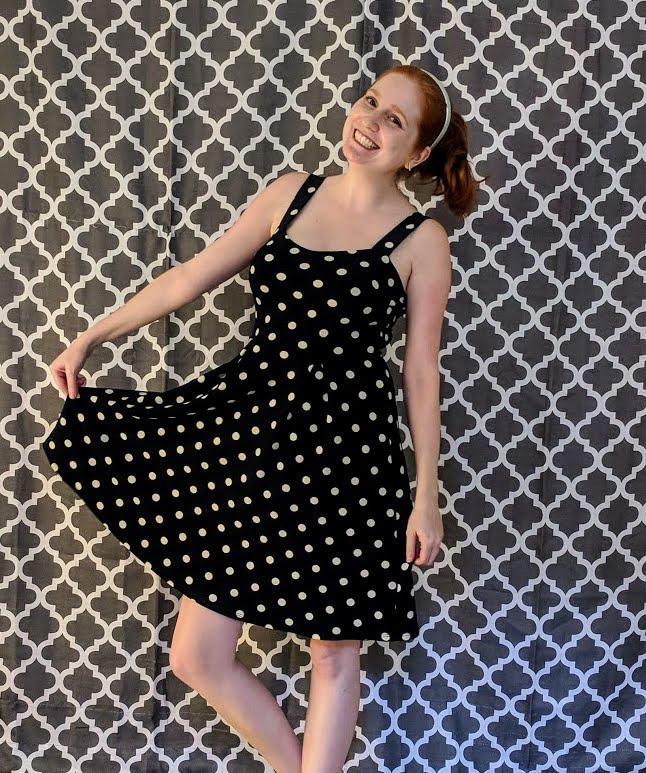 #5 – Collective Concepts Keva Crochet Trim Romper
Onto the romper, ladies and gents! This past year I got in my head that I wanted to try a romper. I passed on the whole romper boom last summer because I wasn't sure it was for me, but this year I figured why not give it a try!? The whole purpose for me using Stitch Fix is to open up my style horizons, take a risk, and try something I never would have picked for myself. So, here we go down Romper lane again! This time, I was super excited to find a spaghetti strapped version that would be perfect for warmer weather and climates. While it's currently Fall, I think you could still make this work due to the very Fall inspired colors this dress is decked out in. Just throw on a jean jacket and you're rocking it! We all know pockets are a girls best friend, and I'm happy to report this romper has long pockets for all your carrying needs! Just don't put anything too too heavy in there or it might feel/look a little silly since the fabric is thin and you'll get weighed down. I've enjoyed wearing this romper this past season, and I know when I head back to the Philippines for work in the winter I'll be packing this baby!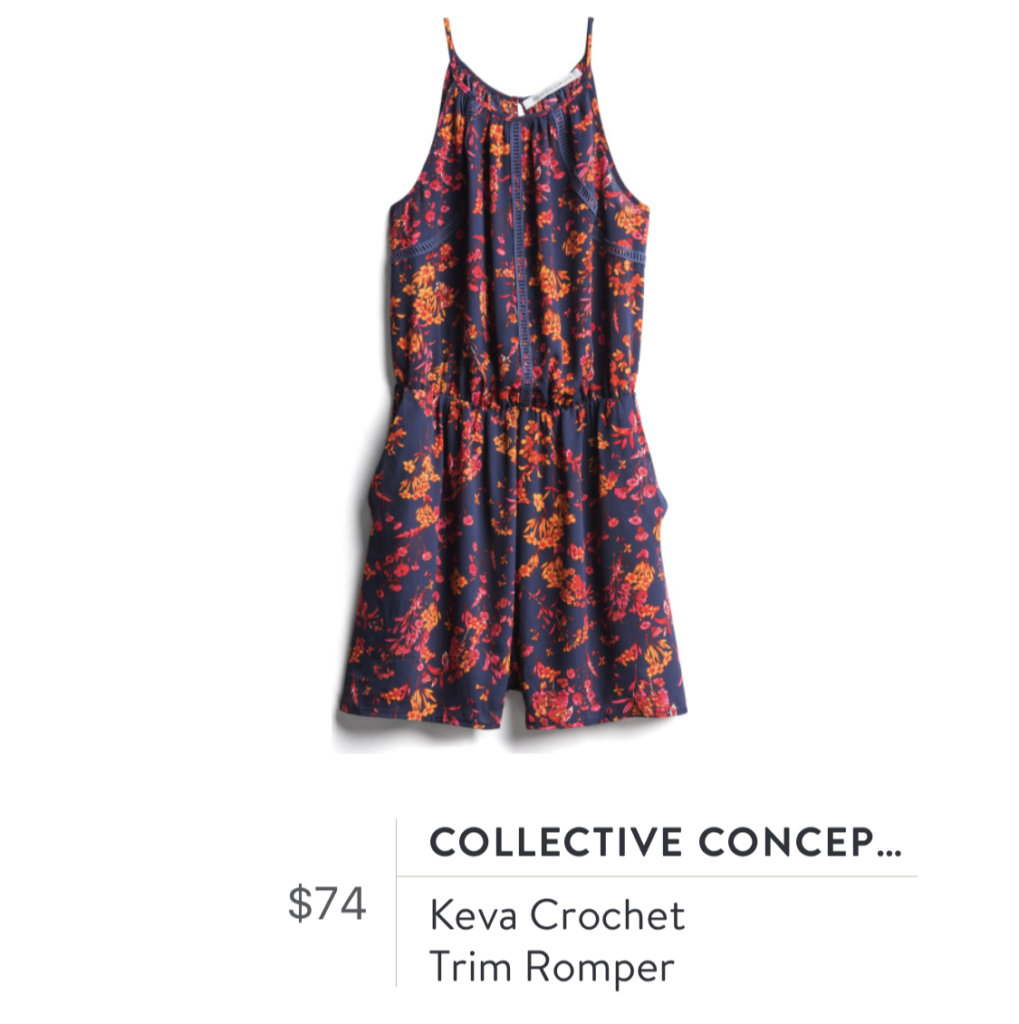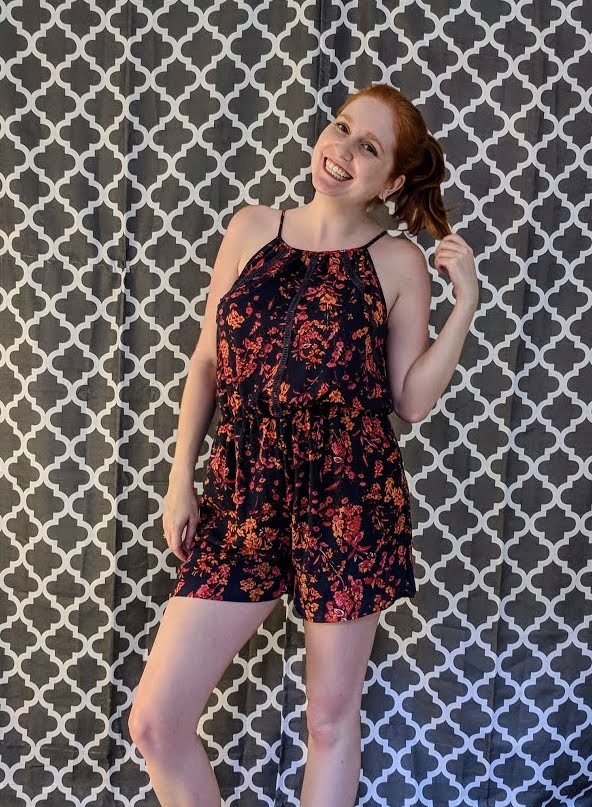 Final Thoughts: This Fix was a pretty big hit! Cassandra, my stylist, really listened to my requests and made it happen! You can't get enough outfits and pieces that are travel proof. For me, that's the biggest thing! I seem to travel more and more for work lately, and it's essential that I have clothing items that can travel with me and take a beating but still look great right out of the suitcase, and that's what these five items do. Looking forward to sharing my Fall fix with you, that just arrived yesterday!
Don't forget to follow my Pinterest Boards for more Stitch Fix fun!
Haven't tried Stitch Fix yet? Sign up with my Stitch Fix code!