It has been a long time since I've done a Stitch Fix review. I took a break from the company for a while for a few reasons. First, I kept getting bounced between stylists and it just didn't seem like I was finding my match like I had a couple of years ago. Second, I didn't really need a ton of new clothes, and three I just kind of fell out of it after the Affiliation program seemed to disappear without mention.
I substituted Stitch Fix with a rental service, Infinitely Loft, which I'm still using today. However a few weeks back I decided hey, I'm stuck at home, Summer is just about here, why not see if I can get some items from Stitch Fix to update my warm weather wardrobe.
My request this time around was for rompers, a dark washed non-distressed pair of jean shorts, and a dress or two. When I received my box however, what I had originally hoped to receive was not provided. Reading the stylist note I was a little disappointed to hear they didn't have any summer rompers available, and hearing about the items pulled for me left me wondering if this box was worth it or not. Thankfully, I was fairly surprised by the items I received once I tried them on and gave them a chance.
Item #1 – Skies are Blue Pavlina Embroidered Cactus Knit Tee
Price: $44.00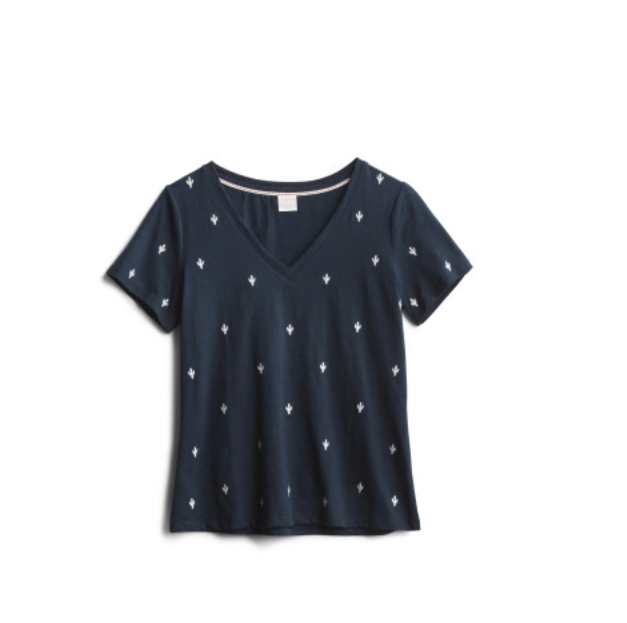 I don't own a ton of tshirts or short sleeved tops, unless they are free ones I've gotten from work as swag or are branded for my company. So, it's always good to find an option here and there that is a bit more coverage than my beloved tank tops and I can wear on those warm but not dreadfully hot summer days.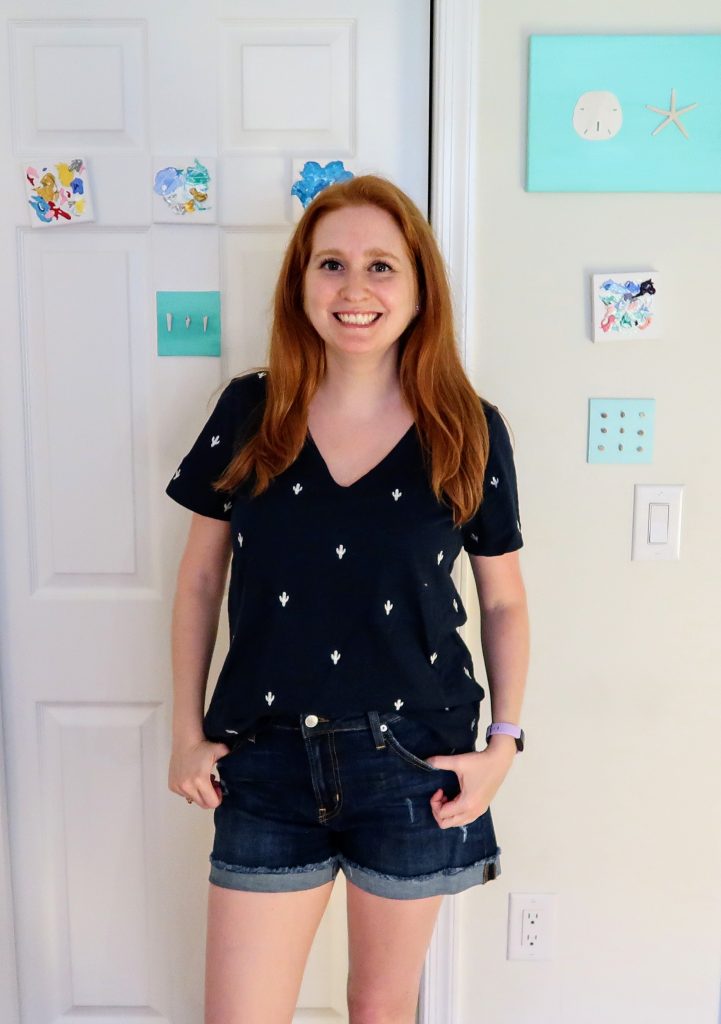 What I liked about this top was the fun stitched cactus pattern. The pattern is only the front, which is ok, but the top might be cuter if the pattern went all the way around. I also enjoy that the color combo with this shirt is one of my favorites, navy blue with white. To me, that color combo says summer since I'm really into nautical or preppy styles like that. The fit is ok, not tight, slightly loose, and the neckline cut is flattering.
Item #2 – Just Black Romeo Distressed Cuffed Frayed Hem Denim Short
Price: $58.00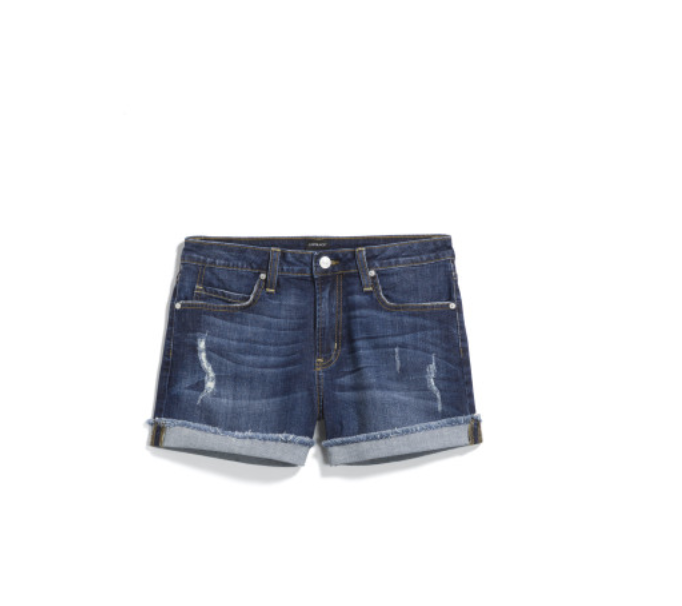 This item is pictured above on me in the first item review.
Just reading that title and I'm already thinking there are two words in there that do not go with what I requested in this fix – Distressed and Frayed. Taking a closer look, the distressing and fraying isn't too terrible. There's no actual holes cut out of the shorts, and they don't look that bad. The wash is dark, which does fit with what I was looking for.
In terms of how they fit, they are a larger size than I would have purchased in store, and they are a bit looser than most of my shorts I own. I figure they might tighten up in the wash. But at least the looseness is comfortable and not drooping off of me, but still I probably would have prefered a size down to be my regular pants size.
Item #3 – Threads 4 Thought Arias Twist Back Knit Top
Price: $54.00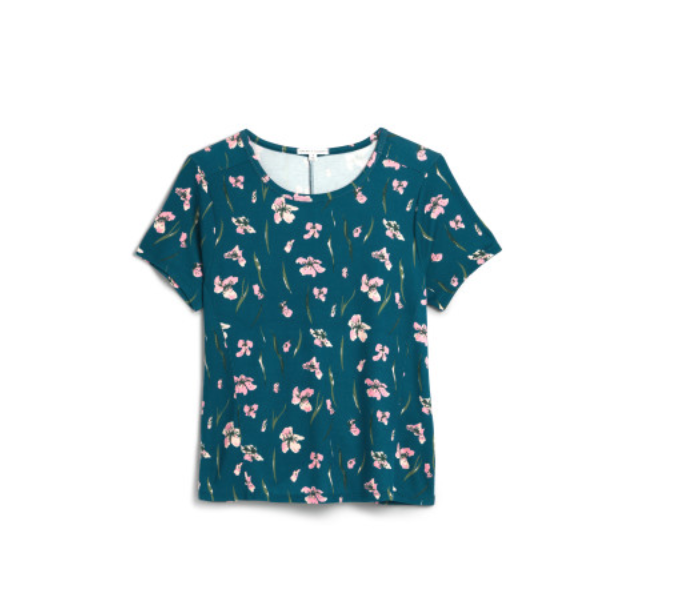 At first look, I'm not the biggest fan of this print or top. It's nothing special, doesn't do anything great for me or my body, and I feel the floral is a bit frumpy, maybe better for someone who's a little older. The colors aren't bad, but overall it isn't a top I'm super thrilled or excited about. However, like I said earlier, it's good to have a few short sleeved tops in one's wardrobe. I decided to keep this top because it was cheaper to keep it than return it. The fabric is a little unique, it doesn't feel like a usual knit fabric, it's kind of silky and almost like a wicking material. Overall, it's ok, but not really my cup of tea.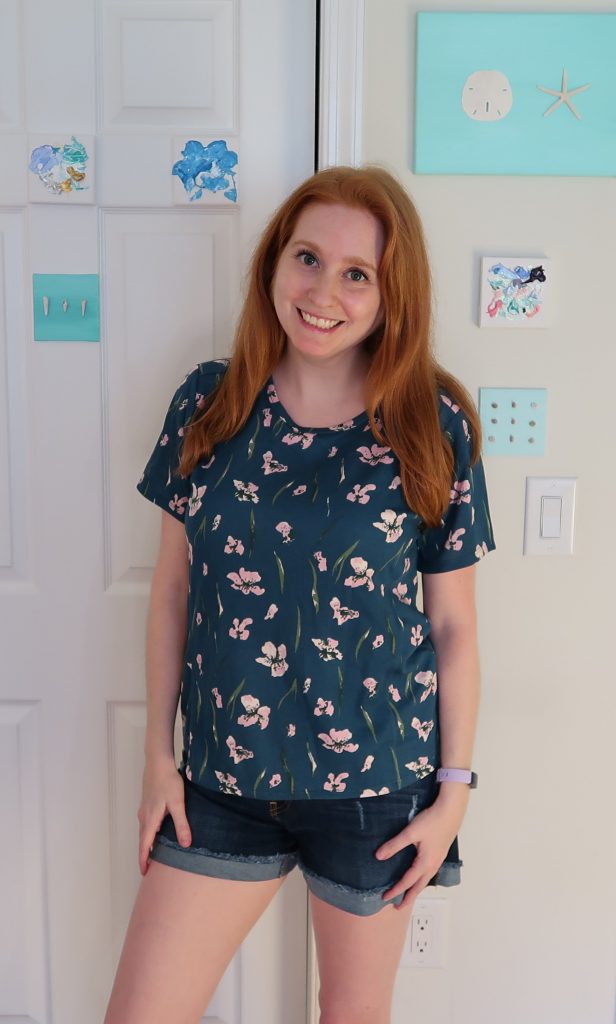 Item #4 – Market and Spruce Britta T-shirt Dress
Price: $64.00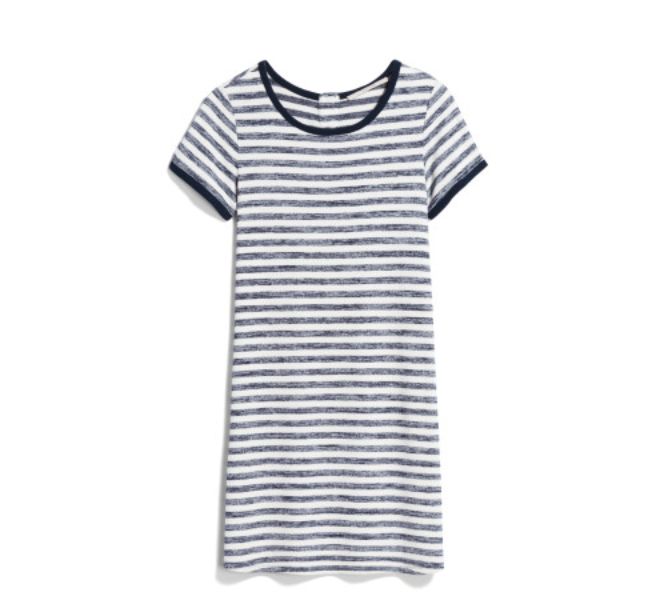 T-shirt dresses can make me a little nervous. The cuts aren't the most exciting or flattering, and I'm always worried it'll cling to my stomach or make me look a little strange.
What I like about this dress though is the coloring, it's a white with blackish blue stripes that once again make me think of a preppy or nautical style. The dress itself is also really comfortable. I could definitely see bringing this on a beach vacation, or just going around in the summer. It's cute and fun. The best part is that it doesn't cling to anything, and while t-shirt dresses look boxy, and it does look a bit like that in some photos, I don't actually mind. It's a really easy dress to just throw on and head out the door in, and who doesn't need that during quarantine or the summer months?
Item #5 – Kaleigh Rochelle Knit Jumpsuit
Price: $58.00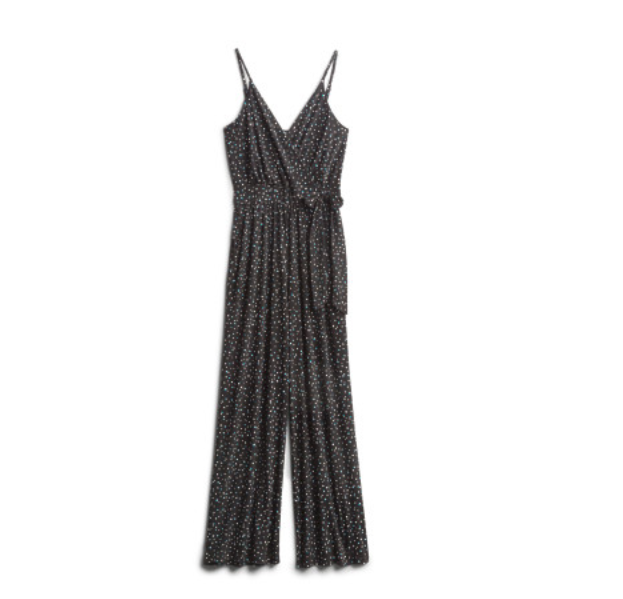 I've never owned a jumpsuit, at least in the past 20 year I haven't, but a jumpsuit is basically a romper just less summer heat and humidity friendly with pants instead of shorts. When I pulled it out of the box I was worried about what the length of it would be, and how it would sit on my body. Would the proportions work? Would I look silly?
Well, let me tell you, this jumpsuit might give me the disco fever and feels, but I actually kind of love it. I definitely didn't expect to like it, but I fell in love. Perhaps because it's so different from things I wear, and that it's kind of a little out there. What's wrong with spicing it up a little with something a little unique and flashy, haha.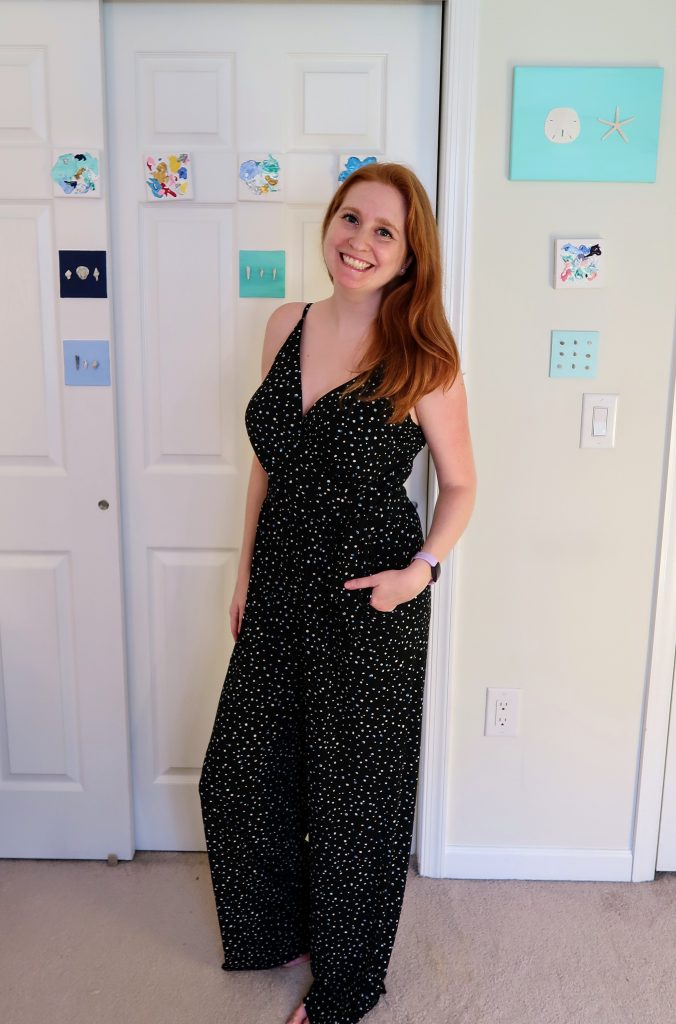 My boyfriend may think I look a little silly, and I came out of the bedroom from trying it on doing a disco dance, but it made me smile and that's what you look for in clothes, isn't it?
I should note, this jumpsuit is appropriately long, but not drag under your feet long. My style card showed wedges as the perfect shoe for this outfit, and I recommend them too. You'll get just enough lift to make this length work great. I should note I am 5 foot 5, so if you're shorter than that, this might be a hard sell for you since the pants are full length.
Review Summary: While I didn't get all the items I wanted, and it wasn't my most favorite fix of all time, I was pleasantly surprised by some of the items in this box, and decided to keep everything since it was cheaper that way with the discount for buying everything. I still wish I got an actual sleeveless romper or flowy dress for the Summer, but maybe next time it'll be meant to be.
Next up: I'll be reviewing some of the "shop your looks" options that you can now get from the Stitch Fix app. I'm looking forward to trying this option out instead of requesting a full on fix. Let's see how it goes!
Until next time, stay healthy, happy, and safe out there! Happy Summer!

Want to give it a try, use my referral code for $25 off!