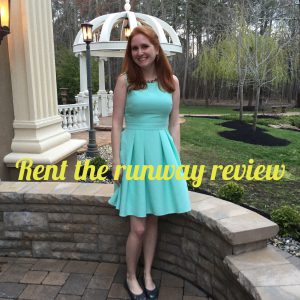 What's Rent the Runway?
A rental service for dresses, accessories, and outfits. They carry a ton of different designers from Kate Spade, Badgley Mischka, and everyone in between. When you rent a dress, you're allowed to choose two sizes, at no extra cost, so you can try the dresses on at home and make sure you get the right fit for you.
I had been meaning to try them out for a couple of years, but after college I didn't have many events that called for a fancy dress. This past year however, the wedding invitations poured in and my boyfriend suggested I finally give it a try. We had a mutual high school friend's wedding this past fall so I decided to go for it. I found a great dress and was super pumped to see how it would look, but that's where the excitement ended.
My dress was scheduled to arrive two days before we left, I had a UPS tracking number and it showed everything was looking good. I should note, I live in the same town as the Rent the Runway factory where they ship all the dresses out. I assumed the whole rental was going to be easy peasy and everything would go smoothly, but boy was I wrong. UPS showed my dress was out for delivery by 8pm (our complex is the last stop for UPS as we're also in the same town as the UPS shipping center). 8pm came and went, as did 9pm. I started to freak out.
My boyfriend called UPS and said we would pick up the dress in person the following morning when they opened up.The next day we went to UPS and the man at the front desk said they didn't have the package. Apparently Rent the Runway was (or maybe still is) known for not placing labels on packages securely. They mentioned that this was a frequent occurrence where the labels would fall off and the delivery person wouldn't know which package was which so they would just bring the clothes back to Rent the Runway. We then spent the next day calling Rent the Runway, emailing, and tweeting them. No one answered. Twitter showed a lot of people were also missing their dresses. We even offered to go to the warehouse to pick up the dress in person (they have a store where you can buy the worn dresses from them as well – I'll do a review one of these days) but they said that they wouldn't be able to give us my rental dress. I was crushed, and luckily had a backup option. Rent the Runway gave me a coupon code for my next rental and refunded my purchase after a few days of harassing them.
Flash forward a few months and I decided I would put that coupon code to use and try once more to see if Rent the Runway could come through for a wedding. Everything started to play out just like last time. The dress was "out for delivery" for hours and it was starting to look like another failure. Eventually, I got an email from the front desk that I had a delivery. I was expecting to get my hopes up again, fearing I couldn't trust RtR, but success, my dresses arrived! Now onto what I ordered: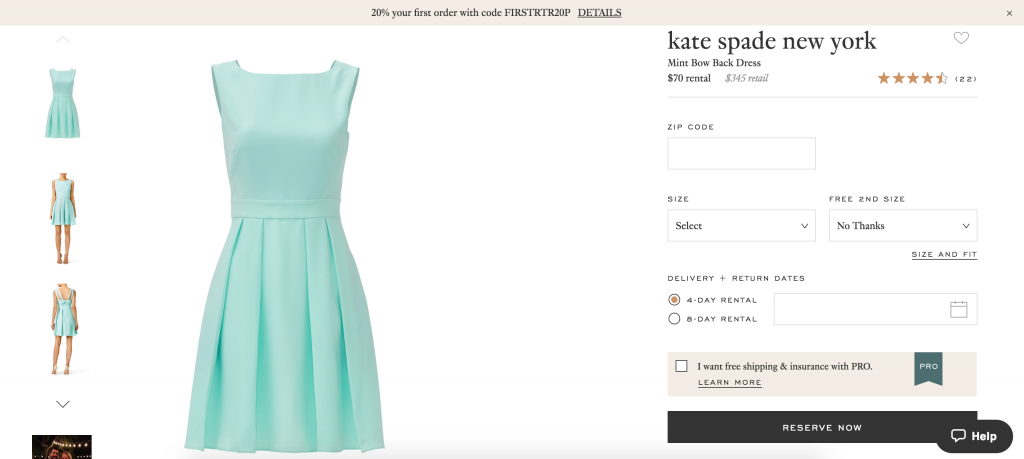 The wedding was in April so I figured a cute brightly colored dress would be perfect, and lo and behold I found this Kate Spade Mint Bow Back Dress. I chose the 4 day rental, crossed my fingers that the dress would fit and look appropriate. Shortly after placing my rental order I realized the back, which appeared fairly low in pictures, along with the inward facing straps might call for a strapless bra. I didn't have anything great on hand, except a neon pink one, so I zapped my way over to Zappos and ordered a nude strapless bra, which came before the dress 🙂
As I opened the garment bag I started to get really nervous. Is the dress going to fit me? I chose to order a second size (for free) just to be safe, and I also found the dress being sold at a department store online and checked out the size guide there so I felt I had a fairly decent idea of what size would work best. Thankfully, both dresses fit (the bigger size was a little too roomy so I opted for the smaller size).
That weekend, I got nothing but complements on the dress. Everyone loved the color and thought the cut and fit was absolutely perfect. No one could believe I rented it! With my coupon code for RtR's previous blunder, and the Pro account I bought (covers insurance and shipping) I got the dress for $35! That's a steal when the dress itself costs $348 at retail.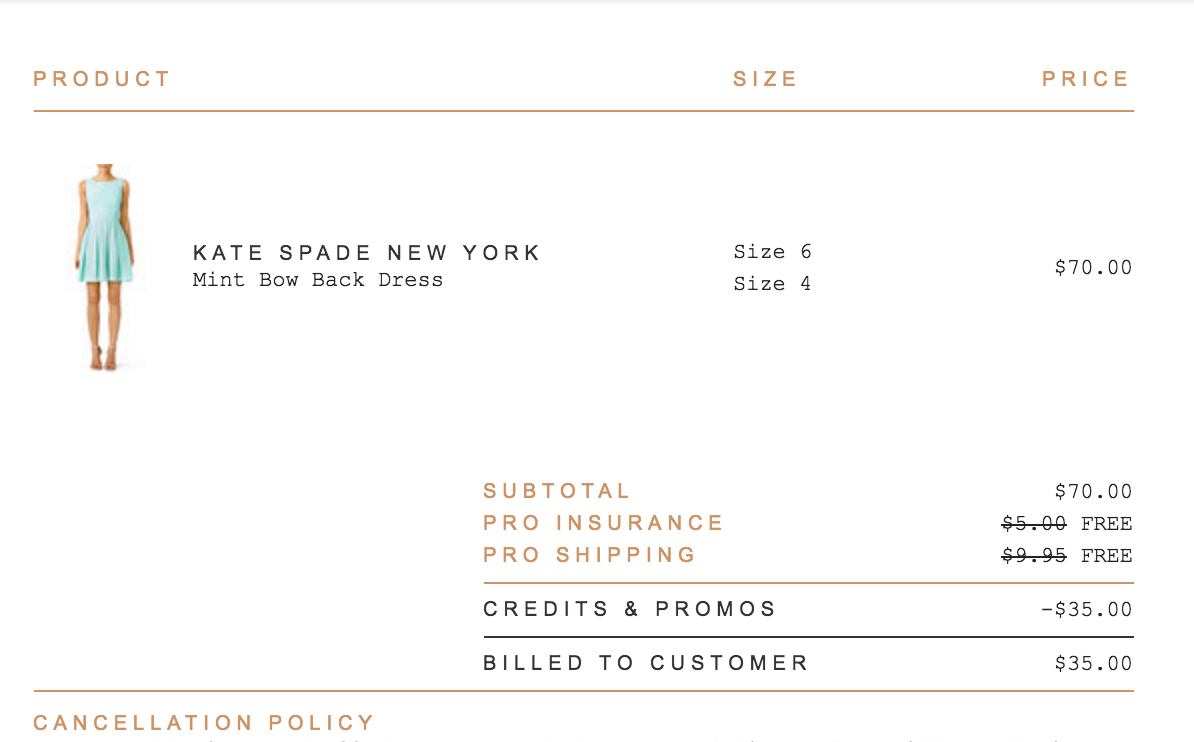 Would I use Rent the Runway again?
Yes, but always with apprehension. I suggest that you always have a backup on hand because you never know what might happen. The dresses I received were in perfect condition, so I definitely trust the quality. If you can get away with it, try the 8 day rental option for your first order so that if something does go wrong, you might be able to get through to customer service in time for a new dress.
Have you rented from Rent the Runway?