After my last couple of Stitch Fixes, I wasn't getting the same quality or experience I used to back in the day. I've see advertisements for Wantable for quite some time, and figured I'd give it a go for my second work trip of the year, to the hot climate of Mexico.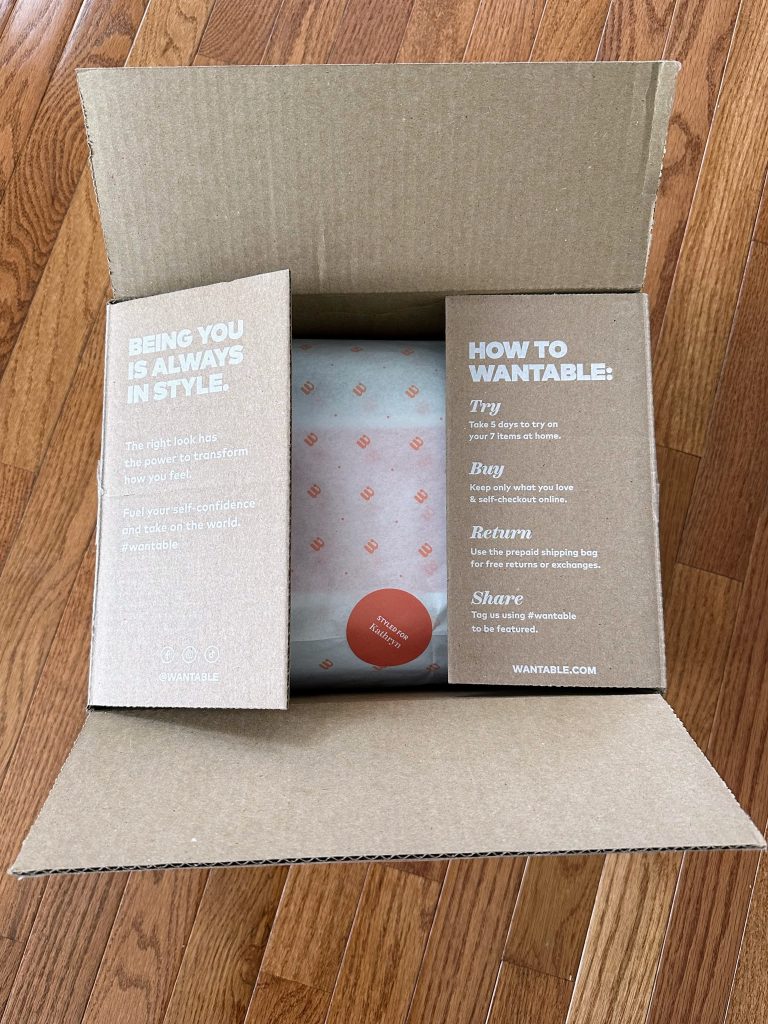 I placed my order on a Tuesday, and my box was there by Friday, which was super fast. I wasn't really sure when my box would arrive, since unlike Stitch Fix, I wasn't able to choose a date for delivery. Fingers were crossed though that the box would arrive before my work trip to Mexico. The box comes with 7 items, and they were wrapped up in tissue paper with a personalized name sticker, which I thought was a really cute touch and a good start to my package.
On Wantable, you start off with some questions and choosing items you like. These items are then accessible to your stylist who can pick from items you like, or give you a surprise. Unlike Stitch Fix, the style quiz images you say you like or dislike actually exist and can be bought. The photos aren't just a concept or an idea, but actual clothing available from the service.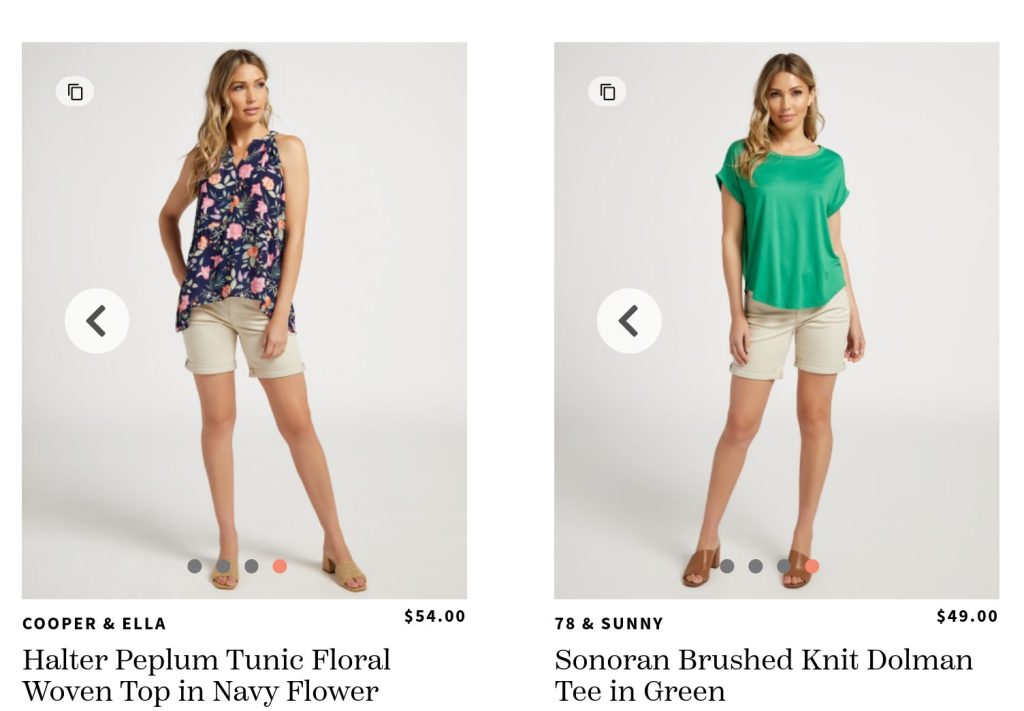 I left a note for my stylist, asking for clothing that I could bring to Mexico for work, something breathable and comfortable but not too stuffy. You can also mention some other notes specific to your account, and not just the box you're ordering. For that, I mentioned my coloring, but that I still like to play with color and patterns. I also highlighted I work a hybrid schedule so I want clothes than can transition to work, to being at home, to weekend, and that overall I like preppy and nautical inspired fashion.
My box came quickly, had a note from my stylist who was able to pull some items I had liked on the site, and even had a picture of her, which was a nice touch.
Item 1: Marley Capri in White – Vigoss
Price: $78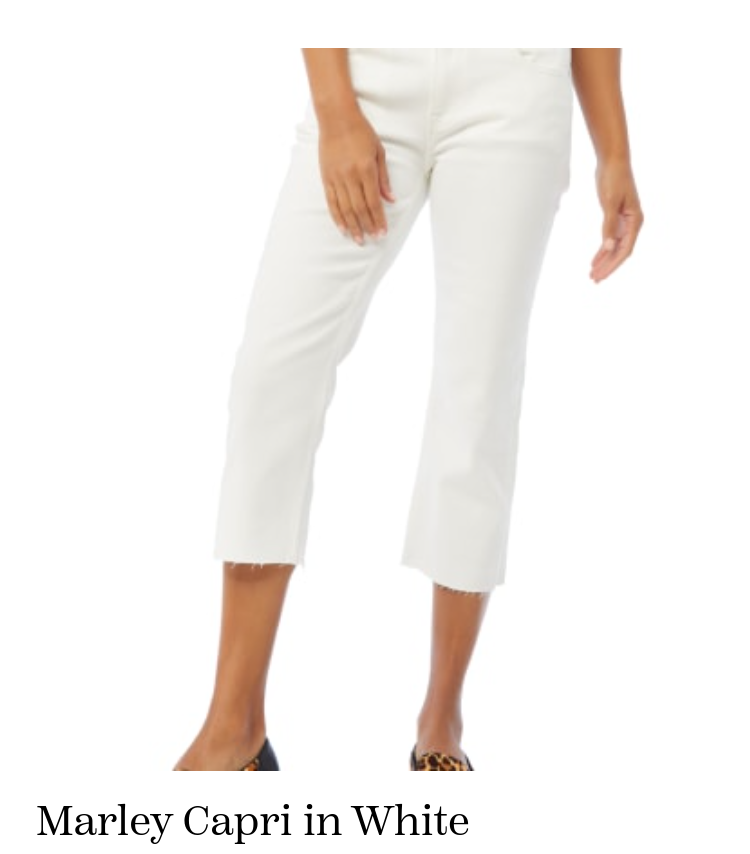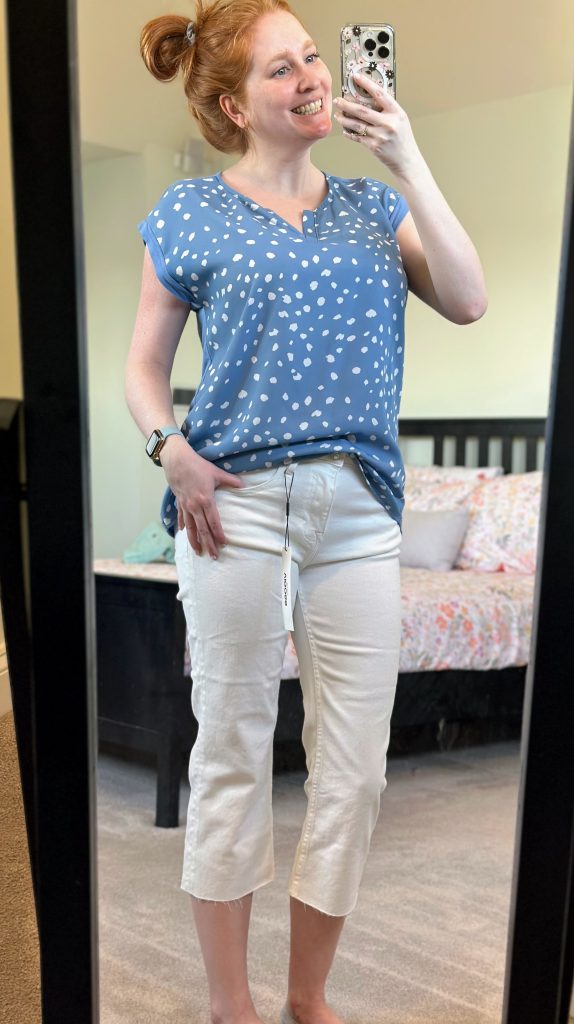 The capris are perfect for those in love with the nautical esthetic. They were comfortable, not too tight, and a good length for transitioning into warmer weather. They were a Keep for me.
Item 2: Leona Blouse in Pacific Ditsy – Gentle Fawn
Price: $99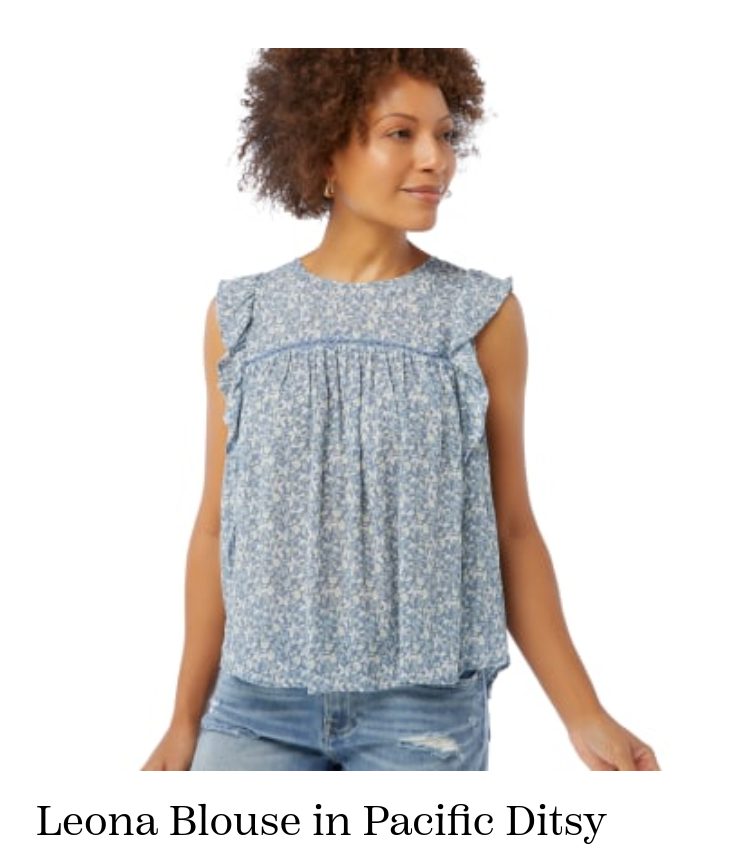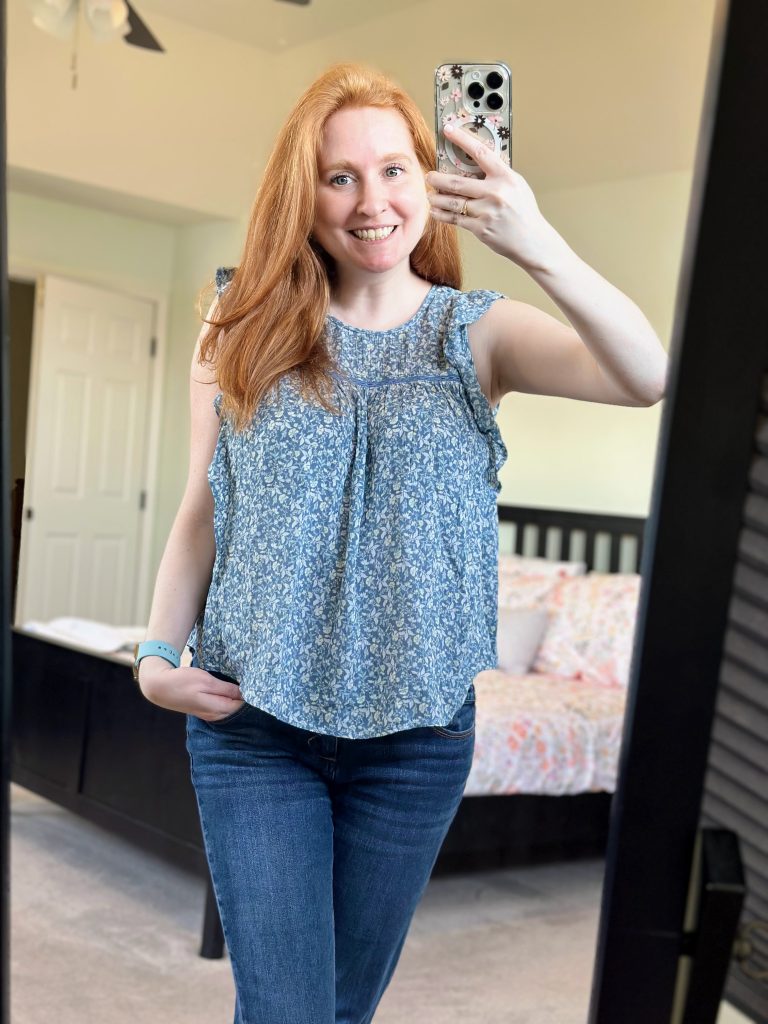 The top has potential, and the blue colors are ones I enjoy, but the cut of the sleeve openings wasn't my favorite. I felt the floppy fabric around the arms would want to do it's own thing and not sit well. The fabric was also cut pretty high into the armpit, which I'm not a fan of since I tend to run hot. The blouse was a maybe for me, but I decided to Return it. I also found the price point of nearly $100 for this top to be a bit ridiculous.
Item 3: Farah Short in Warm Sands – Z Supply
Price: $78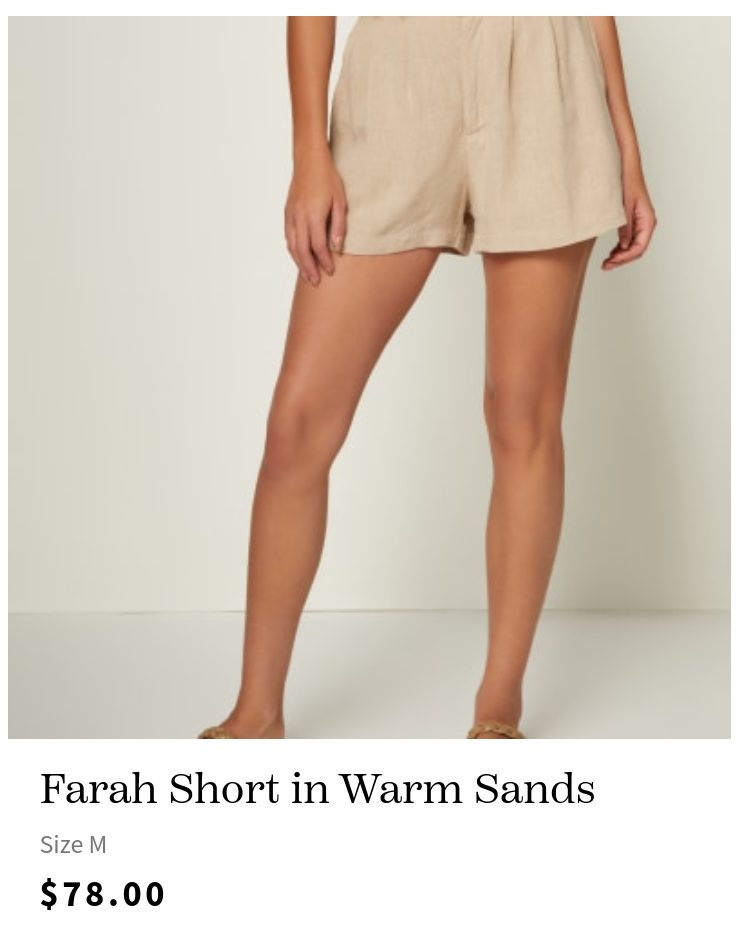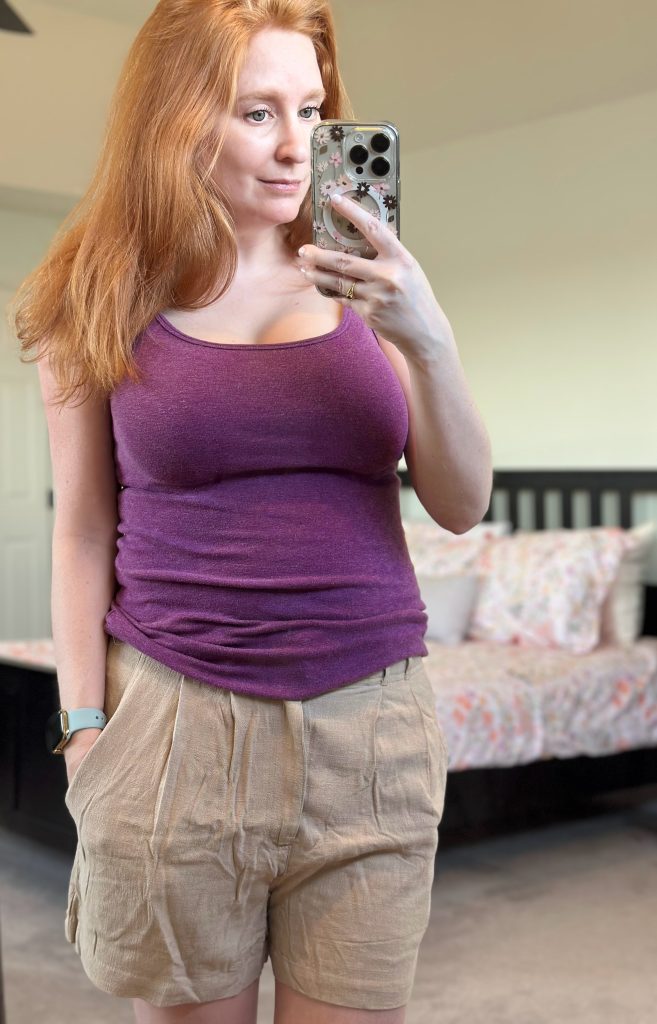 Online, these shorts looked super cute, and like something I could see myself in. A breathable linen fabric in a neutral summer color seemed like it would be right up my alley. Unfortunately, in person, these shorts are far from flattering. The cut is odd, and the waist line couldn't decide if it wanted to be high waisted or not. Ultimately, these shorts fit the best being high waisted, but they were high up there! The length, fit, and cut just didn't work for me. The color is perfect for what I like, but I had to Return these.
Item 4: Loretta Floral Top in Vintage – Steve Madden
Price: $69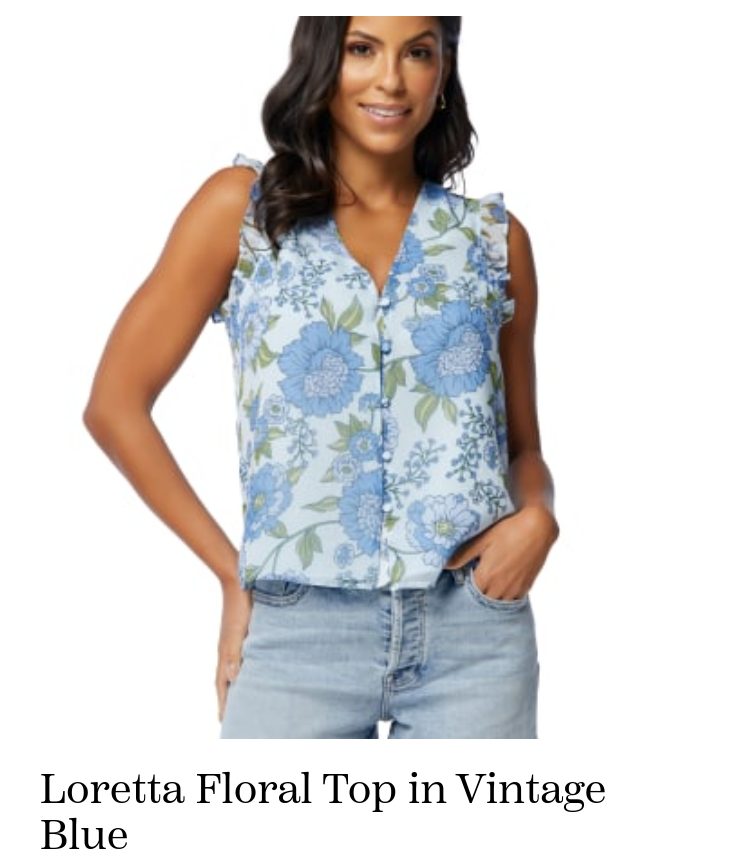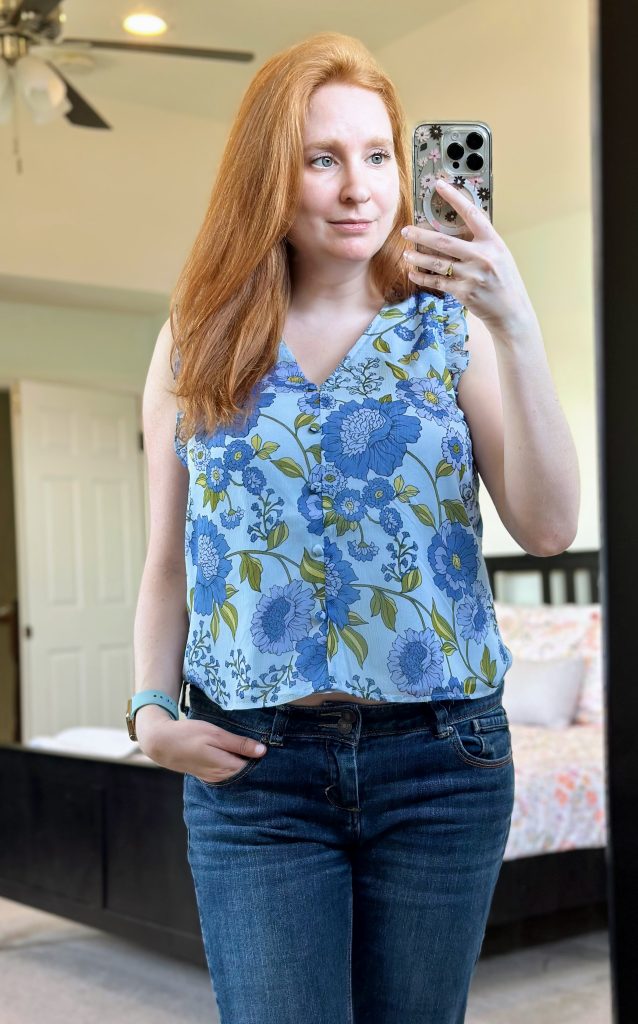 I wanted to like this top when I pulled it out of the box. It was super thin, lightweight, and the pattern and colors screamed Grandmillennial. The cut, just wasn't cutting it. You can see my stomach is peeking out a bit, which is a look that I just can't get behind for myself. I don't know why this shirt is cut so short, and it's a shame, but it is what it is. This was a Return.
Item 5: Ditsy Cluster Ruffle Dress in Green – Apricot
Price: $78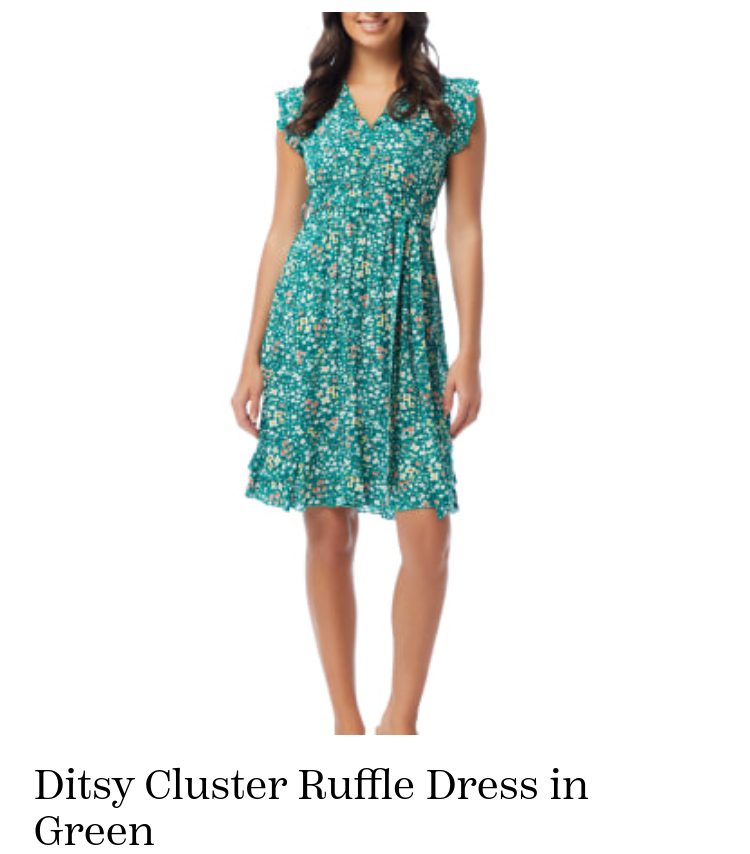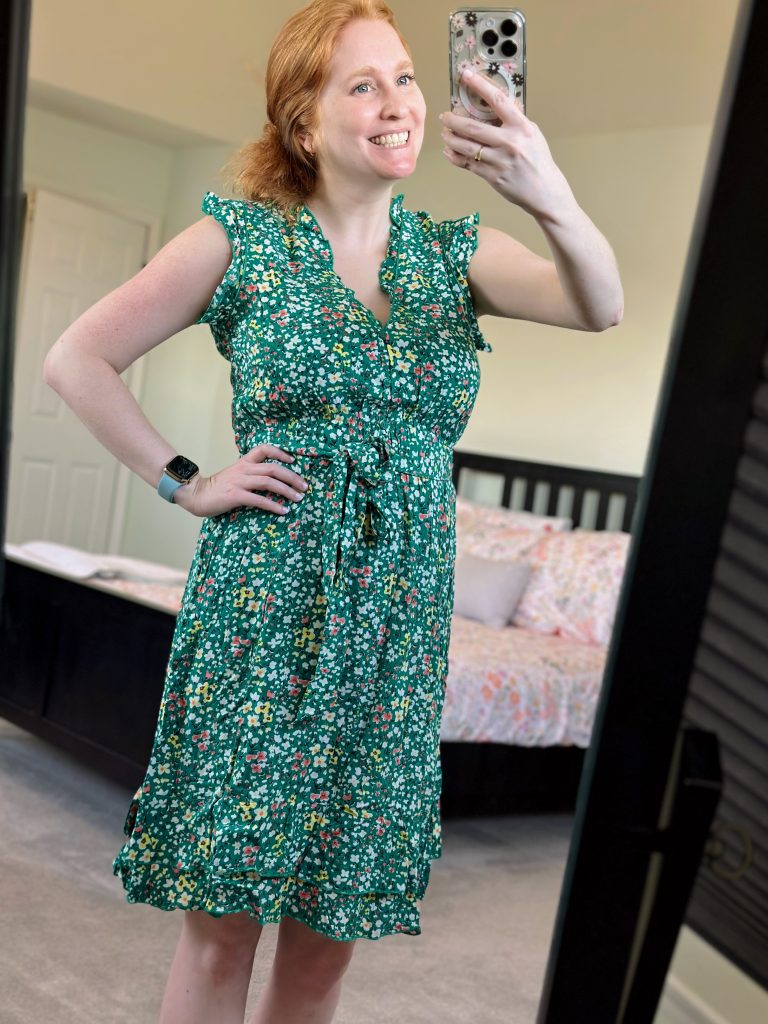 This is the second item in my box using the word "Ditsy," which I just Googled, and it means a pattern consisting of micro motifs, usually being floral in design. Now we know! I liked this dress immediately, from the color, the design, to the fabric. It's breathable, you can tie it as tight or as loose as you'd like, and it seemed like a perfect fit for my visit to Mexico to meet some of my new team members. This checked off all the boxes of what I was looking for, so it was definitely a Keep.
Item 6: North Hampton Short in Paradise – Dear John
Price: $69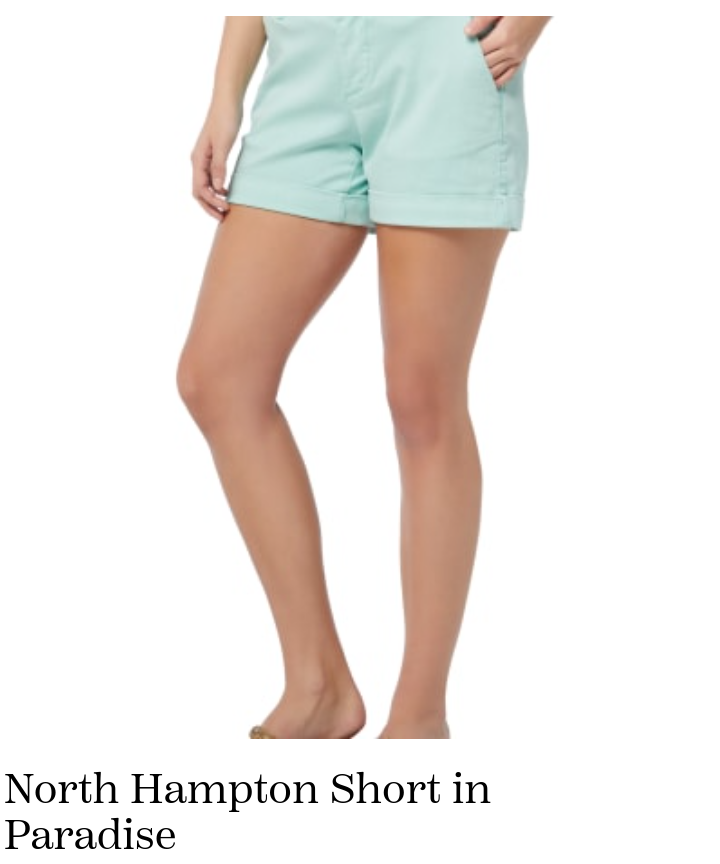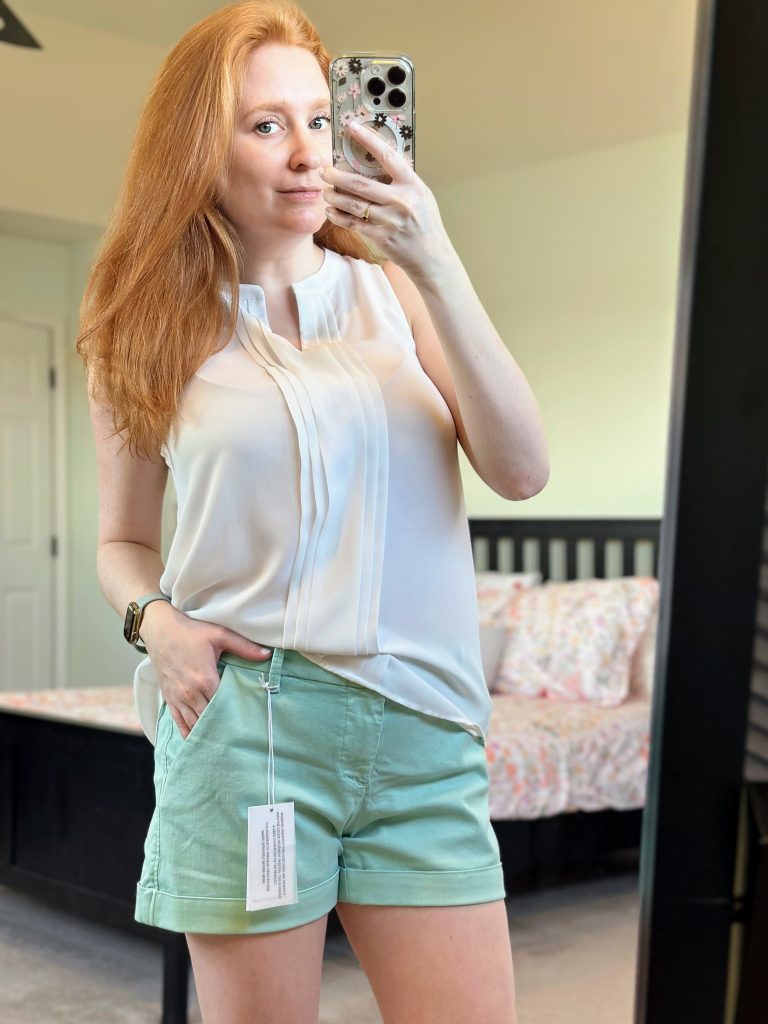 I clearly remember seeing and liking these shorts on the site. In fact, I liked them in multiple pastel colors, and I hope to get the purple ones in a future box! From the name of the shorts, to the color, these are perfect for preppy or nautical fashion lovers. The cut is also not too long or too short, meaning I can get away wearing these wherever, from the office (yes I wear shorts to work) to hanging around on the weekend. These fit well, and will pack well for any vacations or work trips I might have coming up this Spring and Summer. I definitely had to Keep these.
Item 7: Eyelet Tie-Strap Dress in Lilac – Koko + Mason
Price: $45 (originally $89)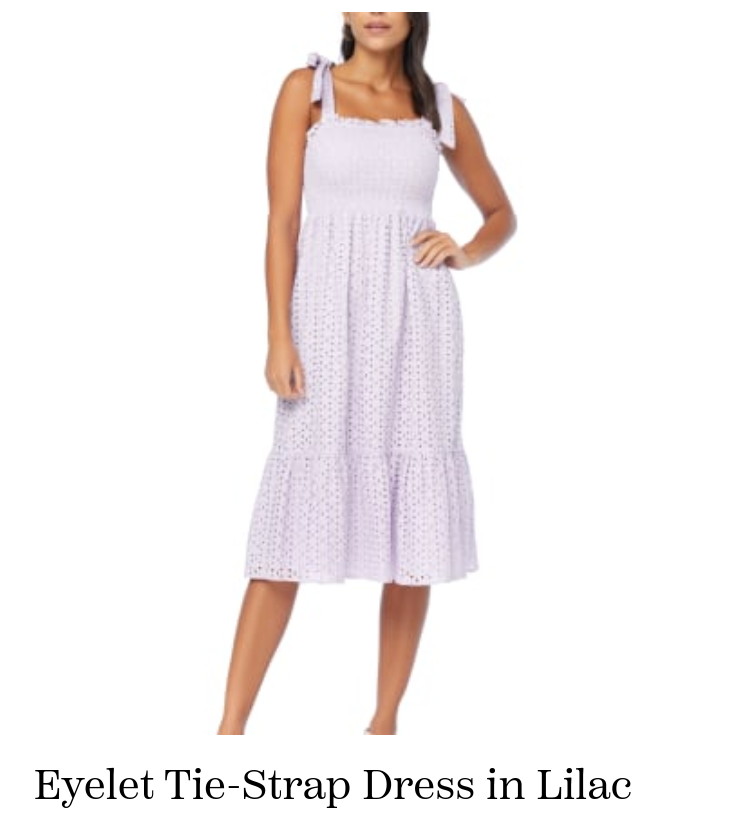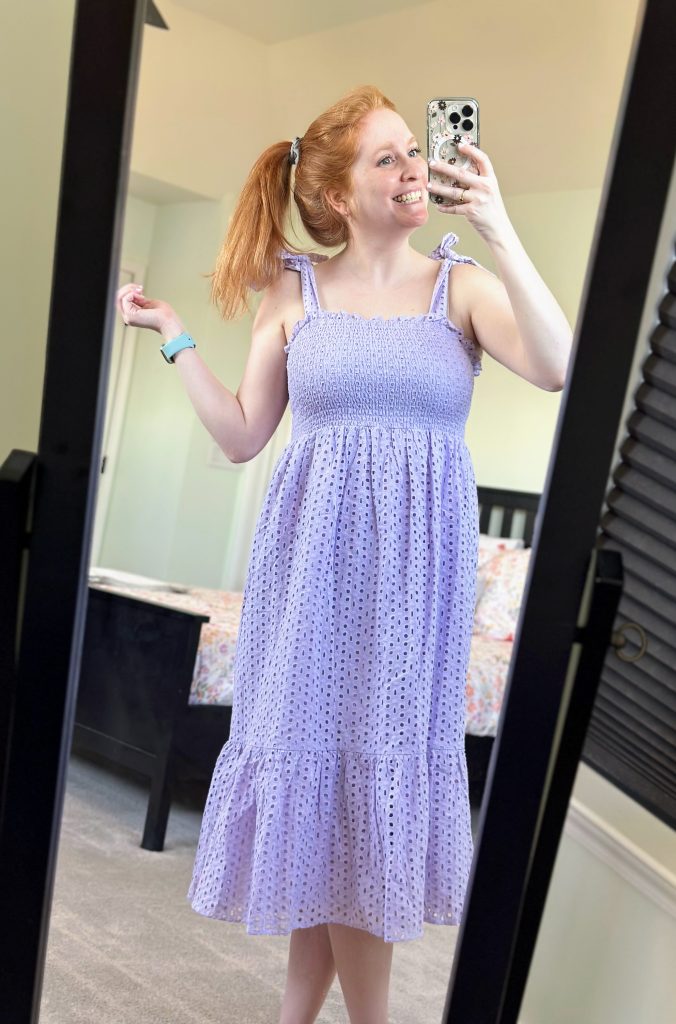 Smocked dresses have been having a moment lately, this year and last. I've tried a couple in the past from places like JCrew or Ann Taylor, and the cut near the armpit was too tight or off. The look gave me the dreaded armpit/chest bulge, which is natural and normal, but in these dresses frustrates me when it happens on my body because I feel this type of dress can accentuate it more. When I saw this dress on the site, I gave it a like, and lo and behold it was in my box. The best part is that this dress was on sale, so the price + color made it a contender in my book. The dress is fully lined, so it has a little weight to it, but it didn't seem overly hot. This could make for a fun Summer vacation outfit. I decided to Keep the dress.
The Verdict:
Wantable had a lot of great choices, and a wider variety of styles. I felt some of the clothes were more elevated than Stitch Fix too, and the price point made that clear. My box, if I kept everything, would have cost me $516. You can get a discount if you keep 5+ items, but I didn't keep enough for that. I kept a total of 4 items, which came in just under $300.
I wasn't a huge fan of the site defaulting me to be in a subscription model, I just want to order a box randomly when I need/want. They also email you a lot if your box hasn't been scanned by the Post Office yet. I had dropped my bag of returns a day before the due date, and I was barraged with emails to extend my due date because it seemed "I needed more time." I emailed Support to let them know the situation. I definitely didn't want a bill for over $500 just because the Post Office is slow.
My box was overall a fun experience, and I will most definitely be giving Wantable another try soon.
Use my code if you want to try it out and get !