I'm not much of a cook, and I grew up in a household where family dinner time wasn't really a thing, and the fanciest we got on a weekday might have been a bowl of pasta and sauce. My family also doesn't conform to stereotypical or old fashion gender roles, so it wasn't like my mom was expected to cook, and some of my more favorite meals were often created by my father.
Today, I'm in my 30s and in a modern millennial relationship where no one is expected to be the chef of the household, and we often do our own thing on our own time for dinner due to work or workout schedules. However, I've been wanting to branch out a bit and have a few more meals that aren't packaged up frozen dinners. We've been meaning to try another meal service and I just so happened to come across one on Facebook of all places that looked decent, and when I checked the menu, there was actually several options that both of us would enjoy, so I took a chance on a company called RealEats.
It's a subscription service, but you can skip weeks or put it on hold, so you can avoid being charged week over week, which is great for testing them out on the first week. I placed my order mid/late last week and it arrived today.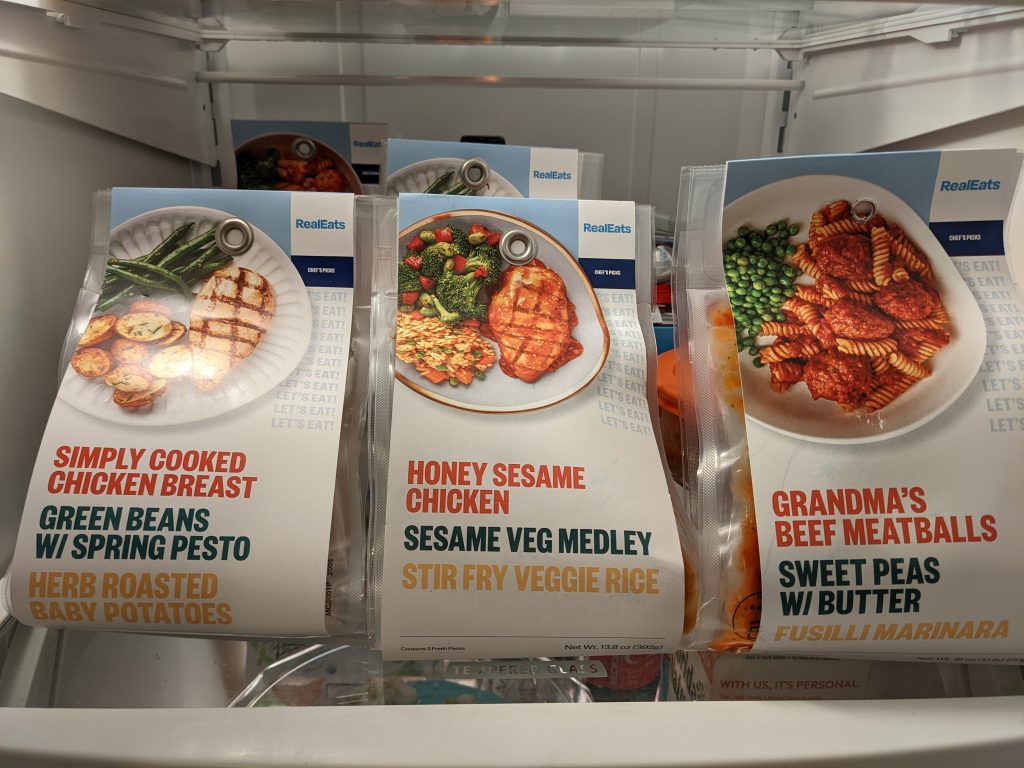 For our first testing of RealEats, I went with the 6 meals options, figuring that would give us 3 nights of meals this week, and then we'd do our usual pizza night and friday night takeout adventures. There was a promo so we got 40% off but it looks like the regular price would be around $80 for this regularly, which is a bit pricey, but not too terrible since it would sustain us for most of the work week. I should note there were options for less meals, and more, plus you could buy individual items instead of a whole packed meal.
Tonight we gave it a try. I had the Grilled BBQ Chicken, which comes with Spring Veg Medley, and Fork Mashed Potatoes. Brian had the Simply Cooked Chicken with Green Beans in a Spring Pesto and Herb Roasted Baby Potatoes.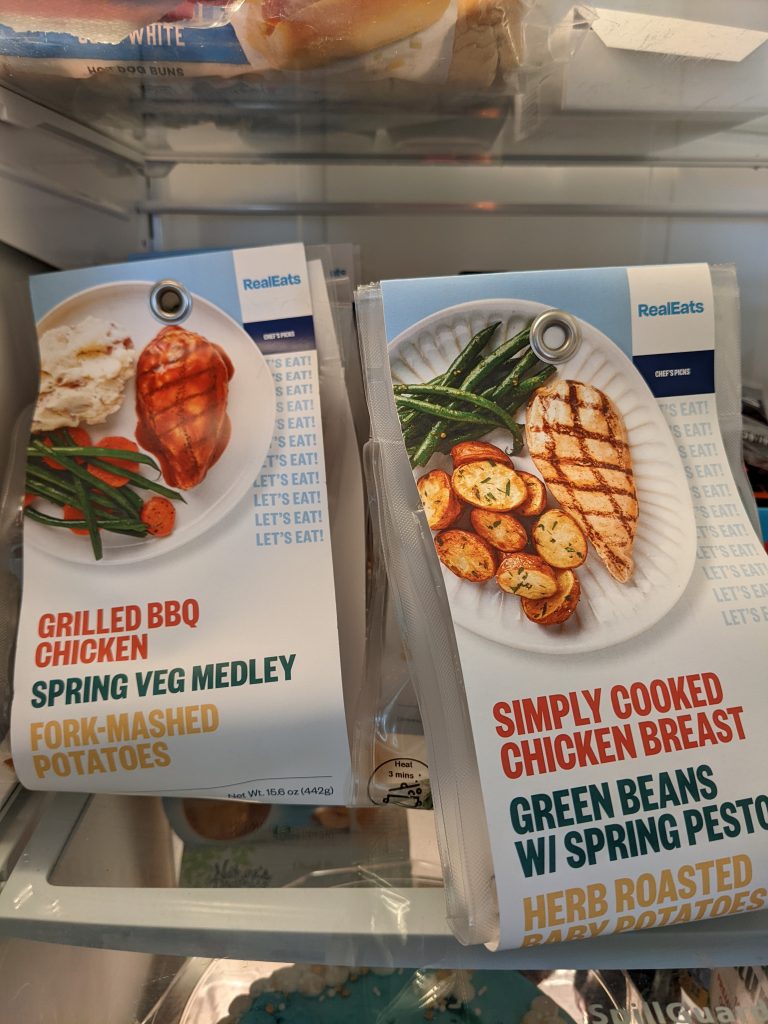 Prep and cooking was super easy. Just boil a big pot of water, place the meat, in this evening's case it was chicken, into the pot for 6 minutes, and the sides for 3 minutes.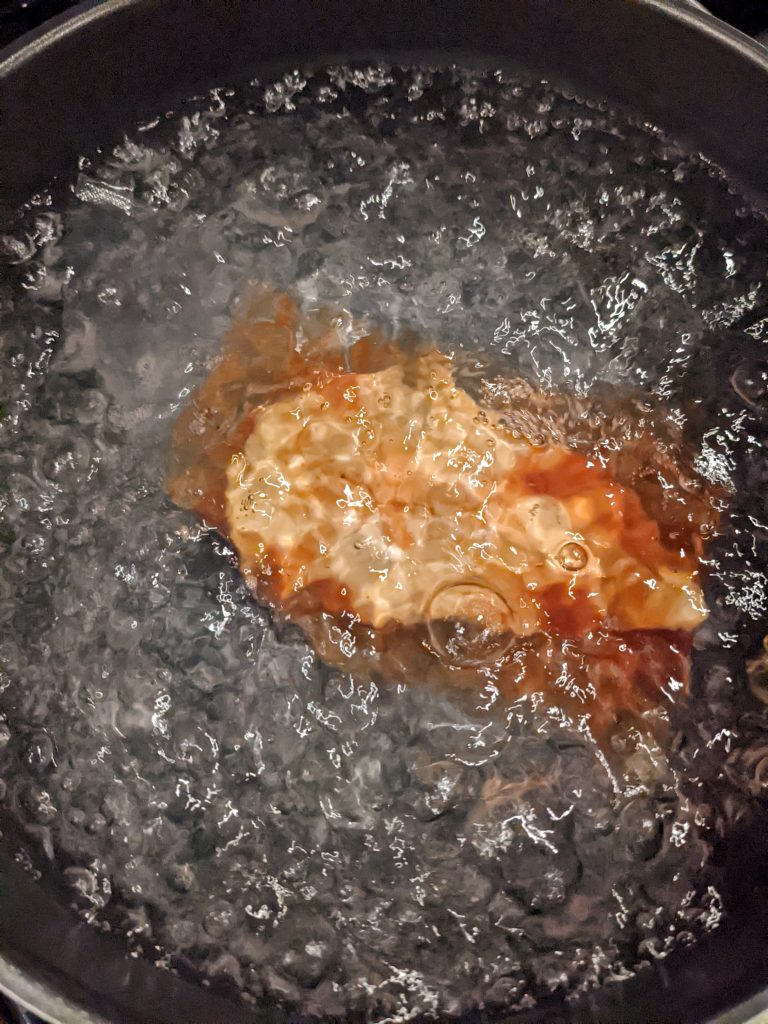 I found after my first 3 minutes were up and it was time to put in the sides in, that the water stopped boiling a bit, so I was worried that the cook time may be off. To be safe we each cooked our meals for 7 minutes total, not the recommended 6. For the sake of this review, we'll just focus on my meal, but it's safe to say Brian approved of his since he cleaned his whole plate.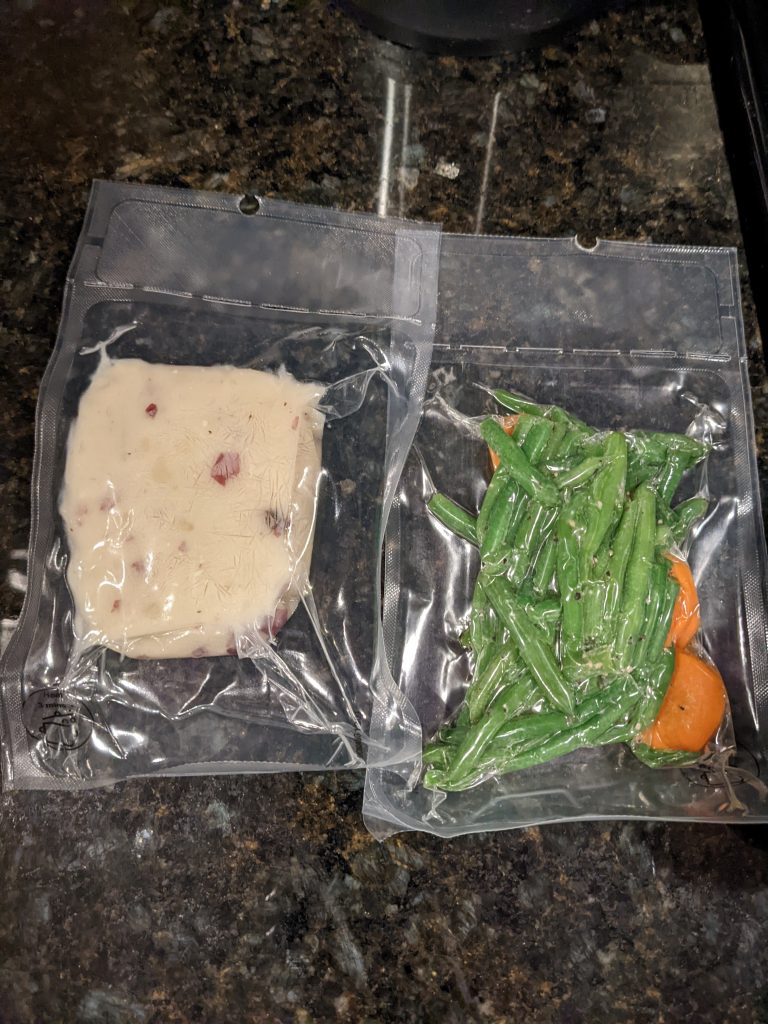 After the 7 minutes were up, I grabbed the bags with my tongs, put them on a cutting board and took scissors to open them up. The chicken was the first thing I opened, and the sauce went everywhere, including my white sweater. Yes, there was probably some user error, but the sauce was very thin and liquidy, so I don't know how much I could have avoided making a mess of at least the plate without draining it in the sink first.
Exhibit A, my plate of beauty. You can tell I'm just an average, non-experienced person in the kitchen based on my plating skills 🙂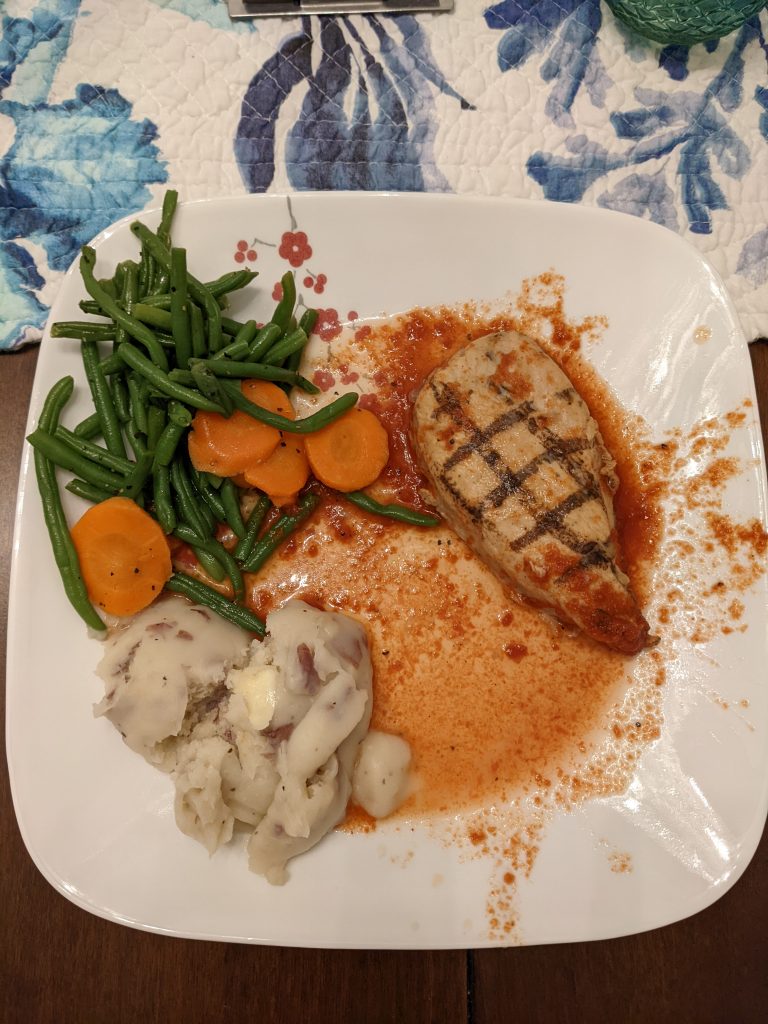 The sides were fairly easy to get out, but the mashed potatoes were a little bit of a pain since the bag was hot and I had to squeeze the bag like a tube of toothpaste to get it all out.
Now it was time to eat!
I love mashed potatoes so I was excited for them, but unfortunately I found the temperature to be too cold, so I ended up microwaving my whole plate for a few seconds to try and heat them up. I probably should have done it for a bit longer since they were luke warm when I went to eat again, but at least they had good flavor.
Based on the temperature of the potatoes and Brian's plate of veggies too, I'd recommend putting the sides in for a bit longer than the recommended 3 minutes. I might be as bold to say in the future I'd cook mine for 5-6 minutes total, but I really like my food to all be really hot. I haven't tested this yet, but that'll be my plan next time.
I don't really like many green veggies, but I tried some of the green beans, and they weren't terrible. One reason I wanted to try this service was to try and expand my pallet and try new things in the comfort of my own home as a picky eater.
The chicken breast itself was nicely cooked, very easy to cut and it was nice and juicy. The sauce however was a bit strong for my liking. It was a bit more spicy than I anticipated. I didn't hate it, but I'm not too into spicy food so the amount of sauce was a little strong for me.
I'd say for people who don't cook and rely on the microwave for quick meals or just throw a pizza in the oven, that this was one of our fancier eating at home adventures. We eat simple things, so this was very adult feeling for me at least.
I'm looking forward to trying some of the other meals we got. There's another chicken dish or two, and two pasta and meatballs. We'll have to see how the rest of this week's dinners play out! Hopefully I'll stay a little cleaner this time around.
If you want to join me in this meal adventure but in the comfort of your own kitchen, give my code a click for 50% off.