During the pandemic, my significant other and I decided to purchase our very first home. While the house wasn't a fixer upper by any means, it needed a little TLC, aka paint and a little modernization here and there to make it our home. Follow along as I chronicle some of the improvements, tasks, and projects we take on.
One of the more recent projects we took on was replacing outdoor light fixtures. We have a balcony off of our kitchen that had a very dated light fixture that was original from when the homes in this neighborhood were built around 15 years ago. Below this balcony is a little patio area on the ground floor that had the same matching light fixture, so we figured we'd tackle both and make sure they matched since we were replacing one.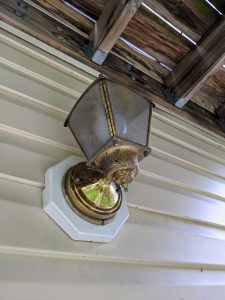 We live right off of the water, and get super crazy high wind gusts every now and then (I think the highest we recorded from our personal weather station was in the 50-60 mph range). Due to the wind, one evening the light off the kitchen fell to the ground. The fixture was made of glass panels, and one of them even chipped a bit, but we were able to put everything back together and use the light still, but I felt it was finally a sign to take on our outdoor lighting plan. It's also worth noting that due to the wind, and living right off the water, there was also a lot of water damage/erosion done to the metal of the light. The metal had a rough texture and really lost its shine and former glory. Because of these factors, we decided to get a dark color metal/base for whatever light we ended up choosing.
Looking around at the porches of our neighbors, it seems just about everyone has kept their original lights on their porches and patios, expect our next door neighbor, who had replaced them with black sconces. Figuring we should blend in a bit with her style, and because it looked clean and nice, we decided to be on the lookout for something that was simple, not too eccentric, and would look like it belonged with the house. What we ultimately chose was a simple black sconce, similar in design shape to our neighbor, and to the lights we all have above our garages at the front of the house.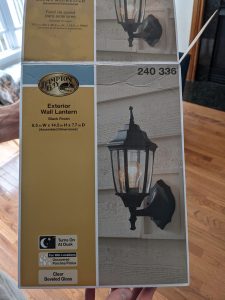 Why black? It's modern, clean, and can go with any aesthetic, it also doesn't seem to "date" as much as say gold fixtures do, like the ones we had. We also decided to go with some vintage style light bulbs, going for the edison bulb look, mainly because I think they look cool, but also because they give off a nice warm light.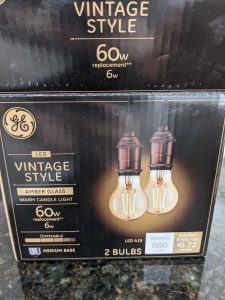 The replacement was pretty easy. Brian did one of them, and had me do the other so I could get an understanding for the wiring and installation steps. I appreciate getting hands on in these types of home improvement activities because it gives me a new skill, confidence to tackle projects I want to do, and makes me feel like I'm living my dreams of wanting to be on one of those home improvements shows in the 90s and early 2000s.
Here's how the new lights look fully installed. We're super pleased with them, even though we don't use the lights that much, it gives the outside a nice clean updated look.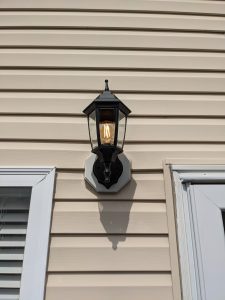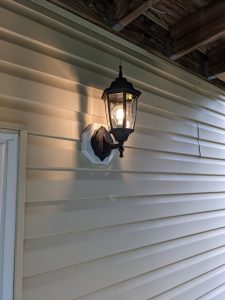 On to the next project…